Abstract
Telomere length, a reliable predictor of disease pathogenesis, can be affected by genetics, chronic stress and health behaviors. Cross-sectionally, highly stressed postmenopausal women have shorter telomeres, but only if they are inactive. However, no studies have prospectively examined telomere length change over a short period, and if rate of attrition is affected by naturalistic factors such as stress and engagement in healthy behaviors, including diet, exercise, and sleep. Here we followed healthy women over 1 year to test if major stressors that occurred over the year predicted telomere shortening, and whether engaging in healthy behaviors during this period mitigates this effect. In 239 postmenopausal, non-smoking, disease-free women, accumulation of major life stressors across a 1-year period predicted telomere attrition over the same period—for every major life stressor that occurred during the year, there was a significantly greater decline in telomere length over the year of 35 bp (P<0.05). Yet, these effects were moderated by health behaviors (interaction B=0.19, P=0.04). Women who maintained relatively higher levels of health behaviors (1 s.d. above the mean) appeared to be protected when exposed to stress. This finding has implications for understanding malleability of telomere length, as well as expectations for possible intervention effects. This is the first study to identify predictors of telomere length change over the short period of a year.
Relevant articles
Open Access articles citing this article.
Grace A. Noppert

,

Lydia Feinstein

…

Allison E. Aiello

Immunity & Ageing Open Access 19 November 2020

Bianca A. Lever-van Milligen

,

Josine E. Verhoeven

…

Brenda W. J. H. Penninx

BMC Psychiatry Open Access 30 December 2019
Access options
Subscribe to this journal
Receive 12 print issues and online access
$259.00 per year
only $21.58 per issue
Rent or buy this article
Get just this article for as long as you need it
$39.95
Prices may be subject to local taxes which are calculated during checkout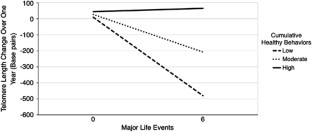 References
Centers for Disease Control and Prevention. The State of Aging and Health in America 2013. Centers for Disease Control and Prevention: Atlanta, GA, 2013.

Cohen S, Janicki-Deverts D, Miller GE . Psychological stress and disease. J Am Med Assoc 2007; 298: 1685–1687.

Lupien SJ, McEwen BS, Gunnar MR, Heim C . Effects of stress throughout the lifespan on the brain, behaviour and cognition. Nat Rev Neurosci 2009; 10: 434–445.

Shonkoff JP, Boyce WT, McEwen BS . Neuroscience, molecular biology, and the childhood roots of health disparities building a new framework for health promotion and disease prevention. J Am Med Assoc 2009; 301: 2252–2259.

McEwen BS . Stress, adaptation, and disease. Allostasis and allostatic load. Ann NY Acad Sci 1998; 840: 33–44.

Hänsel A, Hong S, Cámara RJA, von Känel R . Inflammation as a psychophysiological biomarker in chronic psychosocial stress. Neurosci Biobehav Rev 2010; 35: 115–121.

Glaser R, Kiecolt-Glaser JK . Stress-induced immune dysfunction: implications for health. Nat Rev Immunol 2005; 5: 243–251.

Kiecolt-Glaser JK, Preacher KJ, MacCallum RC, Atkinson C, Malarkey WB, Glaser R . Chronic stress and age-related increases in the proinflammatory cytokine IL-6. Proc Natl Acad Sci USA 2003; 100: 9090–9095.

Cohen S, Janicki-Deverts D, Doyle WJ, Miller GE, Frank E, Rabin BS et al. Chronic stress, glucocorticoid receptor resistance, inflammation, and disease risk. Proc Natl Acad Sci USA 2012; 109: 5995–5999.

Campisi J, di Fagagna FD . Cellular senescence: when bad things happen to good cells. Nat Rev Mol Cell Biol 2007; 8: 729–740.

Campisi J, Andersen JK, Kapahi P, Melov S . Cellular senescence: a link between cancer and age-related degenerative disease? Semin Cancer Biol 2011; 21: 354–359.

Armanios M, Blackburn EH . The telomere syndromes. Nat Rev Genet 2012; 13: 693–704.

Calado RT, Young NS . Mechanisms of Disease: Telomere Diseases. N Engl J Med 2009; 361: 2353–2365.

Willeit P, Willeit J, Mayr A, Weger S, Oberhollenzer F, Brandstätter A et al. Telomere length and risk of incident cancer and cancer mortality. JAMA 2010; 304: 69–75.

Chen W, Gardner JP, Kimura M, Brimacombe M, Cao XJ, Srinivasan SR et al. Leukocyte telomere length is associated with HDL cholesterol levels: The Bogalusa heart study. Atherosclerosis 2009; 205: 620–625.

Mainous AG, Codd V, Diaz VA, Schoepf UJ, Everett CJ, Player MS et al. Leukocyte telomere length and coronary artery calcification. Atherosclerosis 2010; 210: 262–267.

Cawthon RM, Smith KR, O'Brien E, Sivatchenko A, Kerber RA . Association between telomere length in blood and mortality in people aged 60 years or older. Lancet 2003; 361: 393–395.

Blackburn EH . Telomere states and cell fates. Nature 2000; 408: 53–56.

Sahin E, Colla S, Liesa M, Moslehi J, Muller FL, Guo M et al. Telomere dysfunction induces metabolic and mitochondrial compromise. Nature 2011; 470: 359–365.

Jaskelioff M, Muller FL, Paik JH, Thomas E, Jiang S, Adams AC et al. Telomerase reactivation reverses tissue degeneration in aged telomerase-deficient mice. Nature 2011; 469: 102–106.

Codd V, Nelson CP, Albrecht E, Mangino M, Deelen J, Buxton JL et al. Identification of seven loci affecting mean telomere length and their association with disease. Nat Genet 2013; 45: 422–427, 427e1–2.

Shalev I, Moffitt TE, Sugden K, Williams B, Houts RM, Danese A et al. Exposure to violence during childhood is associated with telomere erosion from 5 to 10 years of age: a longitudinal study. Mol Psychiatry 2013; 18: 576–581.

Kiecolt-Glaser JK, Gouin J-PP, Weng N-PP, Malarkey WB, Beversdorf DQ, Glaser R . Childhood adversity heightens the impact of later-life caregiving stress on telomere length and inflammation. Psychosom Med 2011; 73: 16–22.

Drury SS, Theall K, Gleason MM, Smyke AT, De Vivo I, Wong JYY et al. Telomere length and early severe social deprivation: linking early adversity and cellular aging. Mol Psychiatry 2012; 17: 719–727.

Entringer S, Epel ES, Kumsta R, Lin J, Hellhammer DH, Blackburn EH et al. Stress exposure in intrauterine life is associated with shorter telomere length in young adulthood. Proc Natl Acad Sci USA 2011; 108: E513–E518.

Glass D, Parts L, Knowles D, Aviv A, Spector TD . No correlation between childhood maltreatment and telomere length. Biol Psychiatry 2010; 68: e21–e22.

Damjanovic AK, Yang YH, Glaser R, Kiecolt-Glaser JK, Nguyen H, Laskowski B et al. Accelerated telomere erosion is associated with a declining immune function of caregivers of Alzheimer's disease patients. J Immunol 2007; 179: 4249–4254.

Epel ES, Blackburn EH, Lin J, Dhabhar FS, Adler NE, Morrow JD et al. Accelerated telomere shortening in response to life stress. Proc Natl Acad Sci USA 2004; 101: 17312–17315.

O'Donovan A, Tomiyama AJ, Lin J, Puterman E, Adler NE, Kemeny M et al. Stress appraisals and cellular aging: a key role for anticipatory threat in the relationship between psychological stress and telomere length. Brain Behav Immun 2012; 26: 573–579.

Puterman E, Lin J, Blackburn EH, O'Donovan A, Adler NE, Epel ES . The power of exercise: buffering the effect of chronic stress on telomere length. PLoS One 2010; 5: e10837.

Humphreys J, Epel ES, Cooper BA, Lin J, Blackburn EH, Lee KA . Telomere shortening in formerly abused and never abused women. Biol Res Nurs 2011; 14: 115–123.

Hoen PW, de Jonge P, Na BY, Farzaneh-Far R, Epel ES, Lin J et al. Depression and leukocyte telomere length in patients with coronary heart disease: data from The Heart and Soul Study. Psychosom Med 2011; 73: 541–547.

Verhoeven JE, Révész D, Epel ES, Lin J, Wolkowitz OM, Penninx BWJH . Major depressive disorder and accelerated cellular aging: results from a large psychiatric cohort study. Mol Psychiatry 2013 (e-pub ahead of print).

Wolkowitz OM, Mellon SH, Epel ES, Lin J, Dhabhar FS, Su YL et al. Leukocyte telomere length in major depression: correlations with chronicity, inflammation and oxidative stress—preliminary findings. PLoS One 2011; 6: e17837.

Prather AA, Puterman E, Lin J, O'Donovan A, Krauss J, Tomiyama AJ et al. Shorter leukocyte telomere length in midlife women with poor sleep quality. J Aging Res 2011; 721390.

Krauss J, Farzaneh-Far R, Puterman E, Na B, Lin J, Epel ES et al. Physical fitness and telomere length in patients with coronary heart disease: findings from the Heart and Soul Study. PLoS One 2011; 6: e26983.

Cherkas LF, Hunkin JL, Kato BS, Richards JB, Gardner JP, Surdulescu GL et al. The association between physical activity in leisure time and leukocyte telomere length. Arch Intern Med 2008; 168: 154–158.

Paul L . Diet, nutrition and telomere length. J Nutr Biochem 2011; 22: 895–901.

Shiels PG, McGlynn LM, MacIntyre A, Johnson PCD, Batty GD, Burns H et al. Accelerated telomere attrition is associated with relative household income, diet and inflammation in the pSoBid cohort. PLoS One 2011; 6: e22521.

Yoo S-S, Gujar N, Hu P, Jolesz FA, Walker MP . The human emotional brain without sleep—a prefrontal amygdala disconnect. Curr Biol 2007; 17: R877–R878.

Erickson KI, Voss MW, Prakash RS, Basak C, Szabo A, Chaddock L et al. Exercise training increases size of hippocampus and improves memory. Proc Natl Acad Sci USA 2011; 108: 3017–3022.

Dallman MF . Stress-induced obesity and the emotional nervous system. Trends Endocrinol Metab 2010; 21: 159–165.

Sgoifo A, Buwalda B, Roos M, Costoli T, Merati G, Meerlo P . Effects of sleep deprivation on cardiac autonomic and pituitary-adrenocortical stress reactivity in rats. Psychoneuroendocrinology 2006; 31: 197–208.

Schuit AJ, van Loon AJM, Tijhuis M, Ocké M . Clustering of lifestyle risk factors in a general adult population. Prev Med 2002; 35: 219–224.

Poortinga W . The prevalence and clustering of four major lifestyle risk factors in an English adult population. Prev Med 2007; 44: 124–128.

Sun Q, Shi L, Prescott J, Chiuve SE, Hu FB, De Vivo I et al. Healthy lifestyle and leukocyte telomere length in US women. PLoS One 2012; 7: e38374.

Puterman E, Epel ES . An intricate dance: life experience, multisystem resiliency, and rate of telomere decline throughout the lifespan. Soc Personal Psychol Compass 2012; 6: 807–825.

Shalev I, Entringer S, Wadhwa PD, Wolkowitz OM, Puterman E, Lin J et al. Stress and telomere biology: a lifespan perspective. Psychoneuroendocrinology 2013; 38: 1835–1842.

Puterman E, Epel ES, Lin J, Blackburn EH, Gross JJ, Whooley MA et al. Multisystem resiliency moderates the major depression-telomere length association: findings from the Heart and Soul Study. Brain Behav Immun 2013; 33: 65–73.

Lin J, Epel E, Cheon J, Kroenke C, Sinclair E, Bigos M et al. Analyses and comparisons of telomerase activity and telomere length in human T and B cells: insights for epidemiology of telomere maintenance. J Immunol Methods 2010; 352: 71–80.

Aviv A, Hunt SC, Lin J, Cao X, Kimura M, Blackburn E . Impartial comparative analysis of measurement of leukocyte telomere length/DNA content by Southern blots and qPCR. Nucleic Acids Res 2011; 39: e134.

Taylor-Piliae RE, Norton LC, Haskell WL, Mahbouda MH, Fair JM, Iribarren C et al. Validation of a new brief physical activity survey among men and women aged 60–69 years. Am J Epidemiol 2006; 164: 598–606.

Kiernan M, Schoffman DE, Lee K, Brown SD, Fair JM, Perri MG et al. The Stanford Leisure–Time Activity Categorical Item (L-Cat): a single categorical item sensitive to physical activity changes in overweight/obese women. Int J Obes 2013; 37: 1597–1602.

Taylor-Piliae RE, Fair JM, Haskell WL, Varady AN, Iribarren C, Hlatky MA et al. Validation of the Stanford Brief Activity Survey: examining psychological factors and physical activity levels in older adults. J Phys Act Health 2010; 7: 87–94.

Nettleton JA, Diez-Roux A, Jenny NS, Fitzpatrick AL, Jacobs DR . Dietary patterns, food groups, and telomere length in the Multi-Ethnic Study of Atherosclerosis (MESA). Am J Clin Nutr 2008; 88: 1405–1412.

Buysse DJ, Reynolds CF, Monk TH, Berman SR, Kupfer DJ . The Pittsburgh sleep quality index: a new instrument for psychiatric practice and research. Psychiatry Res 1989; 28: 193–213.

Cohen J, Cohen P, West SG, Aiken LS . Applied Multiple Regression/Correlation Analysis for the Behavioral Sciences3rd edn.Lawrence Erlbaum Associates Publishers: Mahwah, NJ, USA, 2003.

McEwen BS . Brain on stress: how the social environment gets under the skin. Proc Natl Acad Sci USA 2012; 109 (Suppl 2): 17180–17185.

McGinnis JM, Williams-Russo P, Knickman JR . The case for more active policy attention to health promotion. Health Aff 2002; 21: 78–93.

McEwen BS . Protection and damage from acute and chronic stress: allostasis and allostatic overload and relevance to the pathophysiology of psychiatric disorders. Ann NY Acad Sci 2004; 1032: 1–7.

Seeman TE, Gruenewald T, Karlamangla A, Sidney S, Liu KA, McEwen B et al. Modeling multisystem biological risk in young adults: the Coronary Artery Risk Development in Young Adults Study. Am J Hum Biol 2010; 22: 463–472.

Geronimus AT, Hicken M, Keene D, Bound J . 'Weathering' and age patterns of allostatic load scores among blacks and whites in the United States. Am J Public Health 2006; 96: 826–833.

Stults-Kolehmainen MA, Sinha R . The effects of stress on physical activity and exercise. Sports Med 2014; 44: 81–121.

Torres SJ, Nowson CA . Relationship between stress, eating behavior, and obesity. Nutrition 2007; 23: 887–894.

Kahn M, Sheppes G, Sadeh A . Sleep and emotions: bidirectional links and underlying mechanisms. Int J Psychophysiol 2013; 89: 218–228.

Vandekerckhove M, Cluydts R . The emotional brain and sleep: an intimate relationship. Sleep Med Rev 2010; 14: 219–226.

Lopresti AL, Hood SD, Drummond PD . A review of lifestyle factors that contribute to important pathways associated with major depression: diet, sleep and exercise. J Affect Disord 2013; 148: 12–27.

McEwen BS . Physiology and neurobiology of stress and adaptation: central role of the brain. Physiol Rev 2007; 87: 873–904.

Traustadóttir T, Bosch PR, Cantu T, Matt KS . Hypothalamic-pituitary-adrenal axis response and recovery from high-intensity exercise in women: effects of aging and fitness. J Clin Endocrinol Metab 2004; 89: 3248–3254.

Rimmele U, Zellweger BC, Marti B, Seiler R, Mohiyeddini C, Ehlert U et al. Trained men show lower cortisol, heart rate and psychological responses to psychosocial stress compared with untrained men. Psychoneuroendocrinology 2007; 32: 627–635.

Rimmele U, Seiler R, Marti B, Wirtz PH, Ehlert U, Heinrichs M . The level of physical activity affects adrenal and cardiovascular reactivity to psychosocial stress. Psychoneuroendocrinology 2009; 34: 190–198.

Handschin C, Spiegelman BM . The role of exercise and PGC1alpha in inflammation and chronic disease. Nature 2008; 454: 463–469.

Barrès R, Yan J, Egan B, Treebak JT, Rasmussen M, Fritz T et al. Acute exercise remodels promoter methylation in human skeletal muscle. Cell Metab 2012; 15: 405–411.

Navarro A, Gomez C, López-Cepero JM, Boveris A . Beneficial effects of moderate exercise on mice aging: survival, behavior, oxidative stress, and mitochondrial electron transfer. Am J Physiol Regul Integr Comp Physiol 2004; 286: R505–R511.

Safdar A, Bourgeois JM, Ogborn DI, Little JP, Hettinga BP, Akhtar M et al. Endurance exercise rescues progeroid aging and induces systemic mitochondrial rejuvenation in mtDNA mutator mice. Proc Natl Acad Sci USA 2011; 108: 4135–4140.

Werner C, Furster T, Widmann T, Poss J, Roggia C, Hanhoun M et al. Physical exercise prevents cellular senescence in circulating leukocytes and in the vessel wall. Circulation 2009; 120: 2438–2447.

Werner C, Hanhoun M, Widmann T, Kazakov A, Semenov A, Poss J et al. Effects of physical exercise on myocardial telomere-regulating proteins, survival pathways, and apoptosis. J Am Coll Cardiol 2008; 52: 470–482.

Sahin E, Depinho RA . Axis of ageing: telomeres, p53 and mitochondria. Nat Rev Mol Cell Biol 2012; 13: 397–404.

Meerlo P, Sgoifo A, Suchecki D . Restricted and disrupted sleep: effects on autonomic function, neuroendocrine stress systems and stress responsivity. Sleep Med Rev 2008; 12: 197–210.

Andreazza AC, Andersen ML, Alvarenga TA, de-Oliveira MR, Armani F, Ruiz FS et al. Impairment of the mitochondrial electron transport chain due to sleep deprivation in mice. J Psychiatr Res 2010; 44: 775–780.

Kiecolt-Glaser JK . Stress, food, and inflammation: psychoneuroimmunology and nutrition at the cutting edge. Psychosom Med 2010; 72: 365–369.

Ornish D, Lin J, Chan JM, Epel E, Kemp C, Weidner G et al. Effect of comprehensive lifestyle changes on telomerase activity and telomere length in men with biopsy-proven low-risk prostate cancer: 5-year follow-up of a descriptive pilot study. Lancet Oncol 2013; 14: 1112–1120.

García-Toro M, Ibarra O, Gili M, Serrano MJ, Oliván B, Vicens E et al. Four hygienic-dietary recommendations as add-on treatment in depression: a randomized-controlled trial. J Affect Disord 2012; 140: 200–203.

Epel ES, Puterman E, Lin J, Blackburn E, Lazaro A, Mendes WB . Wandering minds and aging cells. Clin Psychol Sci 2012; 1: 75–83.

Cohen S, Janicki-Deverts D . Who's stressed? Distributions of psychological stress in the united states in probability samples from 1983, 2006, and 2009. J Appl Soc Psychol 2012; 42: 1320–1334.

American Psychological Association. Stress in America: Our Health at Risk 2012 American Psychological Association: Washington, DC, USA, pp 1–78.
Acknowledgements
This study was supported by the Baumann Foundation and the Barney & Barbro Foundation. EP is supported by the National Heart, Lung and Blood Institute of the National Institutes of Health under award number R00 HL 109247. The content is solely the responsibility of the authors and does not necessarily represent the official views of the National Institutes of Health. We gratefully acknowledgement the support of Alanie Lazaro, Aric Prather, Samantha Schilf, Janet Tomiyama and Wanda Truong.
Ethics declarations
Competing interests
Drs Jue Lin, Elissa Epel and Elizabeth Blackburn are cofounders of Telome Health, a diagnostic company measuring telomere biology.
About this article
Cite this article
Puterman, E., Lin, J., Krauss, J. et al. Determinants of telomere attrition over 1 year in healthy older women: stress and health behaviors matter. Mol Psychiatry 20, 529–535 (2015). https://doi.org/10.1038/mp.2014.70
Received:

Revised:

Accepted:

Published:

Issue Date:

DOI: https://doi.org/10.1038/mp.2014.70