Abstract
In 2007, a multifaceted syndrome, associated with anti-NMDA receptor autoantibodies (NMDAR-AB) of immunoglobulin-G isotype, has been described, which variably consists of psychosis, epilepsy, cognitive decline and extrapyramidal symptoms. Prevalence and significance of NMDAR-AB in complex neuropsychiatric disease versus health, however, have remained unclear. We tested sera of 2817 subjects (1325 healthy, 1081 schizophrenic, 263 Parkinson and 148 affective-disorder subjects) for presence of NMDAR-AB, conducted a genome-wide genetic association study, comparing AB carriers versus non-carriers, and assessed their influenza AB status. For mechanistic insight and documentation of AB functionality, in vivo experiments involving mice with deficient blood–brain barrier (ApoE−/−) and in vitro endocytosis assays in primary cortical neurons were performed. In 10.5% of subjects, NMDAR-AB (NR1 subunit) of any immunoglobulin isotype were detected, with no difference in seroprevalence, titer or in vitro functionality between patients and healthy controls. Administration of extracted human serum to mice influenced basal and MK-801-induced activity in the open field only in ApoE−/− mice injected with NMDAR-AB-positive serum but not in respective controls. Seropositive schizophrenic patients with a history of neurotrauma or birth complications, indicating an at least temporarily compromised blood–brain barrier, had more neurological abnormalities than seronegative patients with comparable history. A common genetic variant (rs524991, P=6.15E−08) as well as past influenza A (P=0.024) or B (P=0.006) infection were identified as predisposing factors for NMDAR-AB seropositivity. The >10% overall seroprevalence of NMDAR-AB of both healthy individuals and patients is unexpectedly high. Clinical significance, however, apparently depends on association with past or present perturbations of blood–brain barrier function.
This is a preview of subscription content
Access options
Subscribe to Journal
Get full journal access for 1 year
$119.00
only $9.92 per issue
All prices are NET prices.
VAT will be added later in the checkout.
Tax calculation will be finalised during checkout.
Buy article
Get time limited or full article access on ReadCube.
$32.00
All prices are NET prices.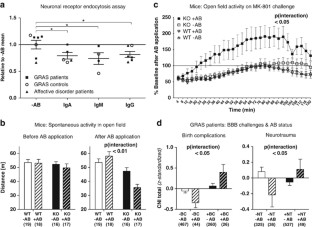 References
Li F, Tsien JZ . Memory and the NMDA receptors. N Engl J Med 2009; 361: 302–303.

Lau CG, Zukin RS . NMDA receptor trafficking in synaptic plasticity and neuropsychiatric disorders. Nat Rev Neurosci 2007; 8: 413–426.

Homayoun H, Moghaddam B . NMDA receptor hypofunction produces opposite effects on prefrontal cortex interneurons and pyramidal neurons. J Neurosci 2007; 27: 11496–11500.

Dalmau J, Tuzun E, Wu HY, Masjuan J, Rossi JE, Voloschin A et al. Paraneoplastic anti-N-methyl-D-aspartate receptor encephalitis associated with ovarian teratoma. Ann Neurol 2007; 61: 25–36.

Dalmau J, Gleichman AJ, Hughes EG, Rossi JE, Peng X, Lai M et al. Anti-NMDA-receptor encephalitis: case series and analysis of the effects of antibodies. Lancet Neurol 2008; 7: 1091–1098.

Masdeu JC, Gonzalez-Pinto A, Matute C, Ruiz De Azua S, Palomino A, De Leon J et al. Serum IgG antibodies against the NR1 subunit of the NMDA receptor not detected in schizophrenia. Am J Psychiatry 2012; 169: 1120–1121.

Zandi MS, Irani SR, Lang B, Waters P, Jones PB, McKenna P et al. Disease-relevant autoantibodies in first episode schizophrenia. J Neurol 2011; 258: 686–688.

Tsutsui K, Kanbayashi T, Tanaka K, Boku S, Ito W, Tokunaga J et al. Anti-NMDA-receptor antibody detected in encephalitis, schizophrenia, and narcolepsy with psychotic features. BMC Psychiatry 2012; 12: 37.

Dalmau J, Lancaster E, Martinez-Hernandez E, Rosenfeld MR, Balice-Gordon R . Clinical experience and laboratory investigations in patients with anti-NMDAR encephalitis. Lancet Neurol 2011; 10: 63–74.

Titulaer MJ, McCracken L, Gabilondo I, Armangue T, Glaser C, Iizuka T et al. Treatment and prognostic factors for long-term outcome in patients with anti-NMDA receptor encephalitis: an observational cohort study. Lancet Neurol 2013; 12: 157–165.

Hughes EG, Peng X, Gleichman AJ, Lai M, Zhou L, Tsou R et al. Cellular and synaptic mechanisms of anti-NMDA receptor encephalitis. J Neurosci 2010; 30: 5866–5875.

Pruss H, Holtje M, Maier N, Gomez A, Buchert R, Harms L et al. IgA NMDA receptor antibodies are markers of synaptic immunity in slow cognitive impairment. Neurology 2012; 78: 1743–1753.

Choe CU, Karamatskos E, Schattling B, Leypoldt F, Liuzzi G, Gerloff C et al. A clinical and neurobiological case of IgM NMDA receptor antibody associated encephalitis mimicking bipolar disorder. Psychiatry Res 2012; 208: 194–196.

Pruss H, Finke C, Holtje M, Hofmann J, Klingbeil C, Probst C et al. N-methyl-D-aspartate receptor antibodies in herpes simplex encephalitis. Ann Neurol 2012; 72: 902–911.

Steiner J, Walter M, Glanz W, Sarnyai Z, Bernstein HG, Vielhaber S et al. Increased prevalence of diverse N-methyl-D-aspartate glutamate receptor antibodies in patients with an initial diagnosis of schizophrenia: specific relevance of IgG NR1a antibodies for distinction from N-methyl-D-aspartate glutamate receptor encephalitis. JAMA Psychiatry 2013; 70: 271–278.

Begemann M, Grube S, Papiol S, Malzahn D, Krampe H, Ribbe K et al. Modification of cognitive performance in schizophrenia by complexin 2 gene polymorphisms. Arch Gen Psychiatry 2010; 67: 879–888.

Ribbe K, Friedrichs H, Begemann M, Grube S, Papiol S, Kastner A et al. The cross-sectional GRAS sample: a comprehensive phenotypical data collection of schizophrenic patients. BMC Psychiatry 2010; 10: 91.

Wandinger KP, Saschenbrecker S, Stoecker W, Dalmau J . Anti-NMDA-receptor encephalitis: a severe, multistage, treatable disorder presenting with psychosis. J Neuroimmunol 2011; 231: 86–91.

Toyka KV, Brachman DB, Pestronk A, Kao I . Myasthenia gravis: passive transfer from man to mouse. Science 1975; 190: 397–399.

Piedrahita JA, Zhang SH, Hagaman JR, Oliver PM, Maeda N . Generation of mice carrying a mutant apolipoprotein E gene inactivated by gene targeting in embryonic stem cells. Proc Natl Acad Sci USA 1992; 89: 4471–4475.

Radyushkin K, El-Kordi A, Boretius S, Castaneda S, Ronnenberg A, Reim K et al. Complexin2 null mutation requires a 'second hit' for induction of phenotypic changes relevant to schizophrenia. Genes Brain Behav 2010; 9: 592–602.

Purcell S, Neale B, Todd-Brown K, Thomas L, Ferreira MA, Bender D et al. PLINK: a tool set for whole-genome association and population-based linkage analyses. Am J Hum Genet 2007; 81: 559–575.

Fullerton SM, Shirman GA, Strittmatter WJ, Matthew WD . Impairment of the blood-nerve and blood-brain barriers in apolipoprotein e knockout mice. Exp Neurol 2001; 169: 13–22.

Saher G, Rudolphi F, Corthals K, Ruhwedel T, Schmidt KF, Lowel S et al. Therapy of Pelizaeus-Merzbacher disease in mice by feeding a cholesterol-enriched diet. Nat Med 2012; 18: 1130–1135.

Bell RD, Winkler EA, Singh I, Sagare AP, Deane R, Wu Z et al. Apolipoprotein E controls cerebrovascular integrity via cyclophilin A. Nature 2012; 485: 512–516.

Shlosberg D, Benifla M, Kaufer D, Friedman A . Blood-brain barrier breakdown as a therapeutic target in traumatic brain injury. Nat Rev Neurol 2010; 6: 393–403.

Baburamani AA, Ek CJ, Walker DW, Castillo-Melendez M . Vulnerability of the developing brain to hypoxic-ischemic damage: contribution of the cerebral vasculature to injury and repair? Front Physiol 2012; 3: 424.

Visscher PM, Brown MA, McCarthy MI, Yang J . Five years of GWAS discovery. Am J Hum Genet 2012; 90: 7–24.

Zheng S, Eacker SM, Hong SJ, Gronostajski RM, Dawson TM, Dawson VL . NMDA-induced neuronal survival is mediated through nuclear factor I-A in mice. J Clin Invest 2010; 120: 2446–2456.

Sfriso P, Ghirardello A, Botsios C, Tonon M, Zen M, Bassi N et al. Infections and autoimmunity: the multifaceted relationship. J Leukoc Biol 2010; 87: 385–395.

Ascherio A, Munger KL, Lunemann JD . The initiation and prevention of multiple sclerosis. Nat Rev Neurol 2012; 8: 602–612.

Dale RC, Irani SR, Brilot F, Pillai S, Webster R, Gill D et al. N-methyl-D-aspartate receptor antibodies in pediatric dyskinetic encephalitis lethargica. Ann Neurol 2009; 66: 704–709.

Tan A, Shuey N, Bladin C . A modern perspective on the differential diagnosis between encephalitis lethargica or anti-NMDA-receptor encephalitis. J Clin Neurosci 2010; 17: 1204–1206.

Reiber H, Peter JB . Cerebrospinal fluid analysis: disease-related data patterns and evaluation programs. J Neurol Sci 2001; 184: 101–122.

Ek CJ, Dziegielewska KM, Habgood MD, Saunders NR . Barriers in the developing brain and Neurotoxicology. Neurotoxicology 2012; 33: 586–604.

Grzeda E, Wisniewska RJ, Wisniewski K . Effect of an NMDA receptor agonist on T-maze and passive avoidance test in 12-week streptozotocin-induced diabetic rats. Pharmacol Rep 2007; 59: 656–663.

Sharp FR, Hendren RL . Psychosis: atypical limbic epilepsy versus limbic hyperexcitability with onset at puberty? Epilepsy Behav 2007; 10: 515–520.

Olney JW, Farber NB . Glutamate receptor dysfunction and schizophrenia. Arch Gen Psychiatry 1995; 52: 998–1007.

Manto M, Dalmau J, Didelot A, Rogemond V, Honnorat J . Afferent facilitation of corticomotor responses is increased by IgGs of patients with NMDA-receptor antibodies. J Neurol 2011; 258: 27–33.

Bechter K, Reiber H, Herzog S, Fuchs D, Tumani H, Maxeiner HG . Cerebrospinal fluid analysis in affective and schizophrenic spectrum disorders: identification of subgroups with immune responses and blood-CSF barrier dysfunction. J Psychiatr Res 2010; 44: 321–330.

Doria A, Canova M, Tonon M, Zen M, Rampudda E, Bassi N et al. Infections as triggers and complications of systemic lupus erythematosus. Autoimmun Rev 2008; 8: 24–28.

Randone SB, Guiducci S, Cerinic MM . Systemic sclerosis and infections. Autoimmun Rev 2008; 8: 36–40.

Blanpied TA, Clarke RJ, Johnson JW . Amantadine inhibits NMDA receptors by accelerating channel closure during channel block. J Neurosci 2005; 25: 3312–3322.

Larrauri A, de Mateo S . Characterisation of swabbing for virological analysis in the Spanish Influenza Sentinel Surveillance System during four influenza seasons in the period 2002–2006. Euro Surveill 2007; 12: E5–E6.

Avitsur R, Mays JW, Sheridan JF . Sex differences in the response to influenza virus infection: modulation by stress. Horm Behav 2011; 59: 257–264.
Acknowledgements
This work was supported by the Max Planck Society, the Max Planck Förderstiftung, and the DFG (CNMPB). Christian Hammer acknowledges grant support by the Daimler and Benz Foundation as well as by the Brain and Behavior Foundation. Suhaidah Mohd Jofrry, through support by the Faculty of Pharmacy, Universiti Teknologi MARA, Bandar Puncak Alam, Selangor, Malaysia, received a scholarship from the Ministry of Higher Education Malaysia. We are grateful to Sylvia Siefarth, Euroimmun, for excellent technical assistance.
Ethics declarations
Competing interests
Dr Stöcker is a full-time employee of and holds stocks in Euroimmun AG. Dr Martens is a full-time employee of Synaptic Systems GmbH. All other authors declare no conflict of interest.
Supplementary information
About this article
Cite this article
Hammer, C., Stepniak, B., Schneider, A. et al. Neuropsychiatric disease relevance of circulating anti-NMDA receptor autoantibodies depends on blood–brain barrier integrity. Mol Psychiatry 19, 1143–1149 (2014). https://doi.org/10.1038/mp.2013.110
Received:

Revised:

Accepted:

Published:

Issue Date:

DOI: https://doi.org/10.1038/mp.2013.110
Keywords
APOE

ApoE null mutant mice

autoimmunity

GWAS

influenza

NFIA