Abstract
Effective treatment regimens for elderly acute myeloid leukemia (AML) patients harboring internal tandem duplication mutations in the FMS-like tyrosine kinase-3 (FLT3) gene (FLT3/ITD) are lacking and represent a significant unmet need. Recent data on the effects of FLT3 tyrosine kinase inhibitors on FLT3/ITD+ AML showed promising clinical activity, including in elderly patients. DNA methyltransferase (DNMT) inhibitors such as decitabine (5-aza-2-deoxycytidine, DEC) and 5-azacitidine (AZA) demonstrated clinical benefit in AML, are well tolerated and are associated with minimal increases in FLT3 ligand, which can represent a potential resistance mechanism to FLT3 inhibitors. In addition, both FLT3 and DNMT inhibition are associated with the induction of terminal differentiation of myeloid blasts. Consequently, there is a strong theoretical rationale for combining FLT3 and DNMT inhibition for FLT3/ITD+ AML. We therefore sought to study the anti-leukemic effects of DEC, AZA and FLT3 inhibitors, either as single agents or in combination, on AML cell lines and primary cells derived from newly diagnosed and relapsed AML patients. Our studies indicate that combined treatment using FLT3 inhibition and hypomethylation confers synergistic anti-leukemic effects, including apoptosis, growth inhibition and differentiation. The simultaneous administration of AZA and FLT3 inhibition appears to be the most efficacious combination in this regard. These drugs may provide a novel therapeutic approach for FLT3/ITD+ AML, in particular for older patients.
Access options
Subscribe to Journal
Get full journal access for 1 year
$1,224.00
only $102.00 per issue
All prices are NET prices.
VAT will be added later in the checkout.
Rent or Buy article
Get time limited or full article access on ReadCube.
from$8.99
All prices are NET prices.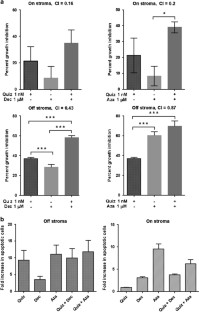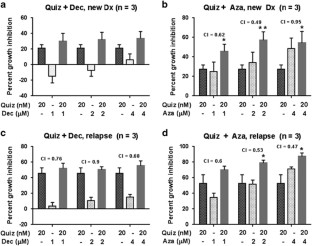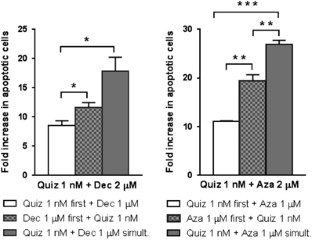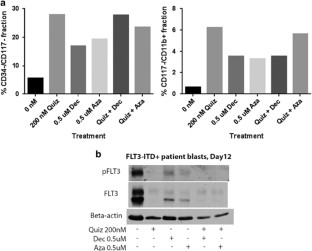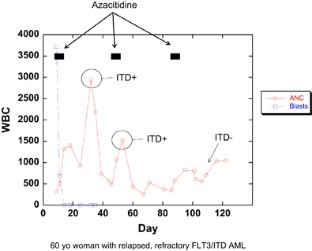 References
1

Levis M, Small D . FLT3: ITDoes matter in leukemia. Leukemia 2003; 17: 1738–1752.

2

Konig H, Levis M . Targeting FLT3 to treat leukemia. Expert Opin Ther Targets. 2015; 19: 37–54.

3

Zhang W, Konopleva M, Shi YX, McQueen T, Harris D, Ling X et al. Mutant FLT3: a direct target of sorafenib in acute myelogenous leukemia. J Natl Cancer Inst. 2008; 100: 184–198.

4

Zarrinkar PP, Gunawardane RN, Cramer MD, Gardner MF, Brigham D, Belli B et al. AC220 is a uniquely potent and selective inhibitor of FLT3 for the treatment of acute myeloid leukemia (AML). Blood 2009; 114: 2984–2992.

5

Sexauer A, Perl A, Yang X, Borowitz M, Gocke C, Rajkhowa T et al. Terminal myeloid differentiation in vivo is induced by FLT3 inhibition in FLT3/ITD AML. Blood 2012; 120: 4205–4214.

6

Zheng R, Friedman AD, Levis M, Li L, Weir EG, Small D . Internal tandem duplication mutation of FLT3 blocks myeloid differentiation through suppression of C/EBPalpha expression. Blood 2004; 103: 1883–1890.

7

Man CH, Fung TK, Ho C, Han HH, Chow HC, Ma AC et al. Sorafenib treatment of FLT3-ITD(+) acute myeloid leukemia: favorable initial outcome and mechanisms of subsequent nonresponsiveness associated with the emergence of a D835 mutation. Blood 2012; 119: 5133–5143.

8

Fathi AT, Le L, Hasserjian RP, Sadrzadeh H, Levis M, Chen YB . FLT3 inhibitor-induced neutrophilic dermatosis. Blood 2013; 122: 239–242.

9

Smith CC, Wang Q, Chin CS, Salerno S, Damon LE, Levis MJ et al. Validation of ITD mutations in FLT3 as a therapeutic target in human acute myeloid leukaemia. Nature 2012; 485: 260–263.

10

Grunwald MR, Levis MJ . FLT3 inhibitors for acute myeloid leukemia: a review of their efficacy and mechanisms of resistance. Int J Hematol 2013; 97: 683–694.

11

Levis M, Ravandi F, Wang ES, Baer MR, Perl A, Coutre S et al. Results from a randomized trial of salvage chemotherapy followed by lestaurtinib for patients with FLT3 mutant AML in first relapse. Blood 2011; 117: 3294–3301.

12

Serve H, Krug U, Wagner R, Sauerland MC, Heinecke A, Brunnberg U et al. Sorafenib in combination with intensive chemotherapy in elderly patients with acute myeloid leukemia: results from a randomized, placebo-controlled trial. J Clin Oncol 2013; 31: 3110–3118.

13

Chen YB, Li S, Lane AA, Connolly C, Del Rio C, Valles B et al. Phase I trial of maintenance sorafenib after allogeneic hematopoietic stem cell transplantation for fms-like tyrosine kinase 3 internal tandem duplication acute myeloid leukemia. Biol Blood Marrow Transplant 2014; 20: 2042–2048.

14

Plimack ER, Kantarjian HM, Issa JP . Decitabine and its role in the treatment of hematopoietic malignancies. Leuk Lymphoma 2007; 48: 1472–1481.

15

Pollyea DA, Kohrt HE, Gallegos L, Figueroa ME, Abdel-Wahab O, Zhang B et al. Safety, efficacy and biological predictors of response to sequential azacitidine and lenalidomide for elderly patients with acute myeloid leukemia. Leukemia 2012; 26: 893–901.

16

Sudan N, Rossetti JM, Shadduck RK, Latsko J, Lech JA, Kaplan RB et al. Treatment of acute myelogenous leukemia with outpatient azacitidine. Cancer 2006; 107: 1839–1843.

17

Lubbert M, Ruter BH, Claus R, Schmoor C, Schmid M, Germing U et al. A multicenter phase II trial of decitabine as first-line treatment for older patients with acute myeloid leukemia judged unfit for induction chemotherapy. Haematologica 2012; 97: 393–401.

18

Cashen AF, Schiller GJ, O'Donnell MR, DiPersio JF . Multicenter phase II study of decitabine for the first-line treatment of older patients with acute myeloid leukemia. J Clin Oncol 2010; 28: 556–561.

19

Saunthararajah Y, Triozzi P, Rini B, Singh A, Radivoyevitch T, Sekeres M et al. p53-Independent, normal stem cell sparing epigenetic differentiation therapy for myeloid and other malignancies. Semin Oncol 2012; 39: 97–108.

20

Ravandi F, Alattar ML, Grunwald MR, Rudek MA, Rajkhowa T, Richie MA et al. Phase 2 study of azacytidine plus sorafenib in patients with acute myeloid leukemia and FLT-3 internal tandem duplication mutation. Blood 2013; 121: 4655–4662.

21

Aimiuwu J, Wang H, Chen P, Xie Z, Wang J, Liu S et al. RNA-dependent inhibition of ribonucleotide reductase is a major pathway for 5-azacytidine activity in acute myeloid leukemia. Blood 2012; 119: 5229–5238.

22

Fenaux P, Mufti GJ, Hellstrom-Lindberg E, Santini V, Gattermann N, Germing U et al. Azacitidine prolongs overall survival compared with conventional care regimens in elderly patients with low bone marrow blast count acute myeloid leukemia. J Clin Oncol. 2010; 28: 562–569.

23

Hollenbach PW, Nguyen AN, Brady H, Williams M, Ning Y, Richard N et al. A comparison of azacitidine and decitabine activities in acute myeloid leukemia cell lines. PLoS One 2010; 5: e9001.

24

Kantarjian HM, Thomas XG, Dmoszynska A, Wierzbowska A, Mazur G, Mayer J et al. Multicenter, randomized, open-label, phase III trial of decitabine versus patient choice, with physician advice, of either supportive care or low-dose cytarabine for the treatment of older patients with newly diagnosed acute myeloid leukemia. J Clin Oncol 2012; 30: 2670–2677.

25

Borthakur G, Kantaranjan HM, O'Brien S, Garcia-Manero G, Jabbour E, Daver N et al The Combination of Quizartinib with Azacitidine or Low Dose Cytarabine Is Highly Active in Patients (Pts) with FLT3-ITD Mutated Myeloid Leukemias: Interim Report of a Phase I/II Trial. Blood. 2014; 56th ASH Annual Meeting (abstract #388).

26

Pratz KW, Sato T, Murphy KM, Stine A, Rajkhowa T, Levis M . FLT3-mutant allelic burden and clinical status are predictive of response to FLT3 inhibitors in AML. Blood 2010; 115: 1425–1432.

27

Levis M, Pham R, Smith BD, Small D . In vitro studies of a FLT3 inhibitor combined with chemotherapy: sequence of administration is important to achieve synergistic cytotoxic effects. Blood 2004; 104: 1145–1150.

28

Yang X, Sexauer A, Levis M . Bone marrow stroma-mediated resistance to FLT3 inhibitors in FLT3-ITD AML is mediated by persistent activation of extracellular regulated kinase. Br J Haematol 2014; 164: 61–72.

29

Matsuo Y, MacLeod RA, Uphoff CC, Drexler HG, Nishizaki C, Katayama Y et al. Two acute monocytic leukemia (AML-M5a) cell lines (MOLM-13 and MOLM-14) with interclonal phenotypic heterogeneity showing MLL-AF9 fusion resulting from an occult chromosome insertion, ins(11;9)(q23;p22p23). Leukemia 1997; 11: 1469–1477.

30

Burton EWB, Zhang J, West B, Bollag G, Habets G, Galanis A et al The Novel Inhibitor PLX3397 Effectively Inhibits FLT3-Mutant AML. Blood. 2011; 53rd ASH Annual Meeting (abstract #3632).

31

Flotho C, Claus R, Batz C, Schneider M, Sandrock I, Ihde S et al. The DNA methyltransferase inhibitors azacitidine, decitabine and zebularine exert differential effects on cancer gene expression in acute myeloid leukemia cells. Leukemia 2009; 23: 1019–1028.

32

Wong YF, Jakt LM, Nishikawa S . Prolonged treatment with DNMT inhibitors induces distinct effects in promoters and gene-bodies. PLoS One 2013; 8: e71099.

33

Saunthararajah Y, Sekeres M, Advani A, Mahfouz R, Durkin L, Radivoyevitch T et al. Evaluation of noncytotoxic DNMT1-depleting therapy in patients with myelodysplastic syndromes. J Clin Invest 2015; 125: 1043–1055.

34

Agrawal S, Hofmann WK, Tidow N, Ehrich M, van den Boom D, Koschmieder S et al. The C/EBPdelta tumor suppressor is silenced by hypermethylation in acute myeloid leukemia. Blood 2007; 109: 3895–3905.
Acknowledgements
This work was supported by the NCI Leukemia SPORE P50 CA100632-11.
Ethics declarations
Competing interests
The authors declare no conflict of interest.
Supplementary information
About this article
Cite this article
Chang, E., Ganguly, S., Rajkhowa, T. et al. The combination of FLT3 and DNA methyltransferase inhibition is synergistically cytotoxic to FLT3/ITD acute myeloid leukemia cells. Leukemia 30, 1025–1032 (2016). https://doi.org/10.1038/leu.2015.346
Received:

Revised:

Accepted:

Published:

Issue Date: