Abstract
Arterial stiffness is influenced by advancing age and vascular disease and is an independent risk factor for cardiovascular events and death. Using ultrasound measurements, arterial stiffness in a specific arterial segment can be assessed. The aim of this observational study was to explore the prospective and cross-sectional associations between arterial stiffness measured by ultrasound locally in the abdominal aorta and cardiovascular risk factors/markers including insulin resistance measured by the homeostatic model assessment-insulin resistance (HOMA-IR), lipids and abdominal obesity. This study includes 335 subjects from Malmö, Sweden, examined in 1991–1994 and again at follow-up in 1998–2000 (mean age 64 years, 42% men). Ultrasound measurement of the abdominal aorta was performed at follow-up investigation. In the female subgroup, there was a positive association between HOMA-IR at baseline and abdominal aortic stiffness at follow-up (β=0.18, P=0.03) and a negative association between high-density lipoprotein and aortic stiffness (β=−0.23, P=0.005), independently of classical cardiovascular risk factors. These associations were not found among men. The results suggest a greater or different role of impaired glucose metabolism in the pathophysiology of arterial stiffness in women than in men.
Relevant articles
Open Access articles citing this article.
Dyah Samti Mayasari

,

Nahar Taufiq

&

Hariadi Hariawan

BMC Cardiovascular Disorders Open Access 30 July 2021
Access options
Subscribe to this journal
Receive 12 digital issues and online access to articles
$119.00 per year
only $9.92 per issue
Rent or buy this article
Get just this article for as long as you need it
$39.95
Prices may be subject to local taxes which are calculated during checkout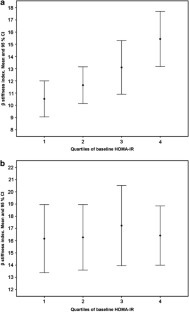 References
Vlachopoulos C, Aznaouridis K, Stefanadis C . Prediction of cardiovascular events and all-cause mortality with arterial stiffness: a systematic review and meta-analysis. J Am Coll Cardiol 2010; 55 (13): 1318–1327.

Najjar SS, Scuteri A, Lakatta EG . Arterial aging: is it an immutable cardiovascular risk factor? Hypertension 2005; 46 (3): 454–462.

Laurent S, Cockcroft J, Van Bortel L, Boutouyrie P, Giannattasio C, Hayoz D et al. Expert concencus document on arterial stiffness: methodological issues and clinical applications. Eur Heart J 2006; 27: 2588–2605.

Van Bortel LM, Laurent S, Boutouyrie P, Chowienczyk P, Cruickshank JK, De Backer T et al. Expert consensus document on the measurement of aortic stiffness in daily practice using carotid-femoral pulse wave velocity. J Hypertens 2012; 30 (3): 445–448.

Stehouwer CD, Henry RM, Ferreira I . Arterial stiffness in diabetes and the metabolic syndrome: a pathway to cardiovascular disease. Diabetologia 2008; 51 (4): 527–539.

Webb DR, Khunti K, Silverman R, Gray LJ, Srinivasan B, Lacy PS et al. Impact of metabolic indices on central artery stiffness: independent association of insulin resistance and glucose with aortic pulse wave velocity. Diabetologia 2010; 53 (6): 1190–1198.

Mokhtari A, Bellinetto-Ford L, Melander O, Nilsson PM . Determinants of increasing pulse pressure during 23 years' follow-up as a marker of arterial stiffness and vascular ageing. Blood Press 2008; 17 (5-6): 291–297.

van Popele NM, Grobbee DE, Bots ML, Asmar R, Topouchian J, Reneman RS et al. Association between arterial stiffness and atherosclerosis: the Rotterdam Study. Stroke 2001; 32 (2): 454–460.

Berglund G, Elmstähl S, Janzon L, Larsson SA . The Malmö Diet and Cancer study. Design and feasibility. J Internal Med 1993; 233: 45–51.

Manjer J, Carlsson S, Elmstahl S, Gullberg B, Janzon L, Lindstrom M et al. The Malmo Diet and Cancer Study: representativity, cancer incidence and mortality in participants and non-participants. Eur J Cancer Prev 2001; 10 (6): 489–499.

Hedblad B, Nilsson P, Janzon L, Berglund G . Relation between insulin resistance and carotid intima-media thickness and stenosis in non-diabetic subjects. Results from a cross-sectional study in Malmö, Sweden. Diabet Med 2000; 17: 299–307.

Matthews DR, Hosker JP, Rudenski AS, Naylor BA, Treacher DF, Turner RC . Homeostasis model assessment: insulin resistance and beta-cell function from fasting plasma glucose and insulin concentrations in man. Diabetologia 1985; 28 (7): 412–419.

Nilsson PM, Engstrom G, Hedblad B, Frystyk J, Persson MM, Berglund G et al. Plasma adiponectin levels in relation to carotid intima media thickness and markers of insulin resistance. Arterioscler Thromb Vasc Biol 2006; 26 (12): 2758–2762.

Benthin M, Dahl P, Ruzicka R, Lindstrom K . Calculation of pulse-wave velocity using cross correlation—effects of reflexes in the arterial tree. Ultrasound Med Biol 1991; 17 (5): 461–469.

Lindström K, Gennser GG, Sindberg Eriksson P, Benthin M, Dahl P . An improved echo-tracker for studies on pulse-waves in the fetal aorta. In: Rolfe P (ed) Fetal Physiological Measurements Buterworths: London, 1987 pp 217–226.

Kawasaki T, Sasayama S, Yagi S, Asakawa T, Hirai T . Non-invasive assessment of the age related changes in stiffness of major branches of the human arteries. Cardiovasc Res 1987; 21 (9): 678–687.

Lanne T, Hansen F, Mangell P, Sonesson B . Differences in mechanical properties of the common carotid artery and abdominal aorta in healthy males. J Vasc Surg 1994; 20 (2): 218–225.

Sonesson B, Hansen F, Stale H, Lanne T . Compliance and diameter in the human abdominal aorta—the influence of age and sex. Eur J Vasc Surg 1993; 7 (6): 690–697.

Henry RM, Kostense PJ, Spijkerman AM, Dekker JM, Nijpels G, Heine RJ et al. Arterial stiffness increases with deteriorating glucose tolerance status: the Hoorn Study. Circulation 2003; 107 (16): 2089–2095.

Dogan SM, Aktop Z, Aydin M, Karabag T, Sayin MR, Bilici HM et al. Effects of impaired fasting glucose on aortic elasticity. Exp Clin Endocrinol Diabetes 2012; 120 (7): 424–427.

Toutouzas K, Stefanadis C, Tsiamis E, Vlachopoulos C, Tousoulis D, Tsioufis C et al. Aortic pressure-diameter relation in patients with non-insulin dependent diabetes mellitus: new insights. Diabetologia 2000; 43 (8): 1070–1075.

Emoto M, Nishizawa Y, Kawagishi T, Maekawa K, Hiura Y, Kanda H et al. Stiffness indexes beta of the common carotid and femoral arteries are associated with insulin resistance in NIDDM. Diabetes Care 1998; 21 (7): 1178–1182.

Paneni F, Beckman JA, Creager MA, Cosentino F . Diabetes and vascular disease: pathophysiology, clinical consequences, and medical therapy. part I Eur Heart J 2013; 34 (31): 2436–2443.

De Angelis L, Millasseau SC, Smith A, Viberti G, Jones RH, Ritter JM et al. Sex differences in age-related stiffening of the aorta in subjects with type 2 diabetes. Hypertension 2004; 44 (1): 67–71.

Ferreira I, Boreham CA, Twisk JW, Gallagher AM, Young IS, Murray LJ et al. Clustering of metabolic syndrome risk factors and arterial stiffness in young adults: the Northern Ireland Young Hearts Project. J Hypertens 2007; 25 (5): 1009–1020.

Protogerou AD, Blacher J, Aslangul E, Le Jeunne C, Lekakis J, Mavrikakis M et al. Gender influence on metabolic syndrome's effects on arterial stiffness and pressure wave reflections in treated hypertensive subjects. Atherosclerosis 2007; 193 (1): 151–158.

Ryden Ahlgren A, Lanne T, Wollmer P, Sonesson B, Hansen F, Sundkvist G . Increased arterial stiffness in women, but not in men, with IDDM. Diabetologia 1995; 38 (9): 1082–1089.

Badimon L, Vilahur G . LDL-cholesterol versus HDL-cholesterol in the atherosclerotic plaque: inflammatory resolution versus thrombotic chaos. Ann NY Acad Sci 2012; 1254: 18–32.

Cecelja M, Chowienczyk P . Dissociation of aortic pulse wave velocity with risk factors for cardiovascular disease other than hypertension: a systematic review. Hypertension 2009; 54 (6): 1328–1336.

Johansen NB, Vistisen D, Brunner EJ, Tabak AG, Shipley MJ, Wilkinson IB et al. Determinants of aortic stiffness: 16-year follow-up of the Whitehall II study. PLoS One 2012; 7 (5): e37165.

Giannattasio C, Cesana F, Maestroni S, Salvioni A, Maloberti A, Nava S et al. Comparison of echotracking and magnetic resonance assessment of abdominal aorta distensibility and relationships with pulse wave velocity. Ultrasound Med Biol 2011; 37 (12): 1970–1976.

Nichols WW, O'Rourke MF, Vlachopoulos C . McDonald's Blood Flow in Arteries: Theoretic, Experimental, and Clinical Principles 6th edn Hodder Arnold: London, 2011.

Paini A, Boutouyrie P, Calvet D, Tropeano AI, Laloux B, Laurent S . Carotid and aortic stiffness: determinants of discrepancies. Hypertension 2006; 47 (3): 371–376.

Greenfield JJ, Patel D . Relation between pressure and diameter in the ascending aorta of man. Circ Res 1962; 10: 778–781.

Sonesson B, Lanne T, Vernersson E, Hansen F . Sex difference in the mechanical properties of the abdominal aorta in human beings. J Vasc Surg 1994; 20 (6): 959–969.
Acknowledgements
This study was supported by the Research Council of Sweden (grant 521-2010-2917 to PMN). We thank the research staff involved for ultrasound measurements.
Ethics declarations
Competing interests
The authors declare no conflict of interest.
About this article
Cite this article
Gottsäter, M., Länne, T. & Nilsson, P. Predictive markers of abdominal aortic stiffness measured by echo-tracking in subjects with varying insulin sensitivity. J Hum Hypertens 28, 456–460 (2014). https://doi.org/10.1038/jhh.2013.126
Received:

Revised:

Accepted:

Published:

Issue Date:

DOI: https://doi.org/10.1038/jhh.2013.126
Keywords
abdominal aorta

blood pressure

epidemiology

insulin resistance

ultrasonography

vascular stiffness
This article is cited by
Dyah Samti Mayasari
Nahar Taufiq
Hariadi Hariawan

BMC Cardiovascular Disorders (2021)

Camila Manrique-Acevedo
Bhavana Chinnakotla
David Gozal

International Journal of Obesity (2020)

Journal of Human Hypertension (2015)