Abstract
The purpose of this study was to assess whether cytochrome P450 enzyme 2A6 (CYP2A6) genotypes moderate the association between smoking and hypertension. In this study, 954 Chinese male current smokers from a community-based chronic disease screening project in Guangzhou were interviewed with a structured questionnaire about socio-demographic status, smoking and other health-related behaviors. Blood was collected for DNA extraction and CYP2A6 genotyping. Hypertension was defined according to 2007 ESH-ESC Practice Guidelines. A multivariate logistic regression was performed to examine the interaction between smoking quantity and CYP2A6 genotypes on hypertension after adjusting for age, education level and other potential confounders. Multivariate analyses indicated that smoking more than 15 cigarettes per day significantly increased the risk of hypertension (odds ratio (OR)=1.59, 95% confidence interval (CI)=1.21–2.10) compared with smoking 1–15 cigarettes per day, and further suggested that smoking interacted with normal CYP2A6 metabolizer genotype to increase the risk of hypertension. Smokers consuming more than 15 cigarettes per day with normal CYP2A6 metabolizer genotypes had the highest risk of hypertension (OR=2.04, 95% CI=1.11–3.75) compared with those consuming 1–15 cigarettes per day with slower CYP2A6 metabolizer genotypes. These findings demonstrated that smoking quantity was positively associated with hypertension and that CYP2A6 genotypes may moderate this relationship.
Your institute does not have access to this article
Relevant articles
Open Access articles citing this article.
Antonia Craig

,

Christian Delles

&

Eleanor C. Murray

Artery Research Open Access 01 June 2022

Sooim Sin

,

Hye-Mi Choi

…

Woo Jin Kim

Scientific Reports Open Access 17 August 2021
Access options
Subscribe to Journal
Get full journal access for 1 year
$119.00
only $9.92 per issue
All prices are NET prices.
VAT will be added later in the checkout.
Tax calculation will be finalised during checkout.
Buy article
Get time limited or full article access on ReadCube.
$32.00
All prices are NET prices.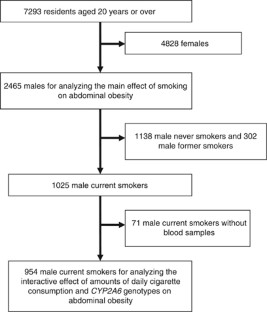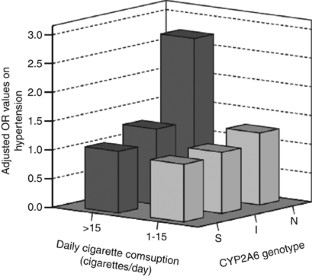 References
Helios P, Rodicio JL . European Society of Hypertension Scientific Newsletters: Update on Hypertension Management, high blood pressure, smoking and cardiovascular risk. J Hypertens 2005; 23: 219–229.

Skurnik Y, Shoenfeld Y . Health effects of cigarette smoking. Clin Dermatol 1998; 16: 545–556.

Winniford MD . Smoking and cardiovascular function. J Hypertens Suppl 1990; 8: S17–S23.

Tuomilehto J, Elo J, Nissinen A . Smoking among patients with malignant hypertension. Br Med J (Clin Res Ed) 1982; 284: 1086.

Dochi M, Sakata K, Oishi M, Tanaka K, Kobayashi E, Suwazono Y . Smoking as an independent risk factor for hypertension: a 14-year longitudinal study in male Japanese workers. Tohoku J Exp Med 2009; 217: 37–43.

Niskanen L, Laaksonen DE, Nyyssonen K, Punnonen K, Valkonen VP, Fuentes R et al. Inflammation, abdominal obesity, and smoking as predictors of hypertension. Hypertension 2004; 44: 859–865.

Bowman TS, Gaziano JM, Buring JE, Sesso HD . A prospective study of cigarette smoking and risk of incident hypertension in women. J Am Coll Cardiol 2007; 50: 2085–2092.

Halperin RO, Gaziano JM, Sesso HD . Smoking and the risk of incident hypertension in middle-aged and older men. Am J Hypertens 2008; 21: 148–152.

Narkiewicz K, van de Borne PJ, Hausberg M, Cooley RL, Winniford MD, Davison DE et al. Cigarette smoking increases sympathetic outflow in humans. Circulation 1998; 98: 528–534.

Burke A, Fitzgerald GA . Oxidative stress and smoking-induced vascular injury. Prog Cardiovasc Dis 2003; 46: 79–90.

Barutcu I, Esen AM, Degirmenci B, Acar M, Kaya D, Turkmen M et al. Acute cigarette smoking-induced hemodynamic alterations in the common carotid artery—a transcranial Doppler study. Circ J 2004; 68: 1127–1131.

Li H, Srinivasan SR, Chen W, Xu JH, Li S, Berenson GS . Vascular abnormalities in asymptomatic, healthy young adult smokers without other major cardiovascular risk factors: the Bogalusa Heart Study. Am J Hypertens 2005; 18: 319–324.

Bazzano LA, He J, Muntner P, Vupputuri S, Whelton PK . Relationship between cigarette smoking and novel risk factors for cardiovascular disease in the United States. Ann Intern Med 2003; 138: 891–897.

Sharrett AR, Ding J, Criqui MH, Saad MF, Liu K, Polak JF et al. Smoking, diabetes, and blood cholesterol differ in their associations with subclinical atherosclerosis: the Multiethnic Study of Atherosclerosis (MESA). Atherosclerosis 2006; 186: 441–447.

Narkiewicz K, Kjeldsen SE, Hedner T . Is smoking a causative factor of hypertension? Blood Press 2005; 14: 69–71.

Sesso HD, Buring JE, Rifai N, Blake GJ, Gaziano JM, Ridker PM . C-reactive protein and the risk of developing hypertension. JAMA 2003; 290: 2945–2951.

Oparil S, Zaman MA, Calhoun DA . Pathogenesis of hypertension. Ann Intern Med 2003; 139: 761–776.

Hukkanen J, Jacob 3rd P, Benowitz NL . Metabolism and disposition kinetics of nicotine. Pharmacol Rev 2005; 57: 79–115.

Carter BL, Long TY, Cinciripini PM . A meta-analytic review of the CYP2A6 genotype and smoking behavior. Nicotine Tob Res 2004; 6: 221–227.

Schoedel KA, Hoffmann EB, Rao Y, Sellers EM, Tyndale RF . Ethnic variation in CYP2A6 and association of genetically slow nicotine metabolism and smoking in adult Caucasians. Pharmacogenetics 2004; 14: 615–626.

Gu DF, Hinks LJ, Morton NE, Day IN . The use of long PCR to confirm three common alleles at the CYP2A6 locus and the relationship between genotype and smoking habit. Ann Hum Genet 2000; 64: 383–390.

Lerman C, Jepson C, Wileyto EP, Patterson F, Schnoll R, Mroziewicz M et al. Genetic variation in nicotine metabolism predicts the efficacy of extended-duration transdermal nicotine therapy. Clin Pharmacol Ther 2010; 87: 553–557.

Strasser AA, Malaiyandi V, Hoffmann E, Tyndale RF, Lerman C . An association of CYP2A6 genotype and smoking topography. Nicotine Tob Res 2007; 9: 511–518.

Nakajima M, Yokoi T . Interindividual variability in nicotine metabolism: C-oxidation and glucuronidation. Drug Metab Pharmacokinet 2005; 20: 227–235.

Mwenifumbo JC, Tyndale RF . Genetic variability in CYP2A6 and the pharmacokinetics of nicotine. Pharmacogenomics 2007; 8: 1385–1402.

Fujieda M, Yamazaki H, Saito T, Kiyotani K, Gyamfi MA, Sakurai M et al. Evaluation of CYP2A6 genetic polymorphisms as determinants of smoking behavior and tobacco-related lung cancer risk in male Japanese smokers. Carcinogenesis 2004; 25: 2451–2458.

Derby KS, Cuthrell K, Caberto C, Carmella SG, Franke AA, Hecht SS et al. Nicotine metabolism in three ethnic/racial groups with different risks of lung cancer. Cancer Epidemiol Biomarkers Prev 2008; 17: 3526–3535.

Tiwawech D, Srivatanakul P, Karalak A, Ishida T . Cytochrome P450 2A6 polymorphism in nasopharyngeal carcinoma. Cancer Lett 2006; 241: 135–141.

Kadlubar S, Anderson JP, Sweeney C, Gross MD, Lang NP, Kadlubar FF et al. Phenotypic CYP2A6 variation and the risk of pancreatic cancer. JOP 2009; 10: 263–270.

Song DK, Xing DL, Zhang LR, Li ZX, Liu J, Qiao BP . Association of NAT2, GSTM1, GSTT1, CYP2A6, and CYP2A13 gene polymorphisms with susceptibility and clinicopathologic characteristics of bladder cancer in Central China. Cancer Detect Prev 2009; 32: 416–423.

Ruwali M, Pant MC, Shah PP, Mishra BN, Parmar D . Polymorphism in cytochrome P450 2A6 and glutathione S-transferase P1 modifies head and neck cancer risk and treatment outcome. Mutat Res 2009; 669: 36–41.

Wang H, Qiu Q, Tan LL, Liu T, Deng XQ, Chen YM et al. Prevalence and determinants of diabetes and impaired fasting glucose among urban community-dwelling adults in Guangzhou, China. Diabetes Metab 2009; 35: 378–384.

Centers for Disease Control. National Health Interview Survey: Early release of selected estimates based on data from January to September 2007. www.cdc.gov. Accessed 1 April 2011.

Primatesta P, Falaschetti E, Gupta S, Marmot MG, Poulter NR . Association between smoking and blood pressure: evidence from the health survey for England. Hypertension 2001; 37: 187–193.

Wen W, Xiang YB, Zheng W, Xu WH, Yang G, Li H et al. The association of alcohol, tea, and other modifiable lifestyle factors with myocardial infarction and stroke in Chinese men. CVD Prev Control 2008; 3: 133–140.

Park MS, Chung SY, Chang Y, Kim K . Physical activity and physical fitness as predictors of all-cause mortality in Korean men. J Korean Med Sci 2009; 24: 13–19.

WHO/IASO/IOTF. The Asia-Pacific perspective: redefining obesity and its treatment. Melbourne: Health Communications Australia 2000; 18 (ISBN 0-9577082-1-1).

Adamu GB, Onyemelukwe GC . Indices of obesity among type-2 diabetic Hausa-Fulani Nigerians. Int J Diabetes & Metabolism 2005; 13: 28–29.

Liu T, David SP, Tyndale RF, Wang H, Zhou Q, Ding P et al. Associations of CYP2A6 genotype with smoking behaviors in southern China. Addiction 2011; 106: 985–994.

Mancia G, De Backer G, Dominiczak A, Cifkova R, Fagard R, Germano G et al. 2007 ESH-ESC Practice Guidelines for the Management of Arterial Hypertension: ESH-ESC Task Force on the Management of Arterial Hypertension. J Hypertens 2007; 25: 1751–1762.

Okubo Y, Suwazono Y, Kobayashi E, Nogawa K . An association between smoking habits and blood pressure in normotensive Japanese men: a 5-year follow-up study. Drug Alcohol Depend 2004; 73: 167–174.

Halimi JM, Giraudeau B, Vol S, Caces E, Nivet H, Tichet J . The risk of hypertension in men: direct and indirect effects of chronic smoking. J Hypertens 2002; 20: 187–193.

Thuy AB, Blizzard L, Schmidt MD, Luc PH, Granger RH, Dwyer T . The association between smoking and hypertension in a population-based sample of Vietnamese men. J Hypertens 2010; 28: 245–250.

Rossini A, de Almeida Simao T, Albano RM, Pinto LF . CYP2A6 polymorphisms and risk for tobacco-related cancers. Pharmacogenomics 2008; 9: 1737–1752.

Pianezza ML, Sellers EM, Tyndale RF . Nicotine metabolism defect reduces smoking. Nature 1998; 393: 750.

Tyndale RF, Sellers EM . Genetic variation in CYP2A6-mediated nicotine metabolism alters smoking behavior. Ther Drug Monit 2002; 24: 163–171.

Kamataki T, Fujieda M, Kiyotani K, Iwano S, Kunitoh H . Genetic polymorphism of CYP2A6 as one of the potential determinants of tobacco-related cancer risk. Biochem Biophys Res Commun 2005; 338: 306–310.

Runkel M, Bourian M, Tegtmeier M, Legrum W . The character of inhibition of the metabolism of 1, 2-benzopyrone (coumarin) by grapefruit juice in human. Eur J Clin Pharmacol 1997; 53: 265–269.

Madan A, Graham RA, Carroll KM, Mudra DR, Burton LA, Krueger LA et al. Effects of prototypical microsomal enzyme inducers on cytochrome P450 expression in cultured human hepatocytes. Drug Metab Dispos 2003; 31: 421–431.
Acknowledgements
This study was funded by the Guangzhou Health Bureau (2005-Zda-001) and National Institute on Drug Abuse/National Institutes of Health grants (K08-014276 and R21-027331). RFT acknowledges the support of CRC, CIHR and CAMH.
Ethics declarations
Competing interests
Dr RF Tyndale holds shares in Nicogen, a company focused on the development of novel smoking cessation treatments. No support was provided by Nicogen for this study and the manuscript was not reviewed by other members of the company. Dr RF Tyndale has also consulted for Novartis on tobacco cessation. All other authors declare no conflicts of interests.
Appendix
Appendix
About this article
Cite this article
Liu, T., Tyndale, R., David, S. et al. Association between daily cigarette consumption and hypertension moderated by CYP2A6 genotypes in Chinese male current smokers. J Hum Hypertens 27, 24–30 (2013). https://doi.org/10.1038/jhh.2011.111
Received:

Revised:

Accepted:

Published:

Issue Date:

DOI: https://doi.org/10.1038/jhh.2011.111
Keywords
cigarette smoking

CYP2A6

genetic polymorphisms

interaction
Further reading
Antonia Craig
Christian Delles
Eleanor C. Murray

Artery Research (2022)

Sooim Sin
Hye-Mi Choi
Woo Jin Kim

Scientific Reports (2021)

Kosuke Tanaka
Hidekazu Nishigori
Hirohito Metoki

Hypertension Research (2019)