Abstract
Background/Objective:
Differences in subcutaneous abdominal adipose tissue (SAT) fat cell size and number (cellularity) are linked to insulin resistance. Men are generally more insulin resistant than women but it is unknown whether there is a gender dimorphism in SAT cellularity. The objective was to determine SAT cellularity and its relationship to insulin sensitivity in men and women.
Methods:
In a cohort study performed at an outpatient academic clinic in Sweden, 798 women and 306 men were included. Estimated SAT mass (ESAT) was derived from measures of dual-energy X-ray absorptiometry and a formula. SAT biopsies were obtained to measure mean fat cell size; SAT adipocyte number was obtained by dividing ESAT with mean fat cell weight. Fat cell size was also compared with level of insulin sensitivity in vivo.
Results:
Over the entire range of body mass index (BMI) both fat cell size and number correlated positively with ESAT in either sex. On average, fat cell size was larger in men than in women, which was driven by significantly larger fat cells in non-obese men compared with non-obese women; no gender effect on fat cell size was seen in obese subjects. For all subjects fat cell number was larger in women than men, which was driven by a gender effect among non-obese individuals (P<0.0001). The relationship between fat cell size and insulin resistance was significant in both genders (P<0.0001) but steeper in men than in women (F=19, P<0.0001).
Conclusions:
Although both fat cell size and number determine SAT mass, adipocyte number contributes more and size less in women than in men and this is most evident in non-obese subjects. Over the entire BMI range, fat cell size contributes stronger to insulin resistance in men.
Your institute does not have access to this article
Relevant articles
Open Access articles citing this article.
Silvia Corvera

,

Javier Solivan-Rivera

&

Zinger Yang Loureiro

Angiogenesis Open Access 20 July 2022

Alastair G. Kerr

,

Zuoneng Wang

…

Hui Gao

Nature Communications Open Access 26 May 2022

Peter Arner

,

Daniel P. Andersson

…

Alastair G. Kerr

International Journal of Obesity Open Access 28 February 2022
Access options
Subscribe to Journal
Get full journal access for 1 year
$119.00
only $9.92 per issue
All prices are NET prices.
VAT will be added later in the checkout.
Tax calculation will be finalised during checkout.
Buy article
Get time limited or full article access on ReadCube.
$32.00
All prices are NET prices.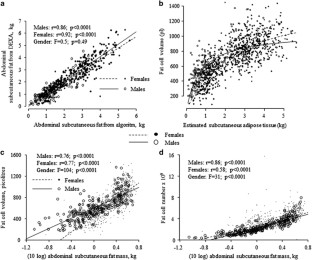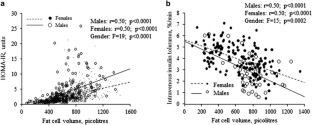 References
Salans LB, Cushman SW, Weismann RE . Studies of human adipose tissue. Adipose cell size and number in nonobese and obese patients. J Clin Invest 1973; 52: 929–941.

Bjorntorp P . Sjostrom L,+SJOSTROM L: Number and size of adipose tissue fat cells in relation to metabolism in human obesity. Metabolism 1971; 20: 703–713.

Hirsch J, Batchelor B . Adipose tissue cellularity in human obesity. Clin Endocrinol Metab 1976; 5: 299–311.

Arner E, Westermark PO, Spalding KL, Britton T, Ryden M, Frisen J et al. Adipocyte turnover: relevance to human adipose tissue morphology. Diabetes 2010; 59: 105–109.

Ktotkiewski M, Sjostrom L, Bjorntorp P, Smith U . Regional adipose tissue cellularity in relation to metabolism in young and middle-aged women. Metabolism 1975; 24: 703–710.

Stern JS, Batchelor BR, Hollander N, Cohn CK, Hirsch J . Adipose-cell size and immunoreactive insulin levels in obese and normal-weight adults. Lancet 1972; 2: 948–951.

Salans LB, Knittle JL, Hirsch J . The role of adipose cell size and adipose tissue insulin sensitivity in the carbohydrate intolerance of human obesity. J Clin Invest 1968; 47: 153–165.

Weyer C, Foley JE, Bogardus C, Tataranni PA, Pratley RE . Enlarged subcutaneous abdominal adipocyte size, but not obesity itself, predicts type II diabetes independent of insulin resistance. Diabetologia 2000; 43: 1498–1506.

Lonn M, Mehlig K, Bengtsson C, Lissner L . Adipocyte size predicts incidence of type 2 diabetes in women. FASEB J 2010; 24: 326–331.

Arner P, Andersson DP, Thorne A, Wiren M, Hoffstedt J, Naslund E et al. Variations in the size of the major omentum are primarily determined by fat cell number. J Clin Endocrinol Metab 2013; 98: E897–E901.

Tchoukalova YD, Votruba SB, Tchkonia T, Giorgadze N, Kirkland JL, Jensen MD . Regional differences in cellular mechanisms of adipose tissue gain with overfeeding. Proc Natl Acad Sci USA 2010; 107: 18226–18231.

Knittle JL, Timmers K, Ginsberg-Fellner F, Brown RE, Katz DP . The growth of adipose tissue in children and adolescents. Cross-sectional and longitudinal studies of adipose cell number and size. J Clin Invest 1979; 63: 239–246.

Geer EB, Shen W . Gender differences in insulin resistance, body composition, and energy balance. Gender Med 2009; 6: 60–75.

Sattar N . Gender aspects in type 2 diabetes mellitus and cardiometabolic risk. Best Pract Res Clin Endocrinol Metab 2013; 27: 501–507.

Bjorntorp P, Bengtsson C, Blohme G, Jonsson A, Sjostrom L, Tibblin E et al. Adipose tissue fat cell size and number in relation to metabolism in randomly selected middle-aged men and women. Metabolism 1971; 20: 927–935.

Sjostrom L, Smith U, Krotkiewski M, Bjorntorp P . Cellularity in different regions of adipose tissue in young men and women. Metabolism 1972; 21: 1143–1153.

Tchoukalova YD, Koutsari C, Votruba SB, Tchkonia T, Giorgadze N, Thomou T et al. Sex- and depot-dependent differences in adipogenesis in normal-weight humans. Obesity (Silver Spring) 2010; 18: 1875–1880.

Lee K, Lee S, Kim YJ . Waist circumference, dual-energy X-ray absortiometrically measured abdominal adiposity, and computed tomographically derived intra-abdominal fat area on detecting metabolic risk factors in obese women. Nutrition 2008; 24: 625–631.

Kaul S, Rothney MP, Peters DM, Wacker WK, Davis CE, Shapiro MD et al. Dual-energy X-ray absorptiometry for quantification of visceral fat. Obesity (Silver Spring) 2012; 20: 1313–1318.

Andersson DP, Eriksson Hogling D, Thorell A, Toft E, Qvisth V, Naslund E et al. Changes in subcutaneous fat cell volume and insulin sensitivity after weight loss. Diabetes Care 2014; 37: 1831–1836.

Strawbridge RJ, Laumen H, Hamsten A, Breier M, Grallert H, Hauner H et al. Effects of genetic loci associated with central obesity on adipocyte lipolysis. PLoS One 2016; 11: e0153990.

Gallagher D, Visser M, Sepulveda D, Pierson RN, Harris T, Heymsfield SB . How useful is body mass index for comparison of body fatness across age, sex, and ethnic groups? Am J Epidemiol 1996; 143: 228–239.

Matthews DR, Hosker JP, Rudenski AS, Naylor BA, Treacher DF, Turner RC . Homeostasis model assessment: insulin resistance and beta-cell function from fasting plasma glucose and insulin concentrations in man. Diabetologia 1985; 28: 412–419.

Bolinder J, Ostman J, Arner P . Postreceptor defects causing insulin resistance in normoinsulinemic non-insulin-dependent diabetes mellitus. Diabetes 1982; 31: 911–916.

Hoffstedt J, Andersson DP, Eriksson Hogling D, Theorell J, Naslund E, Thorell A et al. Long-term protective changes in adipose tissue after gastric bypass. Diabetes Care 2017; 40: 77–84.

Ryden M, Andersson DP, Bergstrom IB, Arner P . Adipose tissue and metabolic alterations: regional differences in fat cell size and number matter, but differently: a cross-sectional study. J Clin Endocrinol Metab 2014; 99: E1870–E1876.

Goldrick RB, McLoughlin GM . Lipolysis and lipogenesis from glucose in human fat cells of different sizes. Effects of insulin, epinephrine, and theophylline. J Clin Invest 1970; 49: 1213–1223.

Tchoukalova YD, Harteneck DA, Karwoski RA, Tarara J, Jensen MD . A quick, reliable, and automated method for fat cell sizing. J Lipid Res 2003; 44: 1795–1801.

Cushman SW, Salans LB . Determinations of adipose cell size and number in suspensions of isolated rat and human adipose cells. J Lipid Res 1978; 19: 269–273.

McLaughlin T, Sherman A, Tsao P, Gonzalez O, Yee G, Lamendola C et al. Enhanced proportion of small adipose cells in insulin-resistant vs insulin-sensitive obese individuals implicates impaired adipogenesis. Diabetologia 2007; 50: 1707–1715.

Spalding KL, Arner E, Westermark PO, Bernard S, Buchholz BA, Bergmann O et al. Dynamics of fat cell turnover in humans. Nature 2008; 453: 783–787.

Hellevik O . Linear versus logistic regression when the dependent variable is a dichotomy. Qual Quant 2009; 43: 59–74.

Tchoukalova YD, Koutsari C, Karpyak MV, Votruba SB, Wendland E, Jensen MD . Subcutaneous adipocyte size and body fat distribution. Am J Clin Nutr 2008; 87: 56–63.

Karastergiou K, Smith SR, Greenberg AS, Fried SK . Sex differences in human adipose tissues - the biology of pear shape. Biol Sex Differ 2012; 3: 13.

White UA, Tchoukalova YD . Sex dimorphism and depot differences in adipose tissue function. Biochim Biophys Acta 2014; 1842: 377–392.

Bonora E, Moghetti P, Zancanaro C, Cigolini M, Querena M, Cacciatori V et al. Estimates of in vivo insulin action in man: comparison of insulin tolerance tests with euglycemic and hyperglycemic glucose clamp studies. J Clin Endocrinol Metab 1989; 68: 374–378.
Acknowledgements
We thank Katarina Hertel, Britt-Marie Leijonhufvud and Yvonne Widlund for performing clinical examinations and technicians Elisabeth Dungner, Eva Sjölin and Kerstin Wåhlen for their measures of fat cell diameter throughout the study. This work was supported by grants from the Swedish Research Council, The Swedish Diabetes Foundation, Center for Innovative Medicine, the Diabetes Theme Center at Karolinska Institutet, the Tore Nilsson Foundation, the Stockholm County Council and the Novo Nordisk Foundation including the Tripartite Immuno-metabolism Consortium (TrIC) Grant Number NNF15CC0018486 and the MSAM consortium NNF15SA0018346.
Author contributions
PA conceived the study, collected all the data, wrote the first version of the manuscript and is the guarantor of the data. EA, MR, DEH and DPA generated data and prepared figures/tables. EA; MR, DPA and PA, analyzed data. All authors read and contributed to the final version of the manuscript.
Ethics declarations
Competing interests
The authors declare no conflict of interest.
Supplementary information
About this article
Cite this article
Andersson, D., Arner, E., Hogling, D. et al. Abdominal subcutaneous adipose tissue cellularity in men and women. Int J Obes 41, 1564–1569 (2017). https://doi.org/10.1038/ijo.2017.148
Received:

Revised:

Accepted:

Published:

Issue Date:

DOI: https://doi.org/10.1038/ijo.2017.148