Abstract
Obesity is an important causative factor in morbidity, disability and premature death. Increasing levels of obesity will impose enormous health, financial and social burdens on worldwide society unless effective interventions are implemented. For many obese individuals, diet and behavioural modification need to be supplemented by pharmacotherapy. Preclinical research has revealed a greater understanding of the complex nature of the hypothalamic regulation of food intake and has generated a wide range of new molecular targets for the development of drug candidates for obesity treatment. As shown by the clinical results that have been obtained with this next generation of therapies, some approaches, for example, fixed-dose drug combinations, have already demonstrated an ability to deliver levels of efficacy that are not achievable with the current antiobesity drug therapies. The regulatory and marketing landscape for development, registration and commercialisation of novel centrally acting drugs for treatment of obesity and related metabolic disorders has changed substantially in recent years. Now a much greater emphasis is placed on tolerability and safety, as well as efficacy. In this review we briefly describe the therapeutic approaches to tackle obesity that are in late-stage clinical development. We then discuss drugs in late-stage development for the treatment of obesity and also future directions.
Access options
Subscribe to this journal
Receive 12 print issues and online access
$259.00 per year
only $21.58 per issue
Rent or buy this article
Get just this article for as long as you need it
$39.95
Prices may be subject to local taxes which are calculated during checkout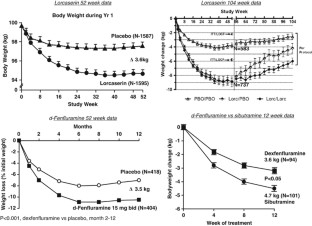 References
International Association for the Study of Obesity [IASO] 2011, http://www.iaso.org.

Mokdad AH, Bowman BA, Ford ES, Vinicor F, Marks JS, Koplan JP . The continuing epidemics of obesity and diabetes in the United States. J Am Med Ass 2001; 286: 1195–1200.

Pi-Sunyer X . The obesity epidemic: pathophysiology and consequences of obesity. Obesity Res 2002; 10: 97S–104S.

National Cholesterol Education Program. Third report of the National Cholesterol Education Program (NCEP) expert panel on detection, evaluation, and treatment of high blood cholesterol in adults (Adult Treatment Panel III) Final report. Circulation 2002; 106: 3143–3420.

UK Prospective Diabetes Study Group. Tight blood pressure control and risk of macrovascular and microvascular complications in type 2 diabetes: UKPDS 38. Br Med J 1998; 317: 703–713.

Montani J-P, Antic V, Yang Z, Dulloo A . Pathways from obesity to hypertension: from the perspective of a vicious triangle. Int J Obes 2002; 26: S28–S38.

Beckman JA, Creager MA, Libby P . Diabetes and atherosclerosis. Epidemiology, pathophysiology, and management. J Am Med Ass 2002; 287: 2570–2581.

Diabetes UK 2010, http://www.diabetes.org.uk.

International Obesity Task Force [IOTF] 2010, http://www.iotf.org.

Wolk R, Shamsuzzaman AS, Somers VK . Obesity, sleep apnoea and hypertension. Hypertension 2003; 42: 1067–1074.

Felson DT . Weight and osteoarthritis. Am J Clin Nutr 1996; 63: 430S–432S.

Bhole V, deVera M, Rahman MM, Krisnan E, Choi H . Epidemiology of gout in women: 52-year follow up of a prospective cohort. Arthritis Rheum 2010; 62: 1069–1076.

Heshka S, Heymsfield S . Obesity and gallstones. In: Bjorntorp P (ed). International Textbook of Obesity. Wiley: Chichester, 2001, pp 399–409.

James WPT, Chunming C, Inoue S . Appropriate Asian body mass indices? Obesity Rev 2002; 3: 137–232.

Deutenberg P, Deurenberg-Yap M, Guricci S . Asians are different from Caucasians and from each other in their body mass index/body fat percent relationship. Obesity Rev 2002; 3: 141–146.

Moon OR, Kim NS, Jang SM, Yoon TH, Kim O . The relationship between body mass index and the prevalence of obesity-related diseases based on the 1995 National Health Interview Survey in Korea. Obes Rev 2002; 3: 191–196.

Centers for Disease Control and Prevention (CDC). Differences in prevalence of obesity among black, white, and Hispanic adults - United States, 2006-2008. MMWR Morb Mortal Wkly Rep 2009; 58: 740–744.

McNeely W, Benfield P . Orlistat. Drugs 1998; 56: 241–249.

Déspres JP, Golay A, Sjostrom L, Rimonabant in Obesity Lipids Study Group. Effects of rimonabant on metabolic risk factors in overweight patients with dyslipidemia. N Engl J Med 2005; 353: 2121–2134.

Van Gaal LF, Rissanen AM, Scheen AJ, Ziegler O, Rossner S . Effects of the cannabinoid-1 receptor blocker rimonabant on weight reduction and cardiovascular risk factors in overweight patients: 1-year experience from the RIO-Europe study. Lancet 2005; 365: 1389–1397.

Scheen AJ, Finer N, Hollander P, Jensen MD, Van Gaal LF . Efficacy and tolerability of rimonabant in overweight or obese patients with type 2 diabetes: a randomised controlled study. Lancet 2006; 368: 1660–1672.

Pi-Sunyer FX, Aronne LJ, Heshmati HM, Devin J, Rosenstock J . Effect of rimonabant, a cannabinoid-1 receptor blocker, on weight and cardiometabolic risk factors in overweight or obese patients: RIO-North America: a randomized controlled trial. JAMA 2006; 295: 761–775.

Christensen R, Kristensen PK, Bartels EM, Bliddal H, Astrup AV . A meta-analysis of the efficacy and safety of the anti-obesity agent Rimonabant]. Ugeskr Laeger 2007; 169: 4360–4363.

James WP, Caterson ID, Coutinho W, Finer N, Van Gaal LF, Maggioni AP, et al., SCOUT Investigators. Effect of sibutramine on cardiovascular outcomes in overweight and obese subjects. N Engl J Med 2010; 363: 905–917.

Meridia US Product Label 2010, http://www.rxabbott.com/pdf/meridia.pdf.

Brenot F, Herve P, Petitpretz P, Parent F, Duroux P, Simonneau G . Primary pulmonary hypertension and fenfluramine use. Br Heart J 1993; 70: 537–541.

Abenheim L, Moride Y, Bremost F, Rich S, Benichou J, Kurz X . Appetite-suppressant drugs and the risk of primary pulmonary hypertension. N Engl J Med 1996; 335: 609–616.

Connolly HM, Crary JL, McGoon MD, Hensrud DD, Edwards BS, Edwards WD et al. Valvular heart disease associated with fenfluramine-phentermine. N Engl J Med 1997; 337: 581–588.

Gardin JM, Schumacher D, Constantine G, Davis KD, Leung C, Reid CL . Valvular abnormalities and cardiovascular status following exposure to dexfenfluramine or phentermine/fenfluramine. J Am Med Ass 2000; 283: 1703–1709.

VIVUS Inc. Press release 2011, http://ir.vivus.com/releases.cfm.

VIVUS Inc. Press release 2010, http://ir.vivus.com/releases.cfm.

Arena Pharmaceuticals Press release. 2012, http://invest.arenapharm.com/releases.cfm.

Food and Drug Administration (FDA). Center for Drug Evaluation and Research (CDER). Draft. Guidance for Industry. Developing Products for Weight Management. 2007, http://www.fda.gov/downloads/Drugs/GuidanceComplianceRegulatoryInformation/Guidances/ucm071612.pdf.

European Medicines Agency. Committee for Medicinal Products for Human Use (CHMP). Guidance on Clinical Evaluation of Medicinal Products Used in Weight Control 2007, http://www.ema.europa.eu/docs/en_GB/document_library/Scientific_guideline/2009/09/WC500003264.pdf.

Heal DJ, Gosden J, Smith SL . Regulatory challenges for new drugs to treat obesity and comorbid metabolic disorders. Br J Clin Pharmacol 2009; 68: 861–874.

Haddock CK, Poston WSC, Dill PL, Foreyt JP, Ericsson M . Pharmacotherapy for obesity: a quantitative analysis of four decades of published randomised clinical trials. Int J Obes Relat Metab Disor 2002; 26: 262–273.

Lee MD, Somerville EM, Kennett GA, Dourish CT, Clifton PG . Reduced hypophagic effects of d-fenfluramine and the 5-HT2C receptor agonist mCPP in 5-HT1B receptor knockout mice. Psychopharmacology 2004; 176: 39–49.

Linné Y, Hemmingsson E, Adolfsson B, Ramsten J, Rössner S . Patient expectations of obesity treatment-the experience from a day-care unit. Int J Obes Relat Metab Disord 2002; 26: 739–741.

Kaly P, Orellana S, Torrella T, Takagishi C, Saff-Koche L, Murr MM . Unrealistic weight loss expectations in candidates for bariatric surgery. Surg Obes Relat Dis 2008; 4: 6–10.

Dutton GR, Perri MG, Stine CC, Goble M, Van Vessem N . Comparison of physician weight loss goals for obese male and female patients. Prev Med 2010; 50: 186–188.

Rabner JG, Greenstein RJ . Obesity surgery: expectation and reality. Int J Obes 1991; 15: 841–845.

Wee CC, Jones DB, Davis RB, Bourland AC, Hamel MB . Understanding patients' value of weight loss and expectations for bariatric surgery. Obesity Surg 2006; 16: 496–500.

Walfish S, Brown TA . Patient expectations of weight loss from bariatric surgery. Bariatric Nurs Surg Patient Care 2006; 1: 205–210.

Smiertka JK, MacPherson BH . Bariatric surgery postoperative behavioural change: the importance of ongoing assessment and teaching. Obesity Surg 1995; 5: 337–340.

Bolen SD, Clark JM, Richards TM, Shore AD, Goodwin SM, Weiner JP . Trends in and patterns of obesity reduction medication use in an insured cohort. Obesity 2010; 18: 206–209.

Vickers SP, Dourish CT, Kennett GA . Evidence that hypophagia induced by d-fenfluramine and d-norfenfluramine in the rat is mediated by 5-HT2C receptors. Neuropharmacology 2001; 41: 200–209.

Rothman RB, Baumann MH, Savage JE, Rauser L, McBride A, Hufeisen SJ et al. Evidence for possible involvement of 5-HT(2B) receptors in the cardiac valvulopathy associated with fenfluramine and other serotonergic medications. Circulation 2000; 102: 2836–2841.

Rothman RB, Baumann MH . Therapeutic and adverse actions of serotonin transporter substrates. Pharmacol Ther 2002; 95: 73–88.

Setola V, Roth BL . Why mice are neither miniature humans nor small rats: a cautionary tale involving 5-hydroxytryptamine-6 serotonin receptor species variants. Mol Pharmacol 2003; 64: 1277–1278.

Fiorella D, Rabin RA, Winter JC . The role of the 5-HT2A and 5-HT2C receptors in the stimulus effects of hallucinogenic drugs. I: Antagonist correlation analysis. Psychopharmacology 1995; 121: 347–356.

Chojnacka-Wójcik E, Kłodziñska A . Involvement of 5-hydroxytryptamine 2A (5-HT2A) receptors in the mediation of the discriminative stimulus properties of (+/−)DOI in rats. Pol J Pharmacol 1997; 49: 299–304.

Griffith JD, Nutt JG, Jasinski DR . A comparison of fenfluramine and amphetamine in man. Clin Pharmacol Ther 1975; 18: 563–570.

Vickers SP, Benwell KR, Porter RH, Bickerdale MJ, Kennett GA, Dourish CT . Comparative effects of continuous infusion of mCPP, Ro 60-0175 and d-amphetamine on food intake, water intake, body weight and locomotor activity in rats. Br J Pharmacol 2000; 130: 1305–1314.

Vickers SP, Easton N, Webster LJ, Wyatt A, Bickerdale MJ, Dourish CT et al. Oral administration of the 5-HT2C receptor agonist, mCPP, reduces body weight gain in rats over 28 days as a result of maintained hypophagia. Psychopharmacology 2003; 167: 274–280.

Kennett G, Adams D, Bentley J, Benwell K, Bickerdike M et al. VER-8775, a novel selective orally active 5-HT2C receptor agonist, reverses weight gain in mice with dietary-induced obesity. British Pharmacological Society - PA2 Online 2004, Poster 018P.

Dourish CT, Adams DR, Bentley J, Benwell K, Bickerdike MJ, Harrison K et al. Discovery and development of selective 5-HT2C receptor agonists for obesity. Fundam Clin Pharmacol 2004; 18, SAT S1.4, 127–134.

Thomsen WJ, Grottick AJ, Menzaghi F, Reyes-Saldana H, Espitia S, Yuskin D . Lorcaserin, a novel selective human 5-hydroxytryptamine2C agonist: in vitro and in vivo pharmacological characterization. J Pharmacol Exp Ther 2008; 325: 577–587.

Smith SR, Weissman NJ, Anderson CM, Sanchez M, Chuang E, Stubbe S et al. Behavioral Modification and Lorcaserin for Overweight and Obesity Management (BLOOM) Study Group Multicenter, placebo-controlled trial of lorcaserin for weight management. N Engl J Med 2010; 363: 245–256.

Guy-Grand B, Apfelbaum M, Crepaldi G, Gries A, Lefebvre P, Turner P . International trial of long-term dexfenfluramine in obesity. Lancet 1989; 2: 1142–1145.

Fidler MC, Sanchez M, Raether B, Weissman NJ, Smith SR, Shanahan WR, et al., for the BLOSSOM Clinical Trial Group. A one-year randomized trial of lorcaserin for weight loss in obese and overweight adults: the BLOSSOM Trial. J Clin Endocrinol Metab 2011; 96: 3067–3077.

Arena Pharmaceuticals Press release. 2010 http://invest.arenapharm.com/releases.cfm.

Shram MJ, Schoedel KA, Bartlett C, Shazer RL, Anderson CM, Sellers EM . Evaluation of the abuse potential of lorcaserin, a serotonin 2C (5-HT(2C)) receptor agonist, in recreational polydrug users. Clin Pharmacol Ther 2011; 89: 683–692.

Shram MJ, Schoedel KA, Bartlett C, Shazer RL, Anderson CM, Sellers EM . Abuse potential assessment of lorcaserin, a selective and potent agonist at the serotonin 2C (5-HT2C) receptor, in healthy male and female recreational polydrug users. Clin Pharmacol Ther 2010; 87 (Suppl 1): S10.

Kang JG, Park CY, Kang JH, Park YW, Park SW . Randomized controlled trial to investigate the effects of a newly developed formulation of phentermine diffuse-controlled release for obesity. Diabetes Obes Metab 2010; 12: 876–882.

Hendricks EJ, Greenway FL, Westman EC, Gupta AK . Blood pressure and heart rate effects, weight loss and maintenance during long-term phentermine pharmacotherapy for obesity. Obesity (Silver Spring) 2011; 19: 2351–2360.

Sjöström L, Rissanen A, Andersen T, Boldrin M, Golay A, Koppeschaar HP et al. Randomised placebo-controlled trial of orlistat for weight loss and prevention of weight regain in obese patients. European Multicentre Orlistat Study Group. Lancet 1998; 352: 167–172.

Finer N, Bloom SR, Frost GS, Banks LM, Griffiths J . Sibutramine is effective for weight loss and diabetic control in obesity with type 2 diabetes: a randomised, double-blind, placebo-controlled study. Diabetes Obes Metab 2000; 2: 105–112.

Weintraub M, Sundaresan PR, Madan M, Schuster B, Balder A, Lasagna L et al. The enhancement of behaviour modification, caloric restriction, and exercise by fenfluramine plus phentermine versus placebo. Long-term weight control study I (weeks 0–34). Clin Pharmacol Ther 1992; 51: 586–594.

Li Z, Maglione M, Tu W, Mojica W, Arterburn D, Shugarman LR et al. Meta-analysis: pharmacologic treatment of obesity. Ann Intern Med 2005; 142: 532–546.

Heal DJ, Aspley S, Prow MR, Jackson HC, Martin KF, Cheetham SC . Sibutramine: a novel anti-obesity drug. A review of the pharmacological evidence to differentiate it from d-amphetamine and d-fenfluramine. Int J Obes 1998; 22: S18–S28.

Prow MR, Lancashire B, Aspley S, Heal DJ, Kilpatrick IC . Additive effects on rat brain 5-HT release of combining phentermine with dexfenfluramine. Int J Obes 2001; 25: 1450–1453.

Tao R, Fray A, Aspley S, Brammer R, Heal D, Auerbach S . Effects on serotonin in rat hypothalamus if d-fenfluramine, aminorex, phentermine and fluoxetine. Eur J Pharmacol 2002; 445: 69–81.

Gardin JM, Weissman NJ, Leung C, Panza JA, Fernicola D, Davis KD et al. Clinical and echocardiographic follow-up of patients previously treated with dexfenfluramine or phentermine/fenfluramine. J Am Med Ass 2001; 286: 2011–2014.

Richelson E, Pfenning M . Blockade by antidepressants and related compounds of biogenic amine uptake into rat brain synaptosomes: most antidepressants selectively block norepinephrine uptake. Eur J Pharmacol 1984; 104: 277–286.

Aubin HJ, Lebargy F, Berlin I, Bidaut-Mazel C, Chemali-Hudry J, Lagrue G . Efficacy of bupropion and predictors of successful outcome in an sample of French smokers: a randomized placebo-controlled trial. Addiction 2004; 99: 1206–1218.

Gadde KM, Zhang W, Foust MS . Bupropion treatment of olanzapine-associated weight gain: an open-label, prospective trial. J Clin Psychopharmacol 2006; 26: 409–413.

Contrave NDA. 2010 http://www.fda.gov/downloads/advisorycommittees/committeesmeetingmaterials/drugs/endocrinologicandmetabolicdrugsadvisorycommittee/ucm235671.pdf.

Orexigen Therapeutics Inc. Press release 2011, http://ir.orexigen.com/phoenix.zhtml?c=207034&p=irol-news&nyo=0.

Rowley H, Butler SA, Prow MR, Dykes SG, Aspley S, Kilpatrick IC et al. Comparison of the effects of sibutramine and other weight-modifying drugs on extracellular dopamine in the nucleus accumbens of freely moving rats. Synapse 2000; 38: 167–176.

Astrup A, Toubro S . Topiramate: a new potential pharmacological treatment for obesity. Obesity Res 2004; 12 (Suppl): 167S–173S.

Bray GA, Hollander P, Klein S, Kushner R, Levy B, Fitchet M et al. A 6-month randomized, placebo-controlled, dose-ranging trial of topiramate for weight loss in obesity. Obesity Res 2003; 11: 722–733.

Rosenstock J, Hollander P, Gadde KM, Sun X, Strauss R, Leung A, OBD-202 Study Group. A randomized, double-blind, placebo-controlled, multicenter study to assess the efficacy and safety of topiramate controlled release in the treatment of obese type 2 diabetic patients. Diabetes Care 2007; 30: 1480–1486.

Vullo D, Franchi M, Gallori E, Antel J, Scozzafava A, Supuran CT . Carbonic anhydrase inhibitors. Inhibition of mitochondrial isozyme V with aromatic and heterocyclic sulfonamides. J Med Chem 2004; 47: 1272–1279.

Vivus Press Release. 2010, http://ir.vivus.com/releasedetail.cfm?ReleaseID=537928.

Qnexa NDA 2010, http://www.fda.gov/downloads/advisorycommittees/committeesmeetingmaterials/drugs/endocrinologicandmetabolicdrugsadvisorycommittee/ucm218824.pdf.

Orexigen website. http://www.orexigen.com/.

Lorcaserin NDA. 2010, http://www.fda.gov/downloads/advisorycommittees/committeesmeetingmaterials/drugs/endocrinologicandmetabolicdrugsadvisorycommittee/ucm225631.pdf.

Hanotin C, Thomas F, Jones SP, Leutenegger E, Drouin P . A comparison of sibutramine and dexfenfluramine in the treatment of obesity. Obesity Res 1998; 6: 285–291.
Ethics declarations
Competing interests
S Smith, J Gosden and D Heal are full-time employees of RenaSci Ltd, which is a commercial provider of consultancy and experimental services. D Heal is a shareholder in RenaSci Ltd.
About this article
Cite this article
Heal, D., Gosden, J. & Smith, S. A review of late-stage CNS drug candidates for the treatment of obesity. Int J Obes 37, 107–117 (2013). https://doi.org/10.1038/ijo.2012.26
Received:

Revised:

Accepted:

Published:

Issue Date:

DOI: https://doi.org/10.1038/ijo.2012.26
Keywords
CNS drugs

Lorcaserin

Qnexa

Contrave

regulatory environment