Abstract
The aim of this study was to investigate the relationship between ED and depression. The survey was conducted among persons enrolled in panel study about Quality of Life of Korean Elderly Project at the Institute for Aging studies. Subjects were 203 men aged 45–74 years (mean age 65.5 years). ED was assessed by International Index of Erectile Function 5 (IIEF-5) score (Korean version), and depression was assessed by the Geriatric Depression Scale (GDS, Korean version). The baseline questionnaires included demographic and health history information. The age-adjusted prevalence of current depression by GDS (⩾18), of ED by IIEF-5 score (<18), and of concomitant ED and depression were 12.2%, 28.2% and 11.0%, respectively. GDS increased according to severity of ED, adjusted for age, marital status, education, smoking, alcohol, hypertension, regular exercise, total cholesterol level, fasting blood sugar, body mass index (P<0.001, by analysis of covariance). ED was strongly associated with depression symptoms after controlling for potential confounding factors using logistic regression. Compared with GDS <8, odds ratios and 95% confidence intervals for 12–17 GDS and 18 or more GDS were 3.38 (1.30–8.77) and 6.56 (2.18–19.81), respectively. ED is significantly associated with highly depressive symptoms, regardless of age, health habit or concomitant comorbidity. Our results demonstrate that multidisciplinary approaches are important for the successful treatment of ED.
This is a preview of subscription content
Access options
Subscribe to Journal
Get full journal access for 1 year
$119.00
only $14.88 per issue
All prices are NET prices.
VAT will be added later in the checkout.
Tax calculation will be finalised during checkout.
Buy article
Get time limited or full article access on ReadCube.
$32.00
All prices are NET prices.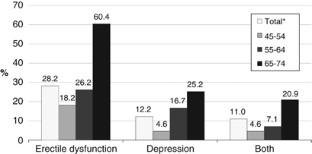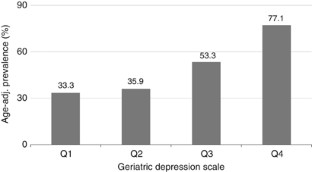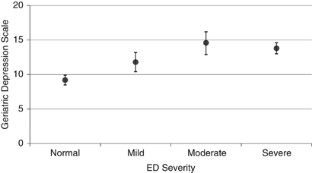 References
Son HC, Byun SS, Park EC, Cho KS, Jo MK, Kim SW et al. Prevalence of sexual dysfunction in men older than 40 living in Seoul: epidemiologic survey using questionnaire. Korean J Urol 2002; 43: 52–61.

Jeon TG, Park HJ, Park NC . Is self-report of erectile dysfunction associated with severity, cardiovascular disease risk factors, and depression? Korean J Urol 2009; 50: 902–907.

Yang DH, Jeong JY, Jang SN, Lee SK, Choi YH, Kim DH et al. Prevalence and risk factors for erectile dysfunction in aging men:Hallym aging study. Korean J Urol 2007; 48: 1258–1276.

Moreira Jr ED, Kim SC, Glasser D, Gingell C . Sexual activity, prevalence of sexual problems, and associated help-seeking patterns in men and women aged 40–80 years in Korea; data from Global Study of Sexual Attitudes and Behaviors(GSSAB). J Sex Med 2006; 3: 201–211.

Ahn TY, Park JK, Lee SW, Hong JH, Park NC, Kim JJ et al. Prevalence and risk factors for erectile dysfunction in Korean men: results of an epidemiological study. J Sex Med 2007; 4: 1269–1276.

Sugimori H, Yoshida K, Tanaka T, Baba K, Nishida T, Nakazawa R et al. Relationships between erectile dysfunction, depression, and anxiety in Japan subjects. J Sex Med 2005; 2: 390–396.

Roose SP, Seidman SN . Sexual activity and cardiac risk: is depression a contributing factor? Am J Cardiol 2000; 86 (2A): 38F–40F.

Dunn KM, Croft PR, Hackett GI . Association of sexual problems with social, psychological, and physical problems in men and women: a cross sectional population survey. J Epidemiol Community Health 1999; 53: 144–148.

Araujo AB, Durante R, Feldman A, Goldstein I, McKinlay JB . The relationship between depressive symptoms and male erectile dysfunction: cross-sectional results from the Massachusetts Male Aging Study. Psychosom Med 1998; 60: 458–465.

Williams K, Reynolds MF . Sexual dysfunction in major depression. CNS Spectr 2006; 11 (Suppl 9): 19–23.

Kantor J, Bilker WB, Glasser DB, Margolis DJ . Prevalence of erectile dysfunction and active depression: an analytic cross-sectional study of general medical patients. Am J Epidemiol 2002; 156: 1035–1042.

Mulat B, Arbel Y, Mashav N, Saar N, Steinvil A, Heruti R et al. Depressive symptoms and erectile dysfunction in men with coronary artery disease. Urology 2010; 75: 104–107.

Araujo AB, Johannes CB, Feldman HA, Derby CA, McKinlay JB . Relation between psychosocial risk factors and incidence erectile dysfunction: prospective results from the Massachusetts male aging study. Am J Epidemiol 2000; 152: 533–541.

Shaeer KZ, Osegbe DN, Siddiqui SH, Razzaque A, Glasser DB, Jaguste V . Prevalence of erectile dysfunction and its correlates among men attending primary care clinics in three countries: Pakistan, Egypt, Nigeria. Int J Impot Res 2003; 15 (1 Suppl): S8–14.

Jang Y, Small BJ, Haley WE . Cross-cultural comparability of the geriatric depression scale: comparison between older Koreans and older Americans. Aging Mental Health 2001; 5: 31–37.

Choi YH, Jeong JY, Kwak KS, Kang SH, Jang SN, Choi YJ et al. The prevalence and risk factors of the metabolic syndrome among local residents aged 45 or over in Chuncheon: Hallym Aging Study. Korean J Fam Med 2006; 27: 190–200.

Yesavage JA, Brink TL, Rose TL, Lum O, Huang V, Adey M et al. Development and validation of geriatric depression screening scale. A preliminary report. J Psychiat Res 1983; 17: 37–49.

Jung IK, Kwak DI, Shin DK, Lee MS, Lee HS, Kim JY . A reliability and validity study of geriatric depression scale. J Korean Neuropsychiatr Assoc 1997; 36: 103–112.

Ahn TY, Lee DS, Kang WC, Hong JH, Kim YS . Validation of an abridged Korean version of the international index of erectile function (IIEF-5) as a diagnostic tool for erectile dysfunction. Korean J Urol 2001; 42: 535–540.

Moon DG, Kim JS, Kim JJ . Psychological factors in male sexual dysfunction: anxiety, depression and gender role. Kor J Androl 1999; 17: 171–175.

Shabsigh R, Klein LT, Seidman S, Kaplan SA, Lehrhoff BJ, Ritter JS . Increased incidence of depressive symptoms in men with erectile dysfunction. Urology 1998; 52: 848–852.

Okulate G, Olayinka O, Dogunro AS . Erectile dysfunction: prevalence and relationship to depression, alcohol abuse and panic disorder. Gen Hosp Psychiatry 2003; 25: 209–213.

Peng YS, Chiang CK, Hung KY, Chiang SS, Lu CS, Yang CS et al. The association of higher depressive symptoms and sexual dysfunction in male haemodialysis patients. Nephrol Dial Transplant 2007; 22: 857–861.

Lemogne C, Ledru F, Bonierbale M, Consoli SM . Erectile dysfunction and depressive mood in men with coronary heart disease. Int J Cardiol 2010; 138: 277–280.

Verbrugge LM, Jette AM . The disablement process. Soc Sci Med 1994; 38: 1–14.

Zarrouf FA, Artz S, Griffith J, Sirbu C, Kommor M . Testosterone and depression: systematic review and meta-analysis. J Psychiatr Pract 2009; 15: 289–305.

Casper RC, Redmond Jr DE, Katz MM, Schaffer CB, Davis JM, Koslow SH et al. Somatic symptoms in primary affective disorders: presence and relationship to the classification of depression. Arch Gen Psychiatry 1985; 42: 1098–1104.

Angst J . Sexual problems in healthy and depressed persons. Int Clin Psychopharmacol 1998; 13 (Suppl 6): S1–S4.

Bonierbale M, Lancon C, Tignol J . The ELIXIR study: evaluation of sexual dysfunction in 4,557 depressed patients in France. Curr Med Res Opin 2003; 19: 114–124.

Kennedy SH, Dickens SE, Eisfeld BS, Bagby RM . Sexual dysfunction before antidepressant therapy in major depression. J Affect Disord 1999; 55: 201–208.

Seidman SN, Roose SP, Menza MA, Shabsigh R, Rosen RC . Treatment of erectile dysfunction in men with depressive symptoms: results of a placebo-controlled trial with Sidenafil citrate. Am J Psychiatry 2001; 158: 1623–1630.

Rosen R, Shabsigh R, Berber M, Assalian P, Menza M, Rodriguez-Vela L et al. Efficacy and tolerability of Verdenafil in men with mild depression and erectile dysfunction: the depression-related improvement with Vardenafil for erectile response study. Am J Psychiatry 2006; 163: 79–87.

Basson R, Schultz W . Sexual sequelae of general medical disorders. Lancet 2007; 369: 409–424.

De Berardis G, Pellegrini F, Franciosi M, Belfiglio M, Di Nardo B, Greenfield S et al. Clinical and psychological predictors of incidence of self-reported erectile dysfunction in patients with type 2 diabetes. J Urol 2007; 177: 252–257.

Barrett-Connor E, Von Muhlen DG, Kritz-Silverstein D . Bioavailable testosterone and depressed mood in older men: the Rancho Bernardo Study. J Clin Endocrinol Metab 1999; 84: 573–577.

Shores MM, Sloan KL, Matsumoto AM, Moceri VM, Felker B, Kivlahan DR et al. Increased incidence of diagnosed depressive illness in hypogonadal older men. Arch Gen Psychiatry 2004; 61: 162–167.
Acknowledgements
This work was supported by a Korea Research Foundation Grant (KRF-2007-411-J01902), funded by the Ministry of Education and Human Resources Development (MOEHRD), Korea.
Ethics declarations
Competing interests
The authors declare no conflict of interest.
About this article
Cite this article
Jeong, JY., Lee, S., Kang, YW. et al. Relationship between ED and depression among middle-aged and elderly men in Korea: Hallym aging study. Int J Impot Res 23, 227–234 (2011). https://doi.org/10.1038/ijir.2011.32
Received:

Revised:

Accepted:

Published:

Issue Date:

DOI: https://doi.org/10.1038/ijir.2011.32
Keywords
erectile dysfunction

depression

GDS

IIEF-5
Further reading
Filippo Maria Nimbi
Campedelli Virginia
Paone Emanuela

International Journal of Impotence Research (2022)

Hong Ji Song
Sohee Oh
Dong-Hyun Kim

BMC Geriatrics (2014)