Abstract
Autologous saphenous vein is commonly used as a conduit to bypass atherosclerotic lesions in coronary and femoral arteries. Despite the wide use of arterial conduits, which are less susceptible to complications and failure, as alternative conduits, the saphenous vein will continue to be used in coronary artery bypass grafting until acceptable alternative approaches are evaluated. Hence, preservation of vein graft patency is essential for the long-term success. Gene therapy is attractive in this setting as an ex-vivo technology to genetically manipulate the conduit before grafting. The use of safe and efficient vectors for delivery is a necessity as well as a strategy to improve patency in the long term. Here, we review the current clinical practice, the pathogenesis of bypass graft failure and adenovirus-mediated gene therapy strategies designed to improve late vein graft failure by modulation of smooth muscle cells in the vein wall.
Relevant articles
Open Access articles citing this article.
Rachel L. Pan

,

Kari Martyniak

…

Thomas J. Kean

Journal of Experimental Orthopaedics Open Access 19 September 2022

Alexander O. Ward

,

Gianni D. Angelini

…

Mustafa Zakkar

Scientific Reports Open Access 15 September 2020

Juanjuan Tan

,

Liguo Yang

…

Zhiqiang Yan

Scientific Reports Open Access 21 April 2017
Access options
Subscribe to this journal
Receive 12 print issues and online access
$259.00 per year
only $21.58 per issue
Rent or buy this article
Get just this article for as long as you need it
$39.95
Prices may be subject to local taxes which are calculated during checkout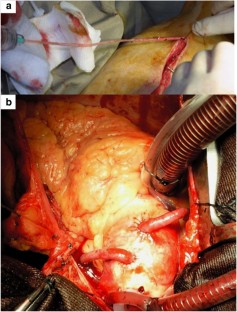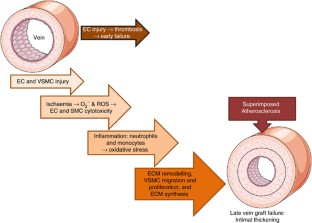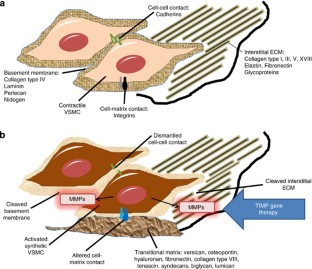 References
Favaloro RG . Critical analysis of coronary artery bypass graft surgery: a 30-year journey. JACC 1998; 31: 1B–63B.

Motwani JG, Topol EJ . Aortocoronary saphenous vein graft disease: Pathogenesis, predisposition, and prevention. Circulation 1998; 97: 916–931.

Fitzgibbon GM, Kafka HP, Leach AJ, Keon WJ, Hooper GD, Burton JR . Coronary bypass graft fate and patient outcome: angiographic follow-up of 5065 grafts related to survival and reoperation in 1388 patients during 25 years. J Am Coll Cardiol 1996; 28: 616–626.

Jackson MR, Belott TP, Dickason T, Kaiser WJ, Modrall JG, Valentine RJ et al. The consequences of a failed femoropopliteal bypass grafting: comparison of saphenous vein and PTFE grafts. J Vasc Surg 2000; 32: 498–505.

Kolh P, Wijns W, Danchin N, Di Mario C, Falk V, Folliguet T et al. Guidelines on myocardial revascularization. Eur J Cardiothorac Surg 2010; 38 (Suppl): S1–S52.

Lloyd-Jones D, Adams RJ, Brown TM, Carnethon M, Dai S, De Simone G et al. Heart disease and stroke statistics—2010 update: a report from the American heart association. Circulation 2010; 121: e46–e215.

Lazar HL . Role of statin therapy in the coronary bypass patient. Ann Thorac Surg 2004; 78: 730–740.

Alexander JH, Hafley G, Harrington RA, Peterson ED, Ferguson Jr TB, Lorenz TJ et al. Efficacy and safety of edifoligide, an E2F transcription factor decoy, for prevention of vein graft failure following coronary artery bypass graft surgery: PREVENT IV: a randomized controlled trial. JAMA 2005; 294: 2446–2454.

Zenati MA, Shroyer AL, Collins JF, Hattler B, Ota T, Almassi GH et al. Impact of endoscopic versus open saphenous vein harvest technique on late coronary artery bypass grafting patient outcomes in the ROOBY (Randomized On/Off Bypass) trial. J Thorac Cardiovasc Surg 2011; 141: 338–344.

Shah PJ, Gordon I, Fuller J, Seevanayagam S, Rosalion A, Tatoulis J et al. Factors affecting saphenous vein graft patency: clinical and angiographic study in 1402 symptomatic patients operated on between 1977 and 1999. J Thorac Cardiovasc Surg 2003; 126: 1972–1977.

Hayward PA, Gordon IR, Hare DL, Matalanis G, Horrigan ML, Rosalion A et al. Comparable patencies of the radial artery and right internal thoracic artery or saphenous vein beyond 5 years: results from the radial artery patency and clinical outcomes trial. J Thorac Cardiovasc Surg 2010; 139: 60–65; discussion 65–67.

Goldman S, Zadina K, Moritz T, Ovitt T, Sethi G, Copeland JG et al. Long-term patency of saphenous vein and left internal mammary artery grafts after coronary artery bypass surgery: results from a department of veterans affairs cooperative study. J Am Coll Cardiol 2004; 44: 2149–2156.

Goldman S, Sethi GK, Holman W, Thai H, McFalls E, Ward HB et al. Radial artery grafts vs saphenous vein grafts in coronary artery bypass surgery: a randomized trial. JAMA 2011; 305: 167–174.

Achouh P, Isselmou KO, Boutekadjirt R, D'Alessandro C, Pagny JY, Fouquet R et al. Reappraisal of a 20-year experience with the radial artery as a conduit for coronary bypass grafting. Eur J Cardiothorac Surg 2012; 41: 87–92.

Wijns W, Kolh P, Danchin N, Di Mario C, Falk V, Folliguet T et al. Guidelines for myocardial revascularization; task force on myocardial revascularization of the European Society of Cardiology (ESC) and the European Association for Cardio-Thoracic Surgery (EACTS; European Association for Percutaneous Cardiovascular Interventions (EPPCI). Eur Heart J 2010; 31: 2501–2555.

Weintraub WS, Jones EL, Craver JM, Guyton RA . Frequency of repeat coronary bypass or coronary angioplasty after coronary artery bypass surgery using saphenous venous grafts. Am J Cardiol 1994; 73: 103–112.

Elbarasi E, Goodman SG, Yan RT, Welsh RC, Kornder J, Wong GC et al. Management patterns of non-ST segment elevation acute coronary syndromes in relation to prior coronary revascularization. Am Heart J 2010; 159: 40–46.

Berry C, Pieper KS, White HD, Solomon SD, Van de Werf F, Velazquez EJ et al. Patients with prior coronary artery bypass grafting have a poor outcome after myocardial infarction: an analysis of the valsartan in acute myocardial infarction trial (valiant). Eur Heart J 2009; 30: 1450–1456.

de Belder M . Audit of Adult Interventional Procedures. British Cardiovascular Intervention Society (BCIS): London, UK, 2000.

Shah SJ, Waters DD, Barter P, Kastelein JJ, Shepherd J, Wenger NK et al. Intensive lipid-lowering with atorvastatin for secondary prevention in patients after coronary artery bypass surgery. J Am Coll Cardiol 2008; 51: 1938–1943.

Yusuf S, Zhao F, Mehta SR, Chrolavicius S, Tognoni G, Fox KK . Effects of clopidogrel in addition to aspirin in patients with acute coronary syndromes without ST-segment elevation. N Engl J Med 2001; 345: 494–502.

Labinaz M, Kilaru R, Pieper K, Marso SP, Kitt MM, Simoons ML et al. Outcomes of patients with acute coronary syndromes and prior coronary artery bypass grafting: results from the platelet glycoprotein IIb/IIIa in unstable angina: receptor suppression using integrilin therapy (PURSUIT) trial. Circulation 2002; 105: 322–327.

Servoss SJ, Wan Y, Snapinn SM, DiBattiste PM, Zhao XQ, Theroux P et al. Tirofiban therapy for patients with acute coronary syndromes and prior coronary artery bypass grafting in the prism-plus trial. Am J Cardiol 2004; 93: 843–847.

Wiviott SD, Braunwald E, McCabe CH, Montalescot G, Ruzyllo W, Gottlieb S et al. Prasugrel versus clopidogrel in patients with acute coronary syndromes. N Engl J Med 2007; 357: 2001–2015.

Wallentin L, Becker RC, Budaj A, Cannon CP, Emanuelsson H, Held C et al. Ticagrelor versus clopidogrel in patients with acute coronary syndromes. N Engl J Med 2009; 361: 1045–1057.

Jolly SS, Faxon DP, Fox KA, Afzal R, Boden WE, Widimsky P et al. Efficacy and safety of fondaparinux versus enoxaparin in patients with acute coronary syndromes treated with glycoprotein IIb/IIIa inhibitors or thienopyridines: results from the oasis 5 (fifth organization to assess strategies in ischemic syndromes) trial. J Am Coll Cardiol 2009; 54: 468–476.

Bryan AJ, Angelini GD . The biology of saphenous vein graft occlusion: etiology and strategies for prevention. Curr Opin Cardiol 1994; 9: 641–649.

West NJ, Guzik TJ, Black E, Channon KM . Enhanced superoxide production in experimental venous bypass graft intimal hyperplasia. Role of NAD(P)H oxidase. Arterioscler Thromb Vasc Biol 2001; 21: 189–194.

Shi Y, Patel S, Davenpeck K, Niculescu R, Rodriguez E, Magno M et al. Oxidative stress and lipid retention in vascular grafts: comparison between venous and arterial conduits. Circulation 2001; 15: 19.

Newby AC . Molecular and cell biology of native coronary and vein-graft atherosclerosis: regulation of plaque stability and vessel-wall remodelling by growth factors and cell-extracellular matrix interactions. Coron Artery Dis 1997; 8: 213–224.

Schwartz SM, deBlois D, O'Brien ERM . The intima. Soil for atherosclerosis and restenosis. Circ Res 1995; 77: 445–465.

Shelton ME, Forman MB, Virmani R, Bajaj A, Stoney WS, Atkinson JB . A comparison of morphologic and angiographic findings in long-term internal mammary artery and saphenous-vein bypass grafts. J Am Coll Cardiol 1988; 11: 297–307.

Virmani R, Atkinson JB, Forman MB . Aortocoronary saphenous vein bypass grafts. Cardiovasc Clin 1988; 18: 41–62.

Thatte HS, Khuri SF . The coronary artery bypass conduit: I. Intraoperative endothelial injury and its implication on graft patency. Ann Thorac Surg 2001; 72: S2245–S2252.

Sepehripour AH, Jarral OA, Shipolini AR, McCormack DJ . Does a no-touch technique result in better vein patency? Interact Cardiovasc Thorac Surg 2011; 13: 626–630.

Dobrin PB, Golan J, Fareed J, Blakeman B, Littoy FN . Preoperative vs postoperative pharmacological inhibition of platelets—effect on intimal hyperplasia in canine autogenous vein grafts. J Cardiovasc Surg 1992; 33: 705–709.

Lerner RG, Moggio RA, Reed GE . Endothelial loss due to leukocytes in canine experimental vein-to-artery grafts. Blood Vessels 1986; 23: 173–182.

Cooper JP, Newby AC . Monocyte adhesion to human saphenous vein in vitro. Atherosclerosis 1991; 91: 85–95.

Cirillo P, Golino P, Ragni M, Pacifico FM, Battaglia C, Scognamiglio A et al. Effects of platelets and leukocytes on smooth muscle cell proliferation in vivo. Eur Heart J 1997; 18: 49.

Owens GK, Kumar MS, Wamhoff BR . Molecular regulation of vascular smooth muscle cell differentiation in development and disease. Physiol Rev 2003; 84: 767–801.

Jeremy JY, Gadsdon P, Shukla N, Vijayan V, Wyatt M, Newby AC et al. On the biology of saphenous vein grafts fitted with external synthetic sheaths and stents. Biomaterials 2007; 28: 895–908.

Chester AH, Morrison KJM, Yacoub MH . Expression of vascular adhesion molecules in saphenous vein coronary bypass grafts. Ann Thorac Surg 1998; 65: 1685–1689.

Alrawi SJ, Samee M, Raju R, Shirazian D, Acinapura AJ, Cunningham JN . Intercellular and vascular cell adhesion molecule levels in endoscopic and open saphenous vein harvesting for coronary artery bypass surgery. Heart Surg Forum 2000; 3: 241–245.

Chen SJ, Wilson JM, Muller DWM . Adenovirus-mediated gene transfer of soluble vascular cell adhesion molecule to porcine interposition vein grafts. Circulation 1994; 89: 1922–1928.

Segel GB, Halterman MW, Lichtman MA . The paradox of the neutrophil's role in tissue injury. J Leukoc Biol 2011; 89: 359–372.

Hoch JR, Stark VK, van Rooijen N, Kim JL, Nutt MP, Warner TF . Macrophage depletion alters vein graft intimal hyperplasia. Surgery 1999; 126: 428–437.

Ramli J, CalderonArtero P, Block RC, Mousa SA . Novel therapeutic targets for preserving a healthy endothelium: strategies for reducing the risk of vascular and cardiovascular disease. Cardiol J 2011; 18: 352–363.

Ehsan A, Mann M, Dell'Acqua G, Tamura K, Braun-Dullaeus R, Dzau VJ . Endothelial healing in vein grafts. Proliferative burst unimpaired by genetic therapy of neointimal disease. Circulation 2002; 105: 1686–1692.

Ohno N, Itoh H, Ikeda T, Ueyama K, Yamahara K, Doi K et al. Accelerated reendothelialization with suppressed thrombogenic property and neointimal hyperplasia of rabbit jugular vein grafts by adenovirus-mediated gene transfer of c-type natriuretic peptide. Circulation 2002; 105: 1623–1626.

Davies MG, Klyachkin ML, Svendsen E, Hagen PO . A comparative study of endothelium-derived relaxing factor-mediated relaxation and smooth muscle cell function in arterial and venous vein bypass grafts. Cardiovasc Surg 1996; 4: 150–160.

Shimokawa H, Aarhus LL, Vanhoutte PM . Porcine coronary-arteries with regenerated endothelium have a reduced endothelium-dependent responsiveness to aggregating platelets and serotonin. Circ Res 1987; 61: 256–270.

Dobrin PB, Littooy FN, Endean ED . Mechanical factors predisposing to intimal hyperplasia and medial thickening autogenous vein grafts. Surgery 1989; 105: 393–400.

LaMack JA, Himburg HA, Zhang J, Friedman MH . Endothelial gene expression in regions of defined shear exposure in the porcine iliac arteries. Ann Biomed Eng 2010; 38: 2252–2262.

White SJ, Hayes EM, Lehoux S, Jeremy JY, Horrevoets AJG, Newby AC . Characterization of the differential response of endothelial cells exposed to normal and elevated laminar shear stress. J Cell Physiol 2011; 226: 2841–2848.

Berk BC . Vascular smooth muscle growth: autocrine growth mechanisms. Physiol Rev 2001; 81: 999–1030.

Gibbons GH, Dzau VJ . The emerging concept of vascular remodeling. N Engl J Med 1994; 330: 1431–1438.

Caro C, Jeremy J, Watkins N, Bulbulia R, Angelini G, Smith F et al. The geometry of unstented and stented pig common carotid artery bypass grafts. Biorheology 2002; 39: 507–512.

Adiguzel E, Ahmad PJ, Franco C, Bendeck MP . Collagens in the progression and complications of atherosclerosis. Vasc Med 2009; 14: 73–89.

Newby AC . Dual role of matrix metalloproteinases (matrixins) in intimal thickening and atherosclerotic plaque rupture. Physiol Rev 2005; 85: 1–31.

Slater SC, Koutsouki E, Jackson CL, Bush RC, Angelini GD, Newby AC et al. R-cadherin: β-catenin complex and its association with vascular smooth muscle cell proliferation. Arterioscler Thromb Vasc Biol 2004; 24: 1204–1210.

Uglow EB, Slater S, Sala-Newby GB, Aguilera-Garcia CM, Angelini GD, Newby AC et al. Dismantling of cadherin-mediated cell-cell contacts modulates smooth muscle proliferation. Circ Res 2003; 92: 1314–1321.

Southgate KM, Mehta D, Izzat MB, Newby AC, Angelini GD . Increased secretion of basement membrane-degrading metalloproteinases in pig saphenous vein into carotid artery interposition grafts. Arterioscler Thromb Vasc Biol 1999; 19: 1640–1649.

George SJ, Zaltsman AB, Newby AC . Surgical preparative injury and neointima formation increase mmp-9 expression and mmp-2 activation in human saphenous vein. Cardiovasc Res 1997; 33: 447–459.

George SJ, Baker AH, Angelini GD, Newby AC . Gene transfer of tissue inhibitor of metalloproteinase-2 inhibits metalloproteinase activity and neointima formation in human saphenous veins. Gene Therapy 1998; 5: 1552–1560.

George SJ, Johnson JL, Angelini GD, Newby AC, Baker AH . Adenovirus-mediated gene transfer of the human timp-1 gene inhibits SMC migration and neointima formation in human saphenous vein. Hum Gene Ther 1998; 9: 867–877.

George SJ, Lloyd CT, Angelini GD, Newby AC, Baker AH . Inhibition of late vein graft neointima formation in human and porcine models by adenovirus-mediated overexpression of tissue inhibitor of metalloproteinase-3. Circulation 2000; 101: 296–304.

George SJ, Wan S, Hu J, MacDonald R, Johnson JL, Baker AH . Sustained reduction of vein graft neointima formation by ex vivo timp-3 gene therapy. Circulation 2011; 124: S135–S142.

Jeremy JY, Shukla N, Muzaffar S, Handley A, Angelini GD . Reactive oxygen species, vascular disease and cardiovascular surgery. Curr Vasc Pharmacol 2004; 2: 229–236.

Muzaffar S, Jeremy JY, Angelini GD, Stuart-Smith K, Shukla N . Role of the endothelium and nitric oxide synthases in modulating superoxide formation induced by endotoxin and cytokines in porcine pulmonary arteries. Thorax 2003; 58: 598–604.

Gadsdon P, Yim A, Wan S, Newby AC, Angelini GD, Jeremy JY . Nitrated tyrosine in porcine stented and unstented vein grafts. Atherosclerosis 2000; 151: 108.

Dashwood MR, Anand R, Loesch A, Souza DSR . Hypothesis: a potential role for the vasa vasorum in the maintenance of vein graft patency. Angiology 2004; 55: 385–395.

Mehta D, George SJ, Jeremy JY, Izzat MB, Southgate KM, Bryan AJ et al. External stenting reduces long-term medial and neointimal thickening and platelet-derived growth factor expression in a pig model of arteriovenous bypass grafting. Nature Med 1998; 4: 235–239.

Mann MJ, Dzau VJ . Therapeutic applications of transcription factor decoy oligonucleotides. J Clin Invest 2000; 106: 1071–1075.

Mann MJ, Gibbons GH, Kernoff RS, Diet FP, Tsao PS, Cooke JP et al. Genetic engineering of vein grafts resistant to atherosclerosis. Proc Natl Acad Sci USA 1995; 92: 4502–4506.

Mann MJ, Whittemore AD, Donaldson MC, Belkin M, Conte MS, Polak JF et al. Ex-vivo gene therapy of human vascular bypass grafts with e2f decoy: the prevent single-centre, randomised, controlled trial. Lancet 1999; 354: 1493–1498.

Morishita R, Gibbons G, Horiuchi M, Ellison K, Nakama M, Zhang L et al. A gene therapy strategy using a transcription factor decoy of the e2f binding site inhibits smooth muscle proliferation in vivo. Proc Natl Acad Sci USA 1995; 92: 5855–5859.

Peroulis M, Kakisis J, Kapelouzou A, Giagini A, Giaglis S, Mantziaras G et al. The role of ex-vivo gene therapy of vein grafts with egr-1 decoy in the suppression of intimal hyperplasia. Eur J Vasc Endovasc Surg 2010; 40: 216–223.

Bergelson JM, Cunningham JA, Droguett G, Kurt-Jones EA, Krithivas A, Hong JS et al. Isolation of a common receptor for Coxsackie B viruses and adenoviruses 2 and 5. Science 1997; 275: 1320–1323.

Wickham TJ, Mathias P, Cheresh DA, Nemerow GR . Integrins αvβ3 and αvβ5 promote adenovirus internalization but not virus attachment. Cell 1993; 73: 309–319.

Work L, Nicklin S, Brain N, Dishart K, Von Seggern D, Hallek M et al. Development of viral vectors efficient and selective for vascular smooth muscle cells. Mol Ther 2004; 9: 198–208.

Work L, Reynolds P, Baker A . Improved gene delivery to human saphenous vein cells and tissue using a peptide-modified adenoviral vector. Genet Vaccines Ther 2004; 2: 14.

Newman KD, Dunn PF, Owens JW, Schulick AH, Virmani R, Sukhova G et al. Adenovirus-mediated gene transfer into normal rabbit arteries results in prolonged vascular cell activation, inflammation, and neointimal hyperplasia. J Clin Invest 1995; 96: 2955–2965.

Abbink P, Lemckert AAC, Ewald BA, Lynch DM, Denholtz M, Smits S et al. Comparative seroprevalence and immunogenicity of six rare serotype recombinant adenovirus vaccine vectors from subgroups B and D. J Virol 2007; 81: 4654–4663.

Du L, Dronadula N, Tanaka S, Dichek DA . Helper-dependent adenoviral vector achieves prolonged, stable expression of interleukin-10 in rabbit carotid arteries but does not limit early atherogenesis. Hum Gene Ther 2011; 22: 959–968.

George SJ, Channon KM, Baker AH . Gene therapy and coronary artery bypass grafting: current perspectives. Curr Opin Mol Ther 2006; 8: 288–294.

Shukla N, Jeremy JY . Pathophysiology of saphenous vein graft failure: a brief overview of interventions. Curr Opin Pharmacol 2012; e-pub ahead of print 7 February 2012; doi:10.1016/j.coph.2012.01.001.

Acevedo L, Yu J, Erdjument-Bromage H, Miao RQ, Kim JE, Fulton D et al. A new role for Nogo as a regulator of vascular remodeling. Nat Med 2004; 10: 382–388.

Kritz A, Yu J, Wright P, Wan S, George S, Halliday C et al. In vivo modulation of Nogo-B attenuates neointima formation. Mol Ther 2008; 16: 1798–1804.

Eichstaedt HC, Liu Q, Chen Z, Bobustuc GC, Terry T, Willerson JT et al. Gene transfer of cox-1 improves lumen size and blood flow in carotid bypass grafts. J Surg Res 2010; 161: 162–167.

Handa M, Li W, Morioka K, Takamori A, Yamada N, Ihaya A . Adventitial delivery of platelet-derived endothelial cell growth factor gene prevented intimal hyperplasia of vein graft. J Vasc Surg 2008; 48: 1566–1574.

Eefting D, Bot I, de Vries MR, Schepers A, van Bockel JH, Van Berkel TJ et al. Local lentiviral short hairpin RNA silencing of CCR2 inhibits vein graft thickening in hypercholesterolemic apolipoprotein E3-leiden mice. J Vasc Surg 2009; 50: 152–160.

Eefting D, Seghers L, Grimbergen JM, de Vries MR, de Boer HC, Lardenoye JW et al. A novel urokinase receptor-targeted inhibitor for plasmin and matrix metalloproteinases suppresses vein graft disease. Cardiovasc Res 2010; 88: 367–375.

Ranjzad P, Salem HK, Kingston PA . Adenovirus-mediated gene transfer of fibromodulin inhibits neointimal hyperplasia in an organ culture model of human saphenous vein graft disease. Gene Therapy 2009; 16: 1154–1162.

Kloppenburg GT, Grauls GE, Bruggeman CA, Stassen FR . Adenoviral activin A expression prevents vein graft intimal hyperplasia in a rat model. Interact Cardiovasc Thorac Surg 2009; 8: 31–34.

Baker A, Zaltsman A, George S, Newby A . Divergent effects of tissue inhibitor of metalloproteinase-1, -2 or -3 overexpression on rat vascular smooth muscle cell invasion, proliferation, and death in vitro timp-3 promotes apoptosis. J Clin Invest 1998; 101: 1478–1487.
Acknowledgements
We thank the British Heart Foundation, the UK Medical Research Council and the Hong Kong Research Grant Council Earmarked Grants for supporting research on vein grafting in our laboratories. Professor Berry is supported by a Senior Fellowship from the Scottish Funding Council.
Ethics declarations
Competing interests
The authors declare no conflict of interest.
About this article
Cite this article
Wan, S., George, S., Berry, C. et al. Vein graft failure: current clinical practice and potential for gene therapeutics. Gene Ther 19, 630–636 (2012). https://doi.org/10.1038/gt.2012.29
Received:

Revised:

Accepted:

Published:

Issue Date:

DOI: https://doi.org/10.1038/gt.2012.29
Keywords
adenovirus

metalloproteinases

vein grafting

vascular disease