Abstract
Objectives:
To determine the effects of a probiotic milk drink consumed over a period of 28 days, regarding the expression of clinical inflammatory parameters of the oral gingiva during various phases of plaque-induced gingivitis.
Methods:
Twenty-eight adults with healthy gingiva took part in a prospective and clinical-controlled study. The test group was advised to consume a probiotic milk drink (Yacult) daily during a period of 4 weeks; the control group did not receive any probiotic food or drink. After 2 weeks of consumption of the probiotic drink, participants were advised not to brush their teeth for 14 days. Subsequently, at baseline as well as on days 1, 3, 5, 7 and 14, the following clinical parameters were assessed: plaque index (PI), gingival index (GI), gingival crevicular fluid (GCF) volume and bleeding on probing (BOP).
Results:
At baseline, the PI was significantly higher in the test group compared with controls (0.44±0.50 vs 0.09±0.24 PI; P=0.0001). The termination of oral hygiene increased clinical inflammatory parameters in both groups. At day 14, the parameters PI, GI, GCF volume and BOP were significantly higher compared with baseline values (P=0.0001). At day 14, BOP levels (18.75±12.32 vs 36.88±12.54%) and GCF volume (18.78±16.7 vs 35.72±16.1 Periotron units) were significantly lower in the test group compared with the control group (P=0.005).
Conclusion:
The results of our study indicate that a daily consumption of a probiotic milk drink reduces the effects of plaque-induced gingival inflammation associated with a higher plaque score due to the high-carbohydrate content of the probiotic milk beverage.
Relevant articles
Open Access articles citing this article.
Yara Loyanne de Almeida Silva Levi

,

Marcella Costa Ribeiro

…

Flávia Aparecida Chaves Furlaneto

Clinical Oral Investigations Open Access 28 October 2022

Robert P. Allaker

&

Abish S. Stephen

Current Oral Health Reports Open Access 19 October 2017

Qingru Jiang

,

Iva Stamatova

…

Jukka H. Meurman

BMC Microbiology Open Access 12 July 2016
Access options
Subscribe to this journal
Receive 12 print issues and online access
$259.00 per year
only $21.58 per issue
Rent or buy this article
Get just this article for as long as you need it
$39.95
Prices may be subject to local taxes which are calculated during checkout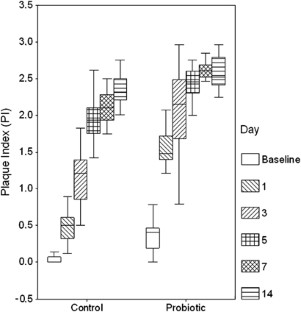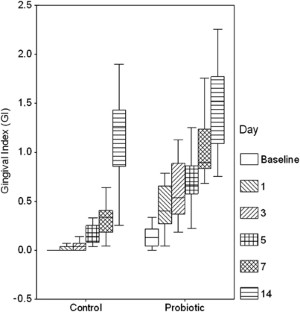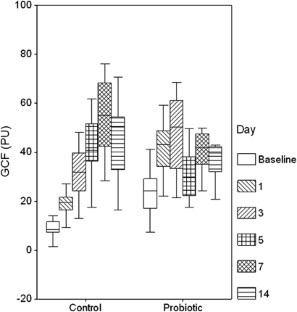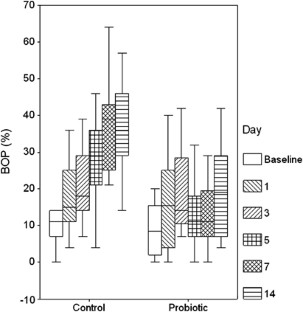 References
Ahola AJ, Yli-Knuuttila H, Suomalainen T, Poussa T, Ahlström A, Meurman JH et al. (2002). Short-term consumption of probiotic-containing cheese and its effect on dental caries risk factors. Arch Oral Biol 47, 799–804.

Broekaert IJ, Walker WA (2006). Probiotics and chronic disease. J Clin Gastroenterol 40, 270–274.

Çaglar E, Cildir SK, Ergeneli S, Sandalli N, Twetman S (2006). Salivary mutans streptococci and lactobacilli levels after ingestion of the probiotic bacterium lactobacillus reuteri ATCC 55730 by straws or tablets. Acta Odontol Scand 64, 314–318.

Çaglar E, Kavaloglu SC, Kuscu OO, Sandalli N, Holgerson PL, Twetman S (2007). Effect of chewing gums containing xylitol or probiotic bacteria on salivary mutans streptococci and lactobacilli. Clin Oral Investig 11, 425–429.

Camilleri M (2006). Probiotics and irritable bowel syndrome: rationale, putative mechanisms, and evidence of clinical efficacy. J Clin Gastroenterol 40, 264–269.

Cildir SK, Germec D, Sandalli N, Ozdemir FI, Arun T, Twetman S et al. (2009). Reduction of salivary mutans streptococci in orthodontic patients during daily consumption of yoghurt containing probiotic bacteria. Eur J Orthod 31, 407–411.

Cremonini F, Di Caro S, Nista EC, Bartolozzi F, Capelli G, Gasbarrini G et al. (2002). Meta-analysis: the effect of probiotic administration on antibiotic-associated diarrhoea. Aliment Pharmacol Ther 16, 1461–1467.

Díaz-Ropero MP, Martín R, Sierra S, Lara-Villoslada F, Rodríguez JM, Xaus J et al. (2007). Two Lactobacillus strains, isolated from breast milk, differently modulate the immune response. J Appl Microbiol 102, 337–343.

D'Souza AL, Rajkumar C, Cooke J, Bulpitt CJ (2002). Probiotics in prevention of antibiotic associated diarrhoea: meta-analysis. Br Med J 324, 1361.

Eberhard J, Heilmann F, Açil Y, Albers HK, Jepsen S (2002). Local application of n-3 or n-6 polyunsaturated fatty acids in the treatment of human experimental gingivitis. J Clin Periodontol 29, 364–369.

Eberhard J, Reimers N, Dommisch H, Hacker J, Freitag S, Yahaya A et al. (2005). The effect of the topical administration of bioactive glass on inflammatory markers of human experimental gingivitis. Biomaterials 26, 1545–1551.

FAO/WHO (2001). Report of joint FAO/WHO expert consultation on evaluation of health and nutritional properties of probiotics in food including powder milk with live lactic acid bacteria. Cordoba: Argentina.

Grudianov AI, Dmitrieva NA, Fomenko EV (2002). Use of probiotics Bifidumbacterin and Acilact in tablets in therapy of periodontal inflammations. Stomatologiia 81, 39–43.

Hatakka K, Ahola AJ, Yli-Knuuttila H, Richardson M, Poussa T, Meurman JH et al. (2007). Probiotics reduce the prevalence of oral candida in the eldery—a randomized controlled trial. J Dent Res 86, 125–130.

Haukioja A, Söderling E, Tenovuo J (2008). Acid production from sugars and sugar alcohols by probiotic Lactobacilli and Bifidobacteria in vitro. Caries Res 42, 449–453.

Heasman PA, Collins JG, Offenbacher S (1993). Changes in crevicular fluid levels of interleukin-1 beta, leukotriene B4, prostaglandin E2, thromboxane B2 and tumour necrosis factor alpha in experimental gingivitis in humans. J Periodontal Res 28, 241–247.

Ishikawa H, Aiba Y, Nakanishi M, Ohhashi Y, Koga Y (2003). Suppression of periodontal pathogenic bacteria in the saliva of humans by the administration of Lactobacillus salivarius TI2711. J Japn Soc Periodontol 45, 105–112.

Jepsen S, Eberhard J, Fricke D, Hedderich J, Siebert R, Açil Y (2003). Interleukin-1 gene polymorphisms and experimental gingivitis. J Clin Periodontol 30, 102–106.

Kligler B, Cohrssen A (2008). Probiotics. Am Fam Physician 78, 1073–1078.

Krasse P, Carlsson B, Dahl C, Paulsson A, Nilsson A, Sienkiewicz G (2006). Decreased gum bleeding and reduced gingivitis by the probiotic Lactobaccilus reuteri. Swed Dent J 30, 55–60.

Löe H, Silness J (1963). Periodontal disease in pregnancy. I. Prevalence and severity. Acta Odontol Scand 21, 533–551.

Löe H, Theilade F, Jensen SB (1965). Experimental gingivitis in man. J Clin Periodontol 36, 177–187.

Matsuoka T, Sugano N, Takigawa S, Takane M, Yoshimura N, Ito K et al. (2006). Effect of oral Lactobacillus salivarius TI 2711 (LS1) administration on periodontopathic bacteria in subgingival plaque. J Japn Soc Periodontol 48, 315–324.

Metchnikoff E (1907). Should we try to prolong human life. In: E Metchnikoff and C Mitchell. The prolongation of life. Optimistic studies. Springer publishing company: New York, pp 1–100.

Meurmann JH (2005). Probiotics: do they have a role in oral medicine and dentistry? Eur J Oral Sci 113, 188–196.

Meurmann JH, Stamatova I (2007). Probiotics: contributions to oral health. Oral Dis 13, 443–451.

Michail S, Abernathy F (2002). Lactobacillus plantarum reduces the in vitro secretory response of intestinal epithelial cells to enteropathogenic Escherichia coli infection. J Pediatr Gastroenterol Nutr 35, 350–355.

Näse L, Hatakka K, Savilahti E, Saxelin M, Ponka A, Poussa T et al. (2001). Effect of long-term consumption of a probiotic bacterium, Lactobacillus rhamnosus GG, in milk on dental caries and caries risk in children. Caries Res 35, 412–420.

Papapanou PN (1999). Epidemiology of periodontal diseases: an update. J Int Acad Periodontol 1, 110–116.

Patzer SI, Baquero MR, Bravo D, Moreno F, Hantke K (2003). The colicin G, H and X determinants encode microcins M and H47, which might utilize the catecholate siderophore receptors FepA, Cir, Fiu and IroN. Microbiology 149, 2557–2570.

Pihlstrom BL, Michalowicz BS, Johnson NW (2005). Periodontal diseases. Lancet 366, 1809–1820.

Quigley EM (2007). Bacteria: a new player in gastrointestinal motility disorders-infections, bacterial overgrowth, and probiotics. Gastroenterol Clin North Am 36, 735–748.

Reid G, Jass J, Sebulsky MT, McCormick JK (2003). Potential uses of probiotics in clinical practice. Clin Microbiol Rev 16, 658–672.

Schlee M, Harder J, Köten B, Stange EF, Wehkamp J, Fellermann K (2008). Probiotic lactobacilli and VSL#3 induce enterocyte beta-defensin 2. Clin Exp Immunol 151, 528–535.

Schultz M, Veltkamp C, Dieleman LA, Grenther WB, Wyrick PB, Tonkonogy SL et al. (2002). Lactobacillus plantarum 299 V in the treatment and prevention of spontaneous colitis in interleukin-10-deficient mice. Inflamm Bowel Dis 8, 71–80.

Shimauchi H, Mayanagi G, Nakaya S, Minamibuchi M, Ito Y, Yamaki K et al. (2008). Improvement of periodontal condition by probiotics with Lactobacillus salivarius WB21: a randomized, double-blind, placebo-controlled study. J Clin Periodontol 35, 897–905.

Silness J, Löe H (1964). Periodontal disease in pregnancy. II. Correlation between oral hygiene and periodontal condition. Acta Odontol Scand 22, 121–135.

Staab B, Eick S, Knöfler G, Jentsch H (2009). The influence of a probiotic milk drink on the development of gingivitis: a pilot study. J Clin Periodontol 36, 850–856.

Szajewska H, Mrukowicz JZ (2001). Probiotics in the treatment and prevention of acute infectious diarrhea in infants and children: a systematic review of published randomized, double-blind, placebo- controlled trials. J Pediatr Gastroenterol Nutr 33, 17–25.

Tsubura S, Mizunuma H, Ishikawa S, Oyake I, Okabayashi M, Katoh K et al. (2009). The effect of Bacillus subtilis mouth rinsing in patients with periodontitis. Eur J Clin Microbiol Infect Dis 28, 1353–1356.

Twetman S, Derawi B, Keller M, Ekstrand K, Yucel-Lindberg T, Stecksen-Blicks C (2009). Short-term effect of chewing gums containing probiotic Lactobacillus reuteri on the levels of inflammatory mediators in gingival crevicular fluid. Acta Odontol Scand 67, 19–24.

Vanderhoof JA, Whitney DB, Antonson DL, Hanner TL, Lupo JV, Young RJ (1999). Lactobacillus GG in the prevention of antibiotic-associated diarrhea in children. J Pediatr 135, 564–568.

Zhang L, Li N, des Robert C, Fang M, Liboni K, McMahon R et al. (2006). Lactobacillus rhamnosus GG decreases lipopolysaccharide-induced systemic inflammation in a gastrostomy-fed infant rat model. J Pediatr Gastroenterol Nutr 42, 545–552.
Acknowledgements
This study was supported in part by the HiLF research funding of Hanover Medical School.
Ethics declarations
Competing interests
The authors declare no conflict of interest.
About this article
Cite this article
Slawik, S., Staufenbiel, I., Schilke, R. et al. Probiotics affect the clinical inflammatory parameters of experimental gingivitis in humans. Eur J Clin Nutr 65, 857–863 (2011). https://doi.org/10.1038/ejcn.2011.45
Received:

Revised:

Accepted:

Published:

Issue Date:

DOI: https://doi.org/10.1038/ejcn.2011.45
Keywords
probiotics

experimental gingivitis

gingival cervicular fluid

clinical study

inflammation