Abstract
Background:
Accurate measurement of dietary intake is essential for understanding the long-term effects of adolescent diet on chronic disease risk. However, adolescents may have limited food knowledge and ability to quantify portion sizes and recall dietary intake. Therefore, food frequency questionnaires (FFQs) deemed appropriate for use among adults may not be suitable for adolescents.
Objectives:
To evaluate an FFQ in comparison with a 3-day food record (FR) in 14-year olds participating in a population-based cohort study in Western Australia.
Methods:
Nutrient intakes estimated by a semi-quantitative FFQ were compared with those from a 3-day FR using Bland & Altman limits of agreement (LOA), tertile classifications and Pearson's correlation coefficients.
Results:
A total of 785 adolescents provided data from both dietary methods. Mean agreement between the FR and FFQ ranged from 73 (starch) to 161% (vitamin C). The LOA ranged from 27 (retinol) to 976% (carotene), with most nutrients being overestimated by the FFQ. For most nutrients, agreement between the two methods varied significantly with the magnitude of intake. Pearson's r ranged from 0.11 (polyunsaturated fats) to 0.52 (riboflavin). The FFQ classified 80 to 90% of subjects' nutrient intakes into the same or adjacent tertile as their FR. Boys performed slightly better for all of these indices.
Conclusions:
Agreement between individual FFQ and FR nutrient intakes was less than ideal. However, the FFQ was able to correctly rank a reasonable proportion of adolescents.
This is a preview of subscription content
Access options
Subscribe to Journal
Get full journal access for 1 year
$119.00
only $9.92 per issue
All prices are NET prices.
VAT will be added later in the checkout.
Tax calculation will be finalised during checkout.
Buy article
Get time limited or full article access on ReadCube.
$32.00
All prices are NET prices.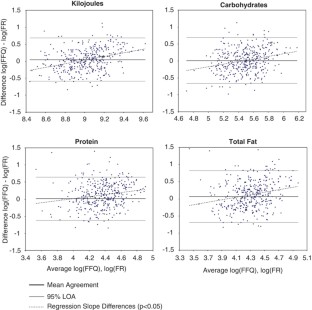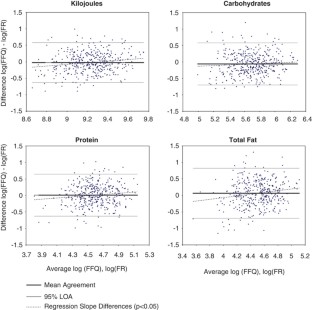 References
Ambrosini G, de Klerk NH, Musk AW, Mackerras D (2001). Agreement between a brief food frequency questionnaire and diet records using two statistical methods. Public Health Nutr 4, 255–264.

Ambrosini G, Mackerras D, de Klerk N, Musk A (2003). Comparison of an Australian food frequency questionnaire to diet records: implications for nutrition surveillance. Public Health Nutr 6, 415–422.

Armstrong BK, White E, Saracci R (1992). Validity and reliability studies. In: Kelsey JL, Marmot MG, Stolley PD, Vessey MP (eds). Principles of Exposure Measurement in Epidemiology. Oxford University: New York Press. pp 79–136.

Baghurst KI, Record SJ (1983). Intake and sources in selected Australian subpopulations, of dietary constituents implicated in the etiology of chronic diseases. J Food Nutr 40, 1–15.

Baghurst KI, Record SJ (1984). A computerised dietary analysis system for use with diaries or food frequency questionnaires. Community Health Stud 8, 11–18.

Bland JM, Altman DG (1999). Measuring agreement in method comparison studies. Stat Methods Med Res 8, 135–160.

Bland MJ, Altman DG (1986). Statistical methods for assessing agreement between two methods of clinical assessment. Lancet 1, 307–310.

Chinn S (1990). The assessment of methods of measurement. Stat Med 9, 351–362.

Crawford P, Obarzanek E, Morrison J (1994). Comparative advantage of 3-day food records over 24-hour recall and 5-day food frequency validated by observation of 9- and 10-year-old girls. J Am Diet Assoc 94, 626–630.

de Klerk N, English D, Armstrong B (1989). A review of the effects of random measurement error on relative risk estimates in epidemiological studies. Int J Epidemiol 18, 705–712.

Deschamps V, de Lauzon-Guillain B, Lafay L, Borys JM, Charles MA, Romon M (2009). Reproducibility and relative validity of a food-frequency questionnaire among French adults and adolescents. Eur J Clin Nutr 63, 282–291.

Di Candilo KG, Oddy WH, Miller M, Sloan N, Kendall GE, de Klerk NH (2007). Follow-up phone-calls increase nutrient intake estimated by three-day food diaries in 13 year old participants of the Raine study. Nutr Diet 64, 165–171.

FSANZ—Food Standards Australia New Zealand (1995). NUTTAB95 Australian food composition tables. Last updated on 8 October 2008, retrieved on 10 October 2008 fromhttp://www.foodstandards.gov.au/monitoringandsurveillance/foodcompositionprogram/.

Hebert J, Miller D (1991). The inappropriateness of conventional use of the correlation coefficient in assessing validity and reliability of dietary assessment methods. Eur J Epidemiol 7, 339–343.

Hodge A, Patterson AJ, Brown WJ, Ireland P, Giles GG (2000). The Anti Cancer Council of Victoria FFQ: relative validity of nutrient intakes compared with weighed food records in young to middle-aged women in a study of iron supplementation. ANZ J Public Health 24, 576–583.

Kuczmarski RJ, Ogden CL, Grummer-Strawn LM, Flegal KM, Guo S, Wie R et al. (2000). CDC growth charts: United States. Advance Data 314, Last updated on 4 December 2000; retrieved on 9 March 2009 fromhttp://www.cdc.gov/nchs/data/ad/ad314.pdf.

Lietz G, Barton KL, Longbottom P, Anderson AS (2002). Can the EPIC food-frequency questionnaire be used in adolescent populations? Public Health Nutr 5, 783–789.

Livingstone M, Robson P (2000). Measurement of dietary intake in children. Proc Nutr Soc 59, 279–293.

Livingstone MBE, Robson PJ, Wallace JMW (2004). Issues in dietary intake assessment of children and adolescents. Br J Nutr 92, S213–S222.

Nelson M (1997). The validation of dietary assessment. In: Margetts BM and Nelson M (eds.). Design Concepts in Nutritional Epidemiology. Oxford University Press: New York. pp 241–272.

Nelson M, Bingham SA (1997). Assessment of food consumption and nutrient intake. In: Margetts BM and Nelson M (eds). Design Concepts in Nutritional Epidemiology. Oxford: Oxford University Press. pp 123–169.

Newnham JP, Evans SF, Michael CA, Stanley JF, Landau LI (1993). Effects of frequent ultrasound during pregnancy—a randomised controlled trial. Lancet 342, 887–891.

NHMRC—National Health and Medical Research Council of Australia (2007). National statement on ethical conduct in research involving humans. Last updated on 11 October 2007; retrieved on 10 October 2008 fromhttp://www.nhmrc.gov.au/guidelines/ethics/human_research/index.htm.

Papadopoulou SK, Barboukis V, Dalkiranis A, Hassapidou M, Petridou A, Mougios V (2008). Validation of a questionnaire assessing food frequency and nutritional intake in Greek adolescents. Int J Food Sci Nutr 59, 148–154.

Rockett HRH, Breitenbach M, Frazier AL, Witschi J, Wolf AM, Field AE et al. (1997). Validation of a youth/adolescent food frequency questionnaire. Prev Med 26, 808–816.

Rohan TE, Potter JD (1984). Retrospective assessment of dietary intake. Am J Epidemiol 120, 876–887.

Slater B, Philippi ST, Fisberg RM, Latorre MRDO (2003). Validation of a semi-quantitative adolescent food frequency questionnaire applied at a public school in Sao Paolo, Brazil. Eur J Clin Nutr 57, 629–635.

Xyris Software (2007). FoodWorks Professional v.4.0. Brisbane. Xyris Software: Australia.

WHO—World Health Organisation (WHO) and the Food and Agriculture Organisation (FAO) of the United Nations (2003). Diet, nutrition and the prevention of chronic diseases. Report of a Joint WHO/FAO Expert Consultation. WHO Technical Report Series no. 916. Geneva, World Health Organisation.

Willett W, Lenart E (1998). Reproducibility and validity of food-frequency questionnaires. In: Kelsey JL, Marmot MG, Stolley PD, Vessey MP (eds). Nutritional Epidemiology. Oxford University Press: New York. pp 101–147.

Willett WC (1998). Food frequency methods. In: Kelsey JL, Marmot MG, Stolley PD, Vessey MP (eds). Nutritional Epidemiology. Oxford University Press: New York. pp 74–100.
Acknowledgements
We are extremely grateful to the families who took part in this study and the Raine Study team; data collectors, cohort managers, data managers, clerical staff, research scientists and volunteers. This research was supported by the Telethon Institute for Child Health Research, the Telstra Research Foundation of Australia, the Australian Rotary Health Research Fund, the Raine Medical Research Foundation, the Western Australian Health Promotion Research Foundation (Healthway) and an Australian National Health and Medical Research Council Program Grant.
About this article
Cite this article
Ambrosini, G., de Klerk, N., O'Sullivan, T. et al. The reliability of a food frequency questionnaire for use among adolescents. Eur J Clin Nutr 63, 1251–1259 (2009). https://doi.org/10.1038/ejcn.2009.44
Received:

Revised:

Accepted:

Published:

Issue Date:

DOI: https://doi.org/10.1038/ejcn.2009.44
Keywords
validation studies

diet surveys

questionnaires

adolescent

diet records

Raine study