Hello Nature readers, would you like to get this Briefing in your inbox free every day? Sign up here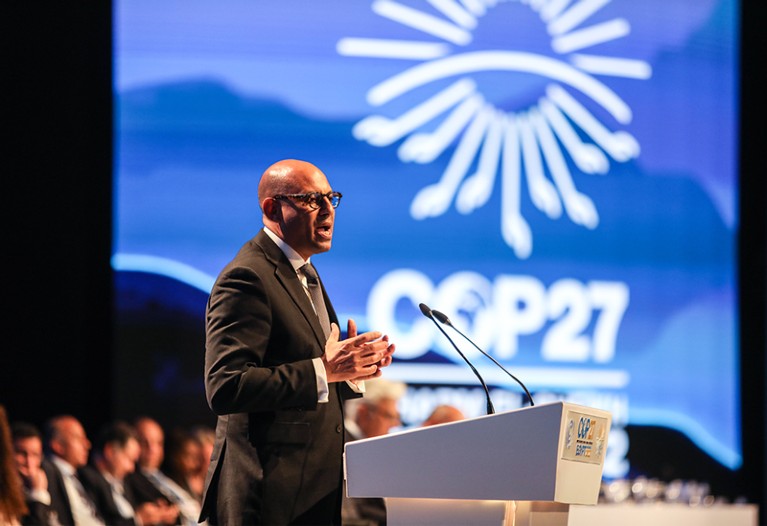 The 27th United Nations climate conference (COP27) ended on Sunday morning with researchers largely frustrated by the lack of ambition to turn away ful-ly from fossil fuels.
• The energy crisis sparked by Russia's invasion of Ukraine loomed large, leading European countries to vacillate on promises to quash investment in fossil fuels.
• New wording was added to the final agreement calling for accelerated development of "low-emission" energy systems, which many fear will be used to justify further natural-gas development.
The silver lining: delegates from low- and middle-income countries came away with an agreement on a new 'loss and damage' fund to help them cover the costs of climate-change impacts.
• The European Union proved central when it pivoted to support the fund, putting pressure on the United States, which has long opposed anything that might leave it financially liable for its enormous historical emissions.
• In a first for a climate COP, the final text backs reform of giant lenders such as the International Monetary Fund and the World Bank, which are lynchpins of the global economy.
The COP27 deal also says that "safeguarding food security and ending hunger" is a fundamental priority. "There is real progress in terms of words," says agricultural economist Joachim von Braun.
NASA reconfirmed that it will not rename its James Webb Space Telescope, after a report by its chief historian found no evidence explicitly linking its former director with anti-LGBT+ actions. The decision rankles with those astronomers who questioned the decision to name the iconic telescope after someone who held high-ranking government positions at a time when the United States systematically fired employees for their sexual orientation. "It is hypocritical of NASA to insist on giving Webb credit for the exciting things that happened under his leadership — activities that were actually conducted by other people — but refuse to accept his culpability for the problems," say the four astronomers who last year launched a petition to rename the telescope. The controversy has prompted lasting change: in future, NASA will convene a committee that includes a historian, and conduct "a thorough historical and legal review" before choosing names.
Metrologists have agreed to stop adding 'leap seconds' to official clocks to keep them in sync with variations in Earth's rotation. Leap seconds can disrupt systems based on precise timekeeping, because there's no set way to integrate them (Google, for example, smears out the extra second in the 24 hours around midnight at coordinated universal time). To make matters worse, Earth's rotation has sped up since 2020 — normally, over the long term, Earth's rotation slows because of the pull of the Moon. So, for the first time, a leap second might need to be removed rather than added. The practice of adding leap seconds will be put on hold from 2035.
Researchers in the United Kingdom are breathing a sigh of relief after their funding survived the country's recent budget update. The latest finance minister, Jeremy Hunt — the country has had a revolving door of leaders and Cabinet members since the resignation of Boris Johnson in July — told Parliament that he would protect the entire UK research budget, because cutting it would be a "profound mistake".It's still not clear who the UK science minister is, with two people seemingly tipped separately for the role. In October, the government announced that parliamentarian Nusrat Ghani, who has limited experience in research, would fill the post, which had at that point been vacant for three months. But Prime Minister Rishi Sunak has apparently also reappointed former biotechnology investor George Freeman, who held the job previously but quit to help force Johnson's resignation.
Features & opinion
There are concerns about how the heat will affect players during the FIFA men's World Cup in Qatar — although some fans said it was "too cold" in the open-air, air-conditioned stadium during the opening match on Sunday. Sportspeople can prepare their bodies for hot weather, if they have enough time. Researchers who readied athletes for the sweltering 2020 Olympic Games in Tokyo say that training in artificially hot temperatures for 10–14 days can be enough to become fully acclimatized. Researchers are also experimenting with how to detect when an athlete is too hot — and how to cool them to safe levels.
Social scientist Ijeoma Opara learnt some hard lessons after seeing a multimillion-dollar grant awarded to someone else, for aims that looked almost identical to her own ideas. She shares her advice to minimize the risk of being scooped.
In the third episode of this six-part Working Scientist podcast series about moving labs, three researchers who moved abroad for work describe how they handled the challenges it brought, including language barriers, cultural differences and experiences of racism.
Nature Careers Working Scientist Podcast | 26 min listen
Image of the week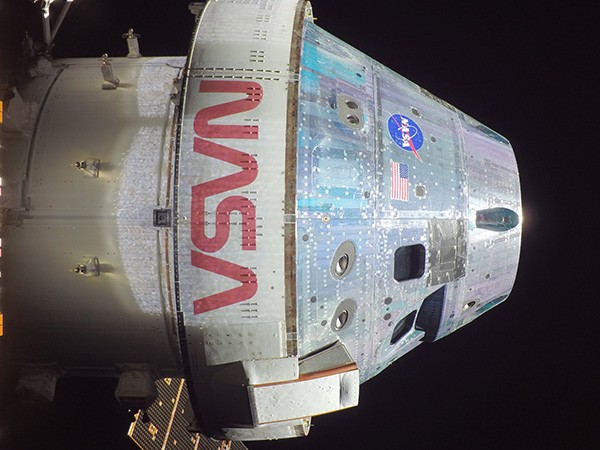 The Orion space capsule hitching a ride on NASA's SLS rocket — a combo known by the mission moniker Artemis I — has snapped this selfie on its way to journey around the Moon. "Each of Orion's four solar array wings has a commercial off-the-shelf camera mounted at the tip that has been highly modified for use in space" says David Melendrez, imagery integration lead for the Orion Program at NASA. (Credit: NASA)