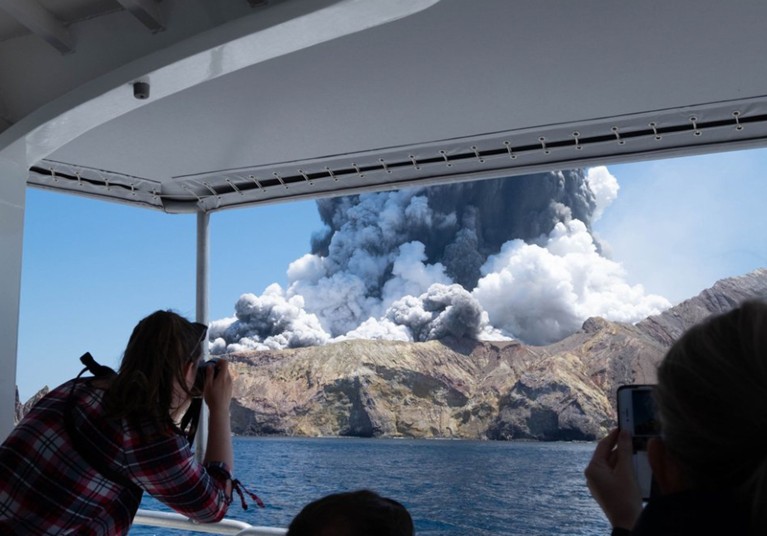 Geologists monitoring New Zealand's White Island volcano had seen an increase in volcanic activity in the months preceding its massive eruption on 9 December, but nothing that could have immediately predicted the eruption that killed at least 6 people and injured some 30 more, they say. Other researchers say the highly unpredictable nature of the volcano means it is never entirely safe for people to visit.
At 2:11p.m. local time on Monday an explosive eruption forced superheated steam, boulders, caustic ash and other debris out of the volcano's vent system, creating a 3.7-kilometre-high column of ash. At the time, 47 tourists were exploring its crater.
The event was the worst of all possible scenarios, says Raymond Cas, a volcanologist at Monash University in Melbourne, Australia. Rocks 1 metre or more across would have been ejected as ballistic blasts, he explains. "Finer debris would have created an ash cloud that reduced visibility to zero, making it impossible for people to know where to run to, and much of the really hot crater water would have been ejected, leading to very significant burns and injuries."
Volcanologists with New Zealand's earth-science research and monitoring body GNS Science say that volcanic tremors have increased since the eruption, suggesting that gas pressures remain high and further explosions are possible. This risk makes it unsafe for emergency services to return to search for eight people who are still missing, but presumed dead, say the country's police.
Active tourist site
White Island, also known by its Maori name 'Whakaari', sits off the east coast of the country's North Island, and is the closest of a string of marine volcanoes in the Pacific Ocean. It is a cone-shaped stratovolcano, built up from ash over 150,000 years. It is one of the country's largest volcanoes and the most active. New Zealand straddles a very active plate boundary in the Pacific's 'Ring of Fire'.
Monday's explosion was either a hydrothermal or a 'phreatic' eruption, both of which are caused by the build-up of pressure of superheated steam and gas, say volcanologists. "Often this steam and gas builds up behind a rock and mineral seal and when the strength of that seal is exceeded by the gas pressure, an explosive eruption can occur," GNS Science volcanologist Brad Scott said in a statement.
White Island has been in a state of near continuous eruption, with numerous, mostly small, explosions since 2011, he says. The last major eruption was in 2016 and occurred at night, so no tourists were on the island.
GNS Science constantly monitors for signs of an impending eruption, including tremors, seismic activity and the release of volcanic gasses, said GNS Science volcanologist Graham Leonard during a media briefing. In mid-November, it raised the Volcanic Alert Level to '2', meaning there's 'moderate unrest' and an eruption is possible but not necessarily imminent, he said. The agency reports on the possible hazards associated with each alert level, but does not offer advice to tour operators visiting the island.
Sea-level crater
What is unusual about the volcano — which also makes it appealing, but dangerous, for tourists — is that the crater floor is very near to sea level, says Cas. Seawater infiltrates cracks and fissures of the volcano, where it becomes superheated. When these become clogged with rock debris and precipitated minerals, the only way to release the pressure is in an explosion — but when this will happen is difficult to predict.
But Cas says the unpredictable nature of the volcano means that the public should not be allowed to walk on the crater, and that tourism on the island should be reconsidered, particularly given its remoteness and inaccessibility to the emergency services.
New Zealand's health and safety regulator has launched investigation into the disaster, as have the police, who will investigate for the coroner. Tourism New Zealand did not respond to Nature's questions about whether tourism to the island should be reconsidered.