As an early-career plant biologist attending my first conference, I made the classic new-attendee mistake of trying to fit in too many activities.
It was June 1994, and the conference was on the subject of thale cress (Arabidopsis thaliana). Thrilled with the opportunity to show off my research project and connect with others in my field, I arrived at the meeting in Madison, Wisconsin, determined to take full advantage of everything the conference had to offer.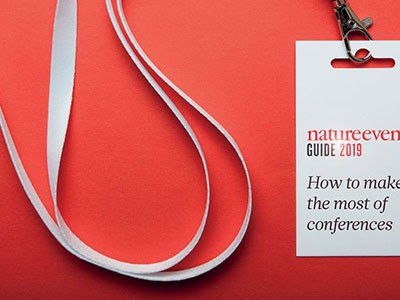 Events Guide 2019
But this event was no small affair. As is true for many large conferences, there were multiple poster sessions, seminars, concurrent workshops and what seemed like nearly endless networking opportunities. All the offerings made me feel that a minute of rest was a minute wasted. So I made the same mistake that many early-career researchers make at a large meeting: I started my day with the earliest possible morning session and kept going until the poster or social events wrapped up at around midnight.
Sometime near the middle of the third day, I turned into a 'conference zombie': a person who has no energy and does not notice what is happening around them. I was shuffling from seminars to posters without absorbing any meaningful understanding of the science.
I don't remember all the details, but I do remember struggling to stay focused during the oral presentations and to absorb the point of the posters. And I was unable to find the bandwidth to network with anyone. At one point, when someone asked me what I worked on, I embarrassingly answered: "Arabidopsis." (This was the International Conference on Arabidopsis Research — everyone there worked on Arabidopsis.)
I attended a few more conferences before I worked out a system that allowed me to gain the most from a conference experience without turning into a zombie — or at least to recover more quickly when it happened.
Here are three tips for avoiding zombification.
Set flexible goals
Shortly after registering for a conference, I create a personal itinerary. I organize my day into blocks to ensure that I don't miss people I want to connect with and sessions I want to attend.
First, I schedule the essential structured activities: seminars, poster sessions and workshops. Then, I contact colleagues and friends to organize meet-ups during the conference. If I have time, I also schedule excursion activities, including tours of local museums or national parks, and take note of any 'Tweetups' (meetings organized through and shared on Twitter) that I'd like to join. Then I rank everything within those categories as 'A-Goals' and 'B-Goals' so that I can effectively manage my time each day.
Note that although it's important to identify your priorities in advance, you might need to adjust them once you're at the conference. You might, for example, end up in a fruitful discussion that runs on for longer than you had anticipated. You will need to shift your itinerary. This change might require missing a few seminars or posters.
Also, you might have unwittingly planned to do more than is reasonably possible. You can guiltlessly adjust your itinerary if you realize that it's too ambitious.
Pursue your A-Goals, but be open to letting go of some B-Goals when necessary. This approach will give you the flexibility to go for coffee with a new friend, connect with a potential mentor or take a well-deserved break without suffering from the dreaded 'FOMO' (fear of missing out).
Take breaks to regenerate
As much as I enjoy attending conferences, I can process only so much information or do so much networking before needing a break. When I recognize that I'm approaching my limit, I take time to socialize or decompress by myself — whatever I need to refocus and feel human again.
If you're physically attending a lecture or networking session, but you're mentally elsewhere, you're already missing the conference. Take breaks so that you can get back in the game: perhaps take a nap, eat a snack, visit vendors, talk about hobbies with friends or join an off-site excursion.
However, if you prefer spending time by yourself — or sharing space with a lab-mate who also enjoys a bit of quiet — hide out for a while without feeling guilty.
Making time to recharge isn't neglecting your science-communication duties. Everyone has a limited supply of mental (and physical) energy. If you recharge mid-conference, you'll gain more from a meeting overall than by trying to ignore your needs to push through a zombie phase.
Defeat insomnia
After a long conference day, it's time for a well-earned rest. But many researchers struggle to fall asleep, despite being exhausted. Your mind might be reeling from learning about the latest results and their implications. Or you might lie awake criticizing your own presentation, thinking of how you should have answered that question or worrying that you didn't seem as brilliant as you wanted.
Once you finally drift off, you might repeatedly wake up from restless dreams about designing experiments and doing lab work. And when your morning alarm eventually sounds, you might awaken feeling more undead than refreshed, and head to the conference centre already exhausted.
Every restless night makes it harder to accomplish your conference A-Goals.
I used to think that the only way I could function at a conference was to drink coffee the entire time. Then, sick of being tired at every conference, I finally decided to reduce my caffeine intake, easing off on drinking coffee in the afternoon. It made an immediate difference in my ability to fall asleep each night. Eventually, I decided to stop drinking caffeinated beverages by early afternoon on most days.
The key is to find the caffeine level that works for you. Consume enough so that you can stay alert during each conference day, but not so much that it interferes with your sleep at night. Your aim is to wake up rested on the morning of your research presentation, job interview or meeting with a potential mentor.
If the conference is large, you're probably getting plenty of exercise commuting between posters, seminars, the lunch queue and elsewhere. But if that's not the case, I recommend trying to fit in a workout first thing in the morning or during an afternoon break. Physical exercise is often a good way to unwind your mind after an intellectually stimulating day.
Next, switch to non-science conversations starting a couple of hours before bedtime. Although I fail to do this on about half of the nights I'm at a conference, I do sleep better overall when I watch a movie or read a non-science book to unwind.
And finally, the next time you're unable to sleep because you're reliving a presentation mistake or an awkward conversation, stop. Just stop. Divert your attention to something positive that you achieved that doesn't attack your self-esteem. Granted, this takes practice — for some of us a lot of practice — but this is an essential habit.
And remember that the chances are quite high that you're putting a greater emphasis on the gaffe (if it even was one) than is the person to whom you were speaking.