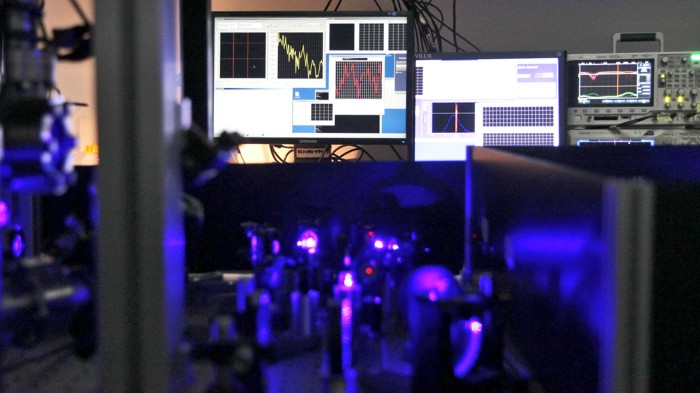 Applied physics
The search for dark matter that runs on time
Highly precise atomic clocks from three different continents have been recruited in the search for dark matter.
Most of the matter in the Universe is unaccounted for — it seems to exert a gravitational pull on other objects, but emits no light. One theory proposes that this dark matter is actually an artefact of inconsistencies that formed in the fabric of space-time as the early Universe cooled. If Earth passed through one of these 'topological defects', the strength of interactions among elementary charged particles would briefly shift. That would momentarily disturb the inner workings of extremely precise atomic clocks, enabling scientists to detect the defect.
To create a clock network, Michał Zawada at Nicolaus Copernicus University in Toruń, Poland, and his colleagues combined timing data from four atomic clocks in the United States, Europe and Japan. A topological defect would show up as a shift in the frequencies of the lasers and atoms that the clocks use to keep time, with a different shift for each clock. In tests, this arrangement was two orders of magnitude more sensitive to such shifts than networks of Global Positioning System satellites.
A larger network would allow for testing of the topological-defect theory and other dark-matter candidates, the authors write.