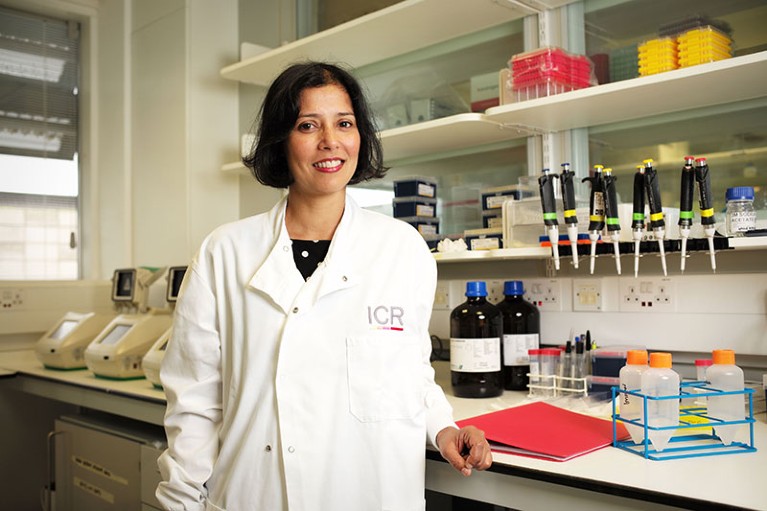 One of the world's largest research-funding charities has revoked a £3.5-million (US$4.5-million) grant awarded to a top cancer geneticist, Nazneen Rahman, following allegations that she bullied scientists and other staff members when she worked at the Institute of Cancer Research (ICR) in London.
The decision to pull the funding represents the first implementation of a pioneering anti-bullying and anti-harassment policy that the charity — the Wellcome Trust in London — introduced in June. Wellcome says that it learnt in July that Rahman had resigned following an independent investigation into the bullying allegations.
"My team and I will complete our Wellcome-funded research prior to my leaving ICR in October," Rahman told Nature. "We are working with ICR and Wellcome to ensure science and patients can benefit from our work."
In a statement announcing the sanctions against Rahman, Wellcome says that it has updated its policy in the wake of the case — and reveals that "the ICR's independent investigation deemed some of the allegations serious enough to warrant consideration at a disciplinary hearing". However, Rahman resigned and the disciplinary hearing did not take place.
Rahman made no further comments to Nature about the allegations or the investigation.
The ICR has not publicly released the results of its investigation — nor had it previously made public that it had investigated Rahman's behaviour.
But in a statement to Nature, the institute says that it takes any complaints about bullying extremely seriously. After receiving a complaint in November, it immediately commissioned an independent investigation by a law firm into the allegations. The intention was to establish whether the allegations were substantiated by evidence — rather than to determine a disciplinary outcome. The investigation concluded that there was sufficient evidence for some of the allegations to be considered by a disciplinary hearing. The ICR reviewed the findings and discussed them with Rahman before she resigned.
Wellcome bemoans the lack of information available on the affair. "We have been working with the ICR to understand more about their investigation and the allegations that were made against Professor Rahman," says the statement. "Unfortunately, we do not have the full details of the case because they have not been shared with us."
The ICR says that the investigatory report contains highly confidential personal information and that it shared as much detail as it could with Wellcome, given data-protection regulations.
Wellcome says: "It is disappointing that a matter such as this should not be seen through to its proper conclusion."
But the charity says that it has enough information to revoke the grant — and impose other sanctions. "As we have been given information that raises serious concerns we have decided that her Wellcome grants will be terminated or transferred to other investigators. In addition, Professor Rahman will not be able to apply for funding from Wellcome for two years and she will not sit on any Wellcome advisory committees or boards for two years."
Policy changes
Wellcome was the first major UK research funder to institute an anti-bullying and anti-harassment policy; the US National Science Foundation introduced similar rules a few months earlier. Scientists welcomed the policies at the time, but some expressed concerns that they did not go far enough.
The Wellcome Trust says that it will update its policy in the wake of the ICR case. When the rules were first announced, institutions receiving funding from Wellcome were required to report only allegations that had been upheld. But the charity says that it will now require institutions to inform it of allegations when they decide to investigate.
Wellcome has also added to its policy the requirement that institutions must not enter into secretive arrangements that prevent them from sharing findings and otherwise complying with the policy. The ICR says that it does not have a non-disclosure agreement with Rahman.
And Wellcome says that it will now advise institutions to complete disciplinary procedures if warranted by an investigation finding.
The ICR recognizes that it "could have done more to support those who came to us with concerns" and says it is "absolutely committed to learning the lessons".
It has put in place measures to ensure that it responds to allegations as quickly and effectively as possible. These include revising its anti-bullying and anti-harassment policy, providing an external hotline for complaints and reviewing processes for training and support of managers.
The institute says it is working with Rahman and Wellcome to "complete and transition her research", and it welcomes the efforts being made by the charity and others to improve the culture of the scientific community. "We believe an open and supportive working environment is essential for our work to defeat cancer," says the ICR.