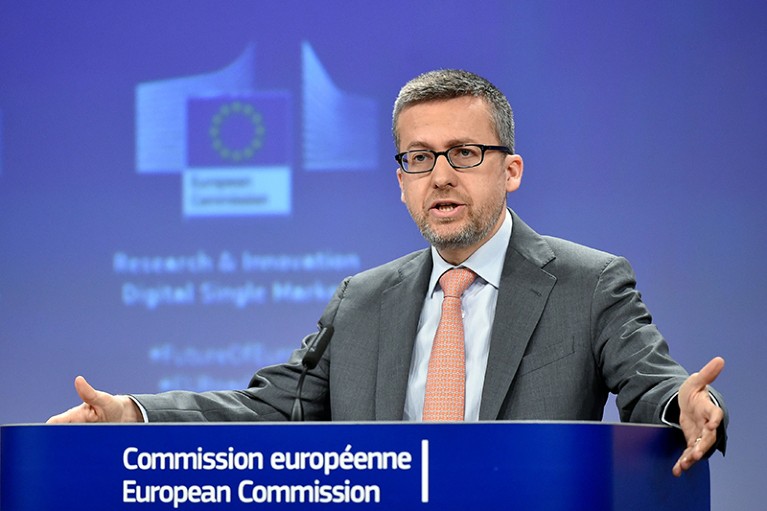 The European Commission (EC) has outlined how it plans to spend the biggest research and innovation budget in its history. In a document that sets out plans for its next major science-funding programme, the Commission also confirmed new rules that will, for the first time, allow any country in the world — including a post-Brexit United Kingdom — to take part.
On 7 June, policymakers in Brussels launched the first detailed proposal for the structure of the Horizon Europe framework, which will run from 2021 to 2027 and has a provisional budget of nearly €100 billion (US$117 billion). That pot does not include a contribution from Britain, which will leave the European Union in 2019. But the proposed budget — when the UK contribution is removed — is about €33 billion higher than that of the current programme, Horizon 2020, which runs from 2014 to 2020. The new scheme's budget is likely to be trimmed down in negotiations over the next two years.
Horizon Europe will have three main pillars. Two will serve basic research and innovation, and one is directed at solving some of the huge challenges that face society and at boosting industrial competitiveness. The basic-research arm will no longer have a dedicated funding stream for emerging technologies, and substantial shifts are in store for the societal and innovation streams. Introducing the proposal, the EC's commissioner for research, science and innovation, Carlos Moedas, praised those who developed the scheme for having had the courage to change things that have not been working.
More than half of the total funding, €52.7 billion, will go into the societal-challenges pot. With this money, researchers will respond to specific calls for research in five areas: health; inclusive and secure society; digital and industry; climate, energy and mobility; and food and natural resources.
In this section, Moedas says, €5 billion to €10 billion will be set aside to create "moonshot"-style research missions to address global problems, in a bid to invite greater citizen involvement in Horizon Europe. The document didn't lay out the exact focuses of the missions; instead, the public, alongside the European Parliament, experts and individual countries, will have a say in designing the missions, which will have specific goals and deadlines (previously floated goals have included turning 100 cities carbon neutral by 2030, or cutting plastic in the oceans by 90%). Future support for science relies on the public understanding the value that it brings to society, said Moedas: "Taxpayers don't know why you need €1 billion to map the brain, but if you tell them that you are going to cure Alzheimer's disease, they get it."
Maud Evrard, head of policy affairs at Science Europe, a lobby group in Brussels that represents European research funders, says that the missions offer a great opportunity for science, but that the extent to which researchers alone can contribute to a mission's success is not yet clear, because regulation and political will could also be important.
Innovation shake-up
The proposal also outlines "radical changes" to how the Commission funds innovation. Moedas said that the existing, top-down innovation systems are not working and would result only in incremental advances.
Instead, the programme will encourage innovators themselves to propose ideas. More than €10 billion of the proposed budget will go into a newly created European Innovation Council (EIC), which will aim to bringing ground-breaking new technologies to market and which began running as a pilot scheme this year as part of Horizon 2020. The EIC will fund individual researchers and businesses in a similar way to how the European Research Council — the programme's flagship funder of blue-skies research — supports researchers to conduct basic science. Under Horizon 2020, innovation funding was distributed through schemes targeting collaborative projects to develop emerging technologies and innovative small businesses.
The EIC will also invest in start-up companies to help them scale up using "blended finance" — part grant and part repayable loan. This mechanism has been designed to overcome the "valley of death" problem, whereby European countries excel at making discoveries but struggle to convert them into products that create markets and jobs.
But Lidia Borrell-Damián, director for research and innovation at the European Universities Association in Brussels, questions whether offering finance to companies is an appropriate use of the research budget.
She is also disappointed that the proposal does not channel more of its budget into tried-and-tested funding mechanisms that produce excellent science, such as the ERC.
The ERC's budget is slated to get a €3.5-billion boost, to €16.6 billion, which is in line with the overall budget hike for Horizon Europe. Borrell-Damián notes that the budget for the Marie Skłodowska-Curie Actions programme, which sponsors researchers at any stage of their career wishing to move between labs, has not kept pace with the overall increase. It will distribute €6.8 billion — little more than the €6.2 billion it has in Horizon 2020.
Everyone welcome
In a highly anticipated announcement, the proposal confirms that the programme will be open to all countries for the first time, which will allow the United Kingdom to take part after Brexit. Existing rules permitted only countries that have specific trading links, are close neighbours to the southeast of the continent or are attempting to join the EU to associate with the programme. But a new agreement will allow any nation that meets certain criteria to negotiate access to all or parts of the programme for a financial contribution. But these participants will not get any "decisional power", says the document. The criteria suggested so far include nations having good capacity in science and being committed to "rule-based open market economy".
The United Kingdom made clear last month that it would be willing to pay to access the EC's research and innovation programmes, but that it would like influence over the shape of it commensurate with its contribution.
The proposal and budget for Horizon Europe will now be subject to a lengthy negotiation and approval process involving the European Parliament and council of national ministers. Funding from any association agreements will also be added to the pot.