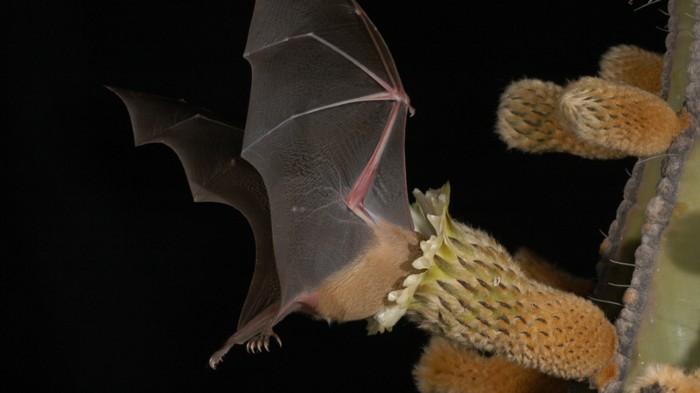 Animal behaviour
Bats make epic flight for sugar fix
A bat no bigger than a kiwi fruit logs distances of up to 100 kilometres on nightly round trips to its feeding grounds — the longest commute ever recorded for a nectar-feeding bat.
Radio-tracking devices can be burdensome to animals as small as bats. So Rodrigo Medellin at the National Autonomous University of Mexico in Mexico City and his colleagues tried a less-obtrusive method to follow the lesser long-nosed bat (Leptonycteris yerbabuenae), a nectar-feeding species found between the southwestern United States and Honduras.
The researchers sifted yellow powder over bats emerging from a roost in Mexico. Other team members waited at distant patches of flowering saguaro cactus to confirm the arrival of yellow-powdered bats, and to dust incoming bats with blue powder. At the roost the next evening, the authors found faeces dyed blue, indicating that some bats had made a 98.8-kilometre round trip.