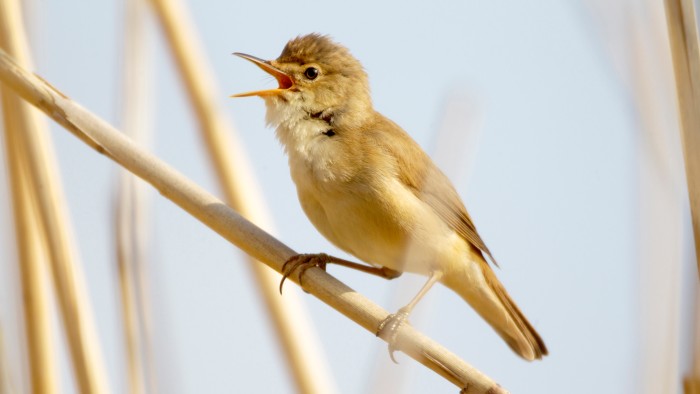 Evolution
Birds sense magnetic fields to determine longitude
Migratory birds use the misalignment between Earth's magnetic and geographic poles to gauge longitude — their position along the planet's east–west axis.
Nikita Chernetsov at the Zoological Institute of the Russian Academy of Sciences in Rybachy and his colleagues captured Eurasian reed warblers (Acrocephalus scirpaceus, pictured) during the birds' autumn migration from Europe to sub-Saharan Africa.
On a clear, starry night in Rybachy, birds experienced in migration oriented themselves to take off in a southwest direction, appropriate for their usual migration. The researchers artificially rotated the magnetic field of the birds' enclosures by 8.5° anticlockwise, making it equivalent to Earth's magnetic field in Scotland. In response, all 15 birds changed their orientation, by an average of 151°, to face southeast, in an apparent attempt to correct for their perceived position.
Because the stars that can act as a guide to geographic north remained unchanged, the authors conclude that warblers can sense magnetic declination — the angle between magnetic north and geographic north — and use it to determine longitude.