Abstract
BACKGROUND:
Preterm infants typically experience heavy phlebotomy losses from frequent laboratory testing in the first few weeks of life. This results in anemia, requiring red blood cell (RBC) transfusions. We recently introduced a bedside point-of-care (POC) blood gas analyzer (iSTAT, Princeton, NJ) that requires a smaller volume of blood to replace conventional Radiometer blood gas and electrolyte analysis used by our neonatal intensive care unit (NICU). The smaller volume of blood required for sampling (100 vs 300–500 μl), provided an opportunity to assess if a decrease in phlebotomy loss occurred and, if so, to determine if this resulted in decreased transfusions administered to extremely low birth weight (ELBW) infants.
OBJECTIVE:
We hypothesized that the use of the POC iSTAT analyzer that measures pH, PCO2, PO2, hemoglobin, hematocrit, serum sodium, serum potassium and ionized calcium would result in a significant decrease in the number and volume of RBC transfusions in the first 2 weeks of life.
DESIGN/METHODS:
A retrospective chart review was conducted of all inborn premature infants with birth weights less than 1000 g admitted to the NICU that survived for 2 weeks of age during two separate 1-year periods. Blood gas analysis was performed by conventional laboratory methods during the first period (designated Pre-POC testing) and by the iSTAT POC device during the second period (designated post-POC testing). Data collected for individual infants included the number of RBC transfusions, volume of RBCs transfused, and the number and kind of blood testing done. There was no effort to change either the RBC transfusion criteria applied or blood testing practices.
RESULTS:
The mean (±SD) number of RBC transfusions administered in the first 2 weeks after birth was 5.7±3.74 (n=46) in the pre-POC testing period to 3.1±2.07 (n=34) in the post-POC testing period (p<0.001), a 46% reduction. The mean volume of RBC transfusions decreased by 43% with use of the POC analyzer, that is, from 78.4±51.6 ml/kg in the pre-POC testing group to 44.4±32.9 ml/kg in the Post-POC testing group (p<0.002). There was no difference between the two periods in the total number of laboratory blood tests done.
CONCLUSIONS:
Use of a bedside blood gas analyzer is associated with clinically important reductions in RBC transfusions in the ELBW infant during the first two weeks of life.
Relevant articles
Open Access articles citing this article.
Nedra S. Whitehead

,

Laurina O. Williams

…

Mark L. Graber

Critical Care Open Access 09 August 2019

Amelia Miyashiro Nunes dos Santos

,

Ruth Guinsburg

…

Vera Lúcia Jornada Krebs

BMC Pediatrics Open Access 04 September 2015

Zhiqun Zhang

,

Xianmei Huang

&

Hui Lu

Scientific Reports Open Access 11 March 2014
Access options
Subscribe to Journal
Get full journal access for 1 year
$119.00
only $9.92 per issue
All prices are NET prices.
VAT will be added later in the checkout.
Tax calculation will be finalised during checkout.
Buy article
Get time limited or full article access on ReadCube.
$32.00
All prices are NET prices.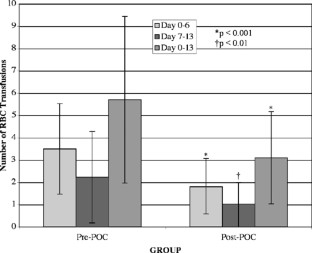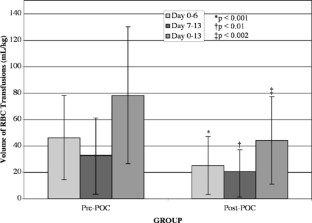 References
Levy GJ, Strauss RG, Hume H, et al. National survey of neonatal transfusion practices: I. Red blood cell therapy Pediatrics 1993;91(3):523–529.

Widness JA, Kulhavy JC, Johnson KJ, et al. Clinical performance of an in-line point-of-care monitor in neonates. Pediatrics 2000;106(3):497–504.

Blanchette VS, Zipursky A . Assessment of anemia in newborn infants. Clin Perinatol 1984;11(2):489–510.

Obladen M, Sachsenweger M, Stahnke M . Blood sampling in very low birth weight infants receiving different levels of intensive care. Eur J Pediatr 1988;147(4):399–404.

Ringer SA, Richardson DK, Sacher RA, Keszler M, Churchill WH . Variations in transfusion practice in neonatal intensive care. Pediatrics 1998;101(2):194–200.

Lin JC, Strauss RG, Kulhavy JC, et al. Phlebotomy overdraw in the neonatal intensive care nursery. Pediatrics 2000;106(2):E19.

Bove JR . Transfusion-associated hepatitis and AIDS. What is the risk? N Engl J Med 1987;317(4):242–245.

Horowitz B, Ben-Hur E . Viral inactivation of blood components: recent advances. Transfus Clin Biol 1996;3(1):75–77.

St-Louis P . Status of point-of-care testing: promise, realities, and possibilities. Clin Biochem 2000;33(6):427–440.

Kost GJ, Ehrmeyer SS, Chernow B, et al. The laboratory–clinical interface: point-of-care testing. Chest 1999;115(4):1140–1154.

Morgan C, Newell SJ, Ducker DA, et al. Continuous neonatal blood gas monitoring using a multiparameter intra-arterial sensor. Arch Dis Child Fetal Neonatal Ed 1999;80(2):F93–F98.

Murthy JN, Hicks JM, Soldin SJ . Evaluation of i-STAT portable clinical analyzer in a neonatal and pediatric intensive care unit. Clin Biochem 1997;30(5):385–389.

Weiss IK, Fink S, Harrison R, et al. Clinical use of continuous arterial blood gas monitoring in the pediatric intensive care unit. Pediatrics 1999;103(2):440–445.

Alves-Dunkerson JA, Hilsenrath PE, Cress GA, Widness JA . Cost analysis of a neonatal point-of-care monitor. Am J Clin Pathol 2002;117:809–818.

VanNewkirk LE, Bhutani VK, Husson MA, Warhol MJ . Impact of reducing blood sample size on the incidence of transfusion in a neonatal ICU. Lab Med 1998;29:306–310.

Salem M, Chernow B, Burke R, Stacey J, Slogoff M, Sood S . Bedside diagnostic blood testing. Its accuracy, rapidity, and utility in blood conservation. JAMA 1991;266:382–389.

Kling PJ, Sullivan TM, Leftwich ME, et al. Score for neonatal acute physiology and phlebotomy blood loss predict erythrocyte transfusions in premature infants. Arch Pediatr Adolesc Med 1997;151(1):27–31.

Shannon KM, Keith III JF, Mentzer WC, et al. Recombinant human erythropoietin stimulates erythropoiesis and reduces erythrocyte transfusions in very low birth weight preterm infants. Pediatrics 1995;95(1):1–8.

Blanchette VS, Hume HA, Levy GJ, et al. Guidelines for auditing pediatric blood transfusion practices. Am J Dis Child 1991;145(7):787–796.

Bard H, Fouron JC, Chessex P, et al. Myocardial, erythropoietic, and metabolic adaptations to anemia of prematurity in infants with bronchopulmonary dysplasia. J Pediatr 1998;132(4):630–634.

Bifano EM, Curran TR . Minimizing donor blood exposure in the neonatal intensive care unit. Current trends and future prospects. Clin Perinatol 1995;22(3):657–669.

Lachance C, Chessex P, Fouron JC, et al. Myocardial, erythropoietic, and metabolic adaptations to anemia of prematurity. J Pediatr 1994;125(2):278–282.

Kinmond S, Aitchison TC, Holland BM, et al. Umbilical cord clamping and preterm infants: a randomized trial. BMJ 1993;306(6871):172–175.

Ibrahim HM, Krouskop W, Lewis DF, et al. Placental transfusion: umbilical cord clamping and preterm infants. J Perinatol 2000;20(6):351–354.

Golden SM, O'Brien WF, Lissner C, et al. Hematologic and bacteriologic assessment of autologous cord blood for neonatal transfusions. J Pediatr 1980;97(5):810–812.

Brune T, Garritsen H, Witteler R, et al. Autologous placental blood transfusion for the therapy of anaemic neonates. Biol Neonate 2002;81(4):236–243.

Widness JA, Seward VJ, Kromer IJ, et al. Changing patterns of red blood cell transfusion in very low birth weight infants. J Pediatr 1996;129(5):680–687.

Franz AR, Pohlandt F . Red blood cell transfusions in very and extremely low birthweight infants under restrictive transfusion guidelines: is exogenous erythropoietin necessary? Arch Dis Child Fetal Neonatal Ed 2001;84(2):F96–F100.

Carnielli V, Montini G, Da Riol R, et al. Effect of high doses of human recombinant erythropoietin on the need for blood transfusions in preterm infants. J Pediatr 1992;121(1):98–102.

Ohls RK . The use of erythropoietin in neonates. Clin Perinatol 2000;27(3):681–696.

Bell EF, Nahmias C, Sinclair JC, Garnett ES, Zipursky A . The assessment of anemia in small premature infants. Ped Res 1977;11:467 (Abstr).

Moya MP, Clark RH, Nicks J, Tanaka DT . The effects of bedside blood gas monitoring on blood loss and ventilator management. Biol Neonate 2001;80(4):257–261.
Acknowledgements
We acknowledge the technical assistance and data collection contributions of Karen J. Johnson, RN from the University of Iowa and Teresa Newton, Bethany Ball and the staff in Medical Records and the Blood Bank at Stanford University. This work was presented in part at the Society for Pediatric Research Meeting in May 2004 in San Francisco. This study was supported in part by funding provided by the NIH General Clinical Research Centers Program (Grant RR00059).
About this article
Cite this article
Madan, A., Kumar, R., Adams, M. et al. Reduction in Red Blood Cell Transfusions Using a Bedside Analyzer in Extremely Low Birth Weight Infants. J Perinatol 25, 21–25 (2005). https://doi.org/10.1038/sj.jp.7211201
Published:

Issue Date:

DOI: https://doi.org/10.1038/sj.jp.7211201