Experiments that reveal the behaviour of antihydrogen could tell physicists more about the rules that hold the Universe together.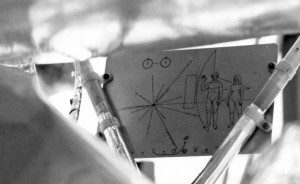 The answer to life, the Universe and everything, according to Douglas Adams in The Hitchhiker's Guide to the Galaxy, is 42. He was out by a factor of two: the solution to the Universe is 21. Or to be more precise, 21 centimetres, which is the wavelength of radiation emitted when a hydrogen atom shifts from one specific energy state to another. That's why the plaque attached to NASA's 1972 Pioneer 10 spacecraft pictures a woman whose height is shown as the binary representation of 8. (Eight of those 21 centimetres making 1.68 metres.)
This latest experiment could answer some fundamental questions. One way to test for cracks in the standard model of physics — the rules that help to bind the Universe together — is to seek and find discrepancies in how matter and its antimatter counterparts behave. Decades of careful analysis of hydrogen atoms offer a benchmark that can now be tested against corresponding measurements of antihydrogen. Any divergence in the results could open a door to new physics: an answer to the Universe that somebody, somewhere, perhaps already knows.
About this article
Cite this article
Why antimatter might be the answer to life, the Universe and everything. Nature 548, 5 (2017). https://doi.org/10.1038/548005b
Published:

Issue Date:

DOI: https://doi.org/10.1038/548005b