In mice, two fear-associated memories that are created close in time are represented in the brain's amygdala by the activation of overlapping ensembles of neurons. As a result, eliminating the fear of one memory also extinguishes fear of the other.
Access options
Subscribe to Journal
Get full journal access for 1 year
$199.00
only $3.90 per issue
All prices are NET prices.
VAT will be added later in the checkout.
Tax calculation will be finalised during checkout.
Buy article
Get time limited or full article access on ReadCube.
$32.00
All prices are NET prices.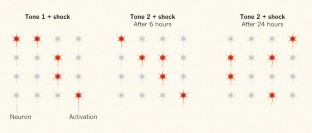 References
Rashid, A. J. et al. Science 353, 383–387 (2016).

Cai, D. J. et al. Nature 534, 115–118 (2016).

Aristotle. 'On memory and reminiscence.' http://classics.mit.edu/Aristotle/memory.html (transl. Beare, J. I.) from The Works of Aristotle Vol. 3 (ed. Ross, W. D.) (Clarendon, 1930).

Howard, M. W. & Eichenbaum, H. J. Exp. Psychol. Gen. 142, 1211–1230 (2013).

Manns, J. R., Howard, M. W. & Eichenbaum, H. Neuron 56, 530–540 (2007).

Mankin, E. A. et al. Proc. Natl Acad. Sci. USA 109, 19462–19467 (2012).

Ziv, Y. et al. Nature Neurosci. 16, 264–266 (2013).

Hsieh, L.-T., Gruber, M. J., Jenkins, L. J. & Ranganath, C. Neuron 81, 1165–1178 (2014).

Ezzyat, Y. & Davachi, L. Neuron 81, 1179–1189 (2014).

McKenzie, S. et al. Neuron 83, 202–215 (2014).
About this article
Cite this article
Eichenbaum, H. Memories linked within a window of time. Nature 536, 405–406 (2016). https://doi.org/10.1038/536405a
Published:

Issue Date:

DOI: https://doi.org/10.1038/536405a