A bilayered material can curl itself into a cylinder in response to a stimulus, mimicking the leaves of the plant Mimosa pudica, which quickly fold up when lightly touched (pictured).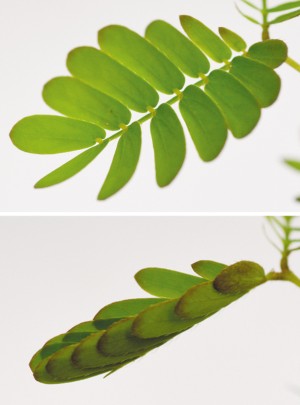 Zuankai Wang at the City University of Hong Kong, Antonio Tricoli at Canberra's Australian National University and their team were inspired by the plant. They adhered a hydrophobic layer, polyvinyl chloride, to a hydrophilic one, polycaprolactone, then placed this bilayer on a flexible plastic substrate before cutting the resulting trilayer into a long, thin strip. When they placed a water droplet on one end of the hydrophilic side, the two sides of the strip quickly peeled away from the substrate and wrapped around the droplet. As the water spread down the strip, the bilayer's edges curled with it to form a tube.
Such a material, which can be cut into different shapes, could one day be useful in sensors and other devices that don't require power.
About this article
Cite this article
Self-folding mimosa mimic. Nature 534, 593 (2016). https://doi.org/10.1038/534593f