A recently discovered early human species probably walked upright and wielded tools, but also took to the trees.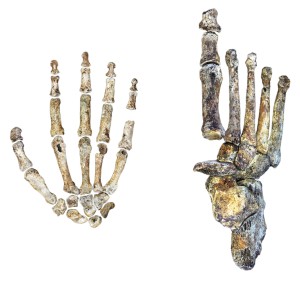 Last month, researchers reported the discovery of fossil bones from at least 15 individuals of a species they named Homo naledi. A team led by Tracy Kivell at the University of Kent in Canterbury, UK, has analysed nearly 150 hand bones from the find, including a complete right hand (pictured, left). The hands resemble those of Homo sapiens, Neanderthals and other regular tool-users, although the long, curved fingers suggest that H. naledi was comfortable in trees.
In a separate study, William Harcourt Smith at the City University of New York and Jeremy DeSilva at Dartmouth College in Hanover, New Hampshire, looked at 107 foot bones, including a nearly complete right foot (pictured, right), and concluded that H. naledi strode upright. However, the feet still had some primitive features: certain toe bones were more curved than are those of modern humans.
About this article
Cite this article
Early human with a familiar handshake. Nature 526, 297 (2015). https://doi.org/10.1038/526297a
Published:

Issue Date:

DOI: https://doi.org/10.1038/526297a