Mountain glaciers in western Canada could shrink by 70% relative to 2005 levels by the end of the century as a result of global warming.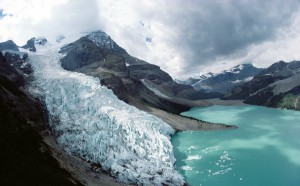 Garry Clarke of the University of British Columbia in Vancouver, Canada, and his colleagues built a high-resolution model that includes ice dynamics and then ran it with a series of climate scenarios covering the twenty-first century. The model suggests that few glaciers in the Canadian Rocky Mountains (pictured) will persist by 2100, although glaciers in the coastal range of north-west British Columbia could survive "in a diminished state", say the authors.
The team predicts that changes in run-off from the melting glaciers over the course of the century could affect aquatic ecosystems, agriculture, forests, water quality and tourism.
About this article
Cite this article
Few Canadian glaciers left by 2100. Nature 520, 134 (2015). https://doi.org/10.1038/520134a