Linda Lear praises a study of one of the first naturalists to document North America's flora and fauna.
The Curious Mister Catesby: A "Truly Ingenious" Naturalist Explores New Worlds
Edited by:
E. Charles Nelson &
David J. Elliott
Univ. Georgia Press: 2015. 9780820347264
|
ISBN: 978-0-8203-4726-4
The mid-eighteenth century was the heyday of natural history. Scientists were redrawing the world map, discovering land bridges between continents and documenting new species of flora and fauna. Members of Britain's elite Royal Society, such as physician and collector Hans Sloane, were particularly interested in the classification of these species, as were many in the broader scientific community, including those at the Chelsea Physic Garden in London who were tasked with evaluating and classifying specimens. Documenting the natural world became a consuming passion.
In July 1747, Mark Catesby (1682/3–1749), a largely self-taught naturalist, presented the final sections of a massive study to the Royal Society. Two decades in the making, The Natural History of Carolina, Florida and the Bahama Islands was the first comprehensive account of North American flora and fauna ever published. It comprised more than 200 hand-coloured etchings based on hundreds of preparatory drawings and notes, with descriptions of each in English and French. Royal Society secretary Cromwell Mortimer hailed them as "the most magnificent work I know since the Art of printing has been discovered".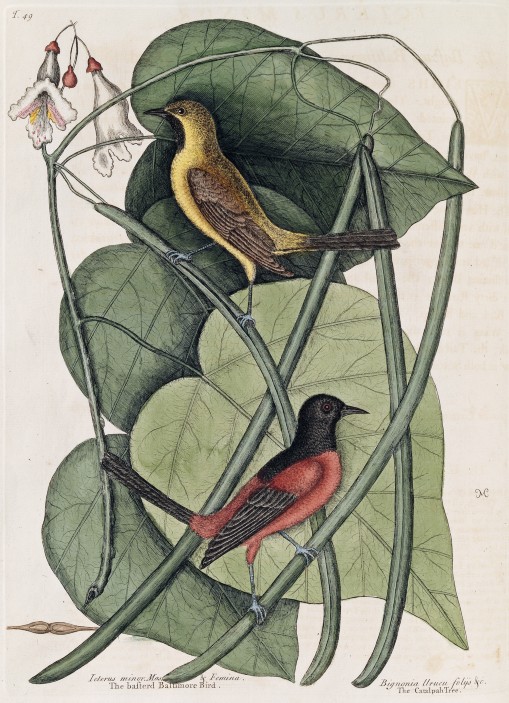 Now, the splendid anthology The Curious Mister Catesby shows that this praise was not exaggerated. Marking the tercentenary of Catesby's first visit to America in 1712–19, this comprehensive, lavishly illustrated work illuminates the many ways in which Catesby changed how the natural world was perceived and portrayed, suggesting for the first time a dynamic ecological relationship between flora and fauna. Edited by botanist Charles Nelson and David Elliott, executive director of the Catesby Commemorative Trust, it contains reproductions of paintings, engravings, photographs and maps, as well as essays by 25 scholars in fields from art history to the study of molluscs.
Although no likeness of Catesby exists and little is known about him, his evident dedication to documenting nature's marvels marks him as an ambitious and innovative plantsman, an inquisitive natural scientist and an artist of talent and energy. His friend Emanuel Mendez da Costa, an English botanist, drew him as "tall, meagre ... and of a silent disposition; but when he contracted a friendship was communicative, and affable". Catesby was elected to the Royal Society in 1734, and in 1747 he completed an appendix to his Natural History, which included 20 extra drawings of species hitherto unknown to Britain, such as the silky camellia, Stewartia malacodendron.
Catesby sailed to Williamsburg, Virginia, in 1712, to collect botanical specimens for an illustrated natural history. His explorations of the Tidewater region in eastern Virginia and the wilderness east of the Appalachian Mountains were partially supported by horticultural patrons in London, eager for a supply of hardy North American species, and by like-minded colonial botanists.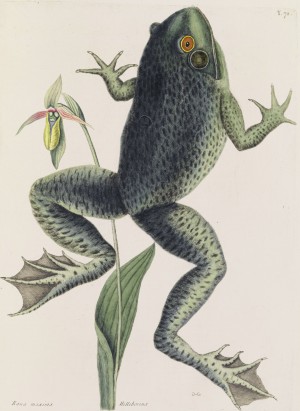 He returned to London in 1719 with a collection of seeds, including those of the passion flower Passiflora lutea. The specimens so interested naturalists such as William Sherard that Catesby was able to raise funds for a second trip, arriving in Charleston (then Charles Town), South Carolina, in 1722. He explored perhaps as far as northeastern Georgia (then part of Spanish Florida) more systematically than before, visiting each region in every season. Native American guides helped to carry his paints, mostly fast-drying watercolours and gouache, as well as boxes of specimens, drawings and field notes; they also saved him from venomous snakes and alligator-filled swamps, and shot game for food.
At the end of 1725, Catesby spent time in the Bahamas painting fishes, then returned to London. Unable to afford to hire a copperplate engraver, he mastered the technique himself, with the help of French artist Joseph Goupy. He planned 100 etchings, mainly of birds, for Volume I; another 100 would comprise a second volume, showing fishes, crustaceans, reptiles, amphibians, insects, a few mammals and a handful of plants.
Catesby found birds the most beautiful of fauna. He was among the first to show associations between plants and animals, for example in his painting of the Greater Antillean bullfinch (Loxigilla violacea) with the poisonwood tree Metopium toxiferum. He contributed significantly to the understanding of avian migration, a topic of heated debate at a time when many believed that birds vanished in winter to hibernate in some form of suspended animation. Catesby argued in his paper 'Of Birds of Passage' (M. Catesby Phil. Trans. 44, 435–444; 1746) that birds fly to warmer climates in winter, spurred by seasonal changes and availability of food.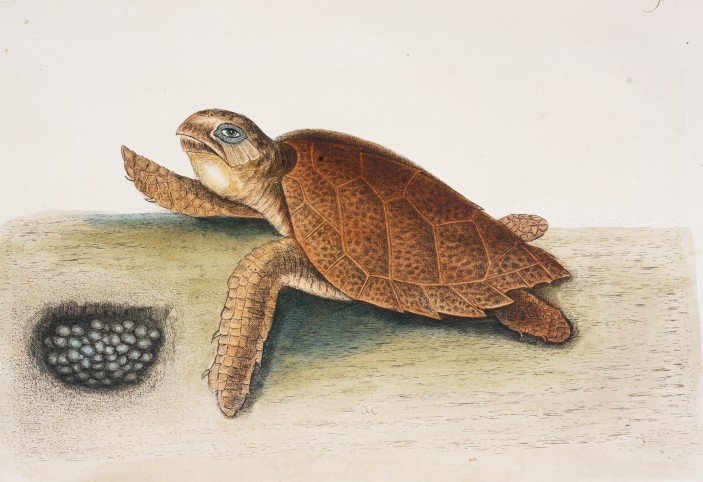 An estimated 200 copies of Catesby's two volumes were printed, with hand-coloured engraved plates. These and two later editions were avidly sought by natural scientists and plant collectors. In 1768, King George III bought Catesby's original 263 watercolour field studies; they are now part of the British Royal Collection. Sadly, Catesby's achievements were diminished by the souring of relations between the United States and Britain after the American War of Independence (1775–83). As US artists and naturalists such as Alexander Wilson, William Bartram and John James Audubon became popular, the British pioneer — whose pre-Linnean classifications were by then outmoded — was largely forgotten. There were so few copies of Catesby's volumes in existence by the mid-nineteenth century that his work was rarely seen, further contributing to his obscurity.
The Curious Mister Catesby will stand for many years as the best critical analysis of his work, and of the groundbreaking natural science that his curiosity inspired.
Related links
Related links
Related links in Nature Research
Related external links
About this article
Cite this article
Lear, L. History of science: Revelations of a wild continent. Nature 520, 30–31 (2015). https://doi.org/10.1038/520030a
Published:

Issue Date:

DOI: https://doi.org/10.1038/520030a