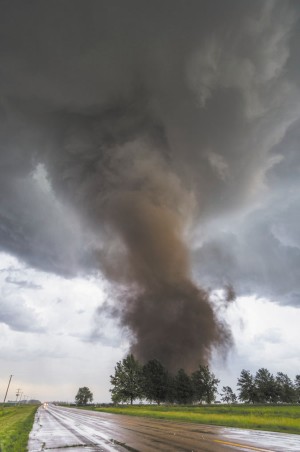 Tornadoes in the United States have been happening on fewer days since the 1970s, but more tornadoes have touched down (pictured) on those days.
The overall number of US tornadoes has not changed in recent decades. However, in analysing the national tornado database, Harold Brooks of the National Severe Storms Laboratory in Norman, Oklahoma, and his team found that the number of days with at least one tornado has fallen from 150 to 100 since the early 1970s. Over the past decade, 20% of US tornadoes occurred on just three days of the year.
Whether the change is linked to rising global temperatures is not clear, the authors say.
About this article
Cite this article
Tornadoes growing more clustered. Nature 514, 407 (2014). https://doi.org/10.1038/514407b
Comments
By submitting a comment you agree to abide by our Terms and Community Guidelines. If you find something abusive or that does not comply with our terms or guidelines please flag it as inappropriate.