A theoretical model suggests that the cause of female-driven extra-pair mating lies in the spreading of male interests among neighbouring families, creating powerful incentives for male cooperation and concomitant benefits for females.
Access options
Subscribe to Journal
Get full journal access for 1 year
$199.00
only $3.90 per issue
All prices are NET prices.
VAT will be added later in the checkout.
Tax calculation will be finalised during checkout.
Buy article
Get time limited or full article access on ReadCube.
$32.00
All prices are NET prices.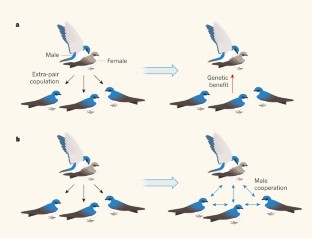 References
Forstmeier, W., Nakagawa, S., Griffith, S. C. & Kempenaers, B. Trends Ecol. Evol. 29, 456–464 (2014).

Eliassen, S. & Jørgensen, C. PLoS ONE 9, e99878 (2014).

Griffith, S. C., Owens, I. P. F. & Thuman, K. A. Mol. Ecol. 11, 2195–2212 (2002).

Sardell, R. J., Arcese, P., Keller, L. F. & Reid, J. M. Am. Nat. 179, 779–793 (2012).

Forstmeier, W., Marin, K., Bolund, E., Schielzeth, H. & Kempaenaers, B. Proc. Natl Acad. Sci. USA 108, 10608–10613 (2011).

Hughes, W. O. H., Oldroyd, B. P., Beekman, M. & Ratnieks, F. L. W. Science 320, 1213–1216 (2008).

Cornwallis, C. K., West, S. A., Davis, K. E. & Griffin, A. S. Nature 466, 969–972 (2010).

Sheldon, B. C. Phil. Trans. R. Soc. Lond. B 357, 341–350 (2002).

Dercole, F. & Rinaldi, S. Analysis of Evolutionary Processes (Princeton Univ. Press, 2008).

Levin, S. Proc. Natl Acad. Sci. USA 111 (Suppl. 3), 10781–10784 (2014).
About this article
Cite this article
Sheldon, B., Mangel, M. Love thy neighbour. Nature 512, 381–382 (2014). https://doi.org/10.1038/512381a
Published:

Issue Date:

DOI: https://doi.org/10.1038/512381a