New genetic methods to analyse mixed human populations have extended existing, multidisciplinary evidence for the historical migrations and mixings of Austronesian peoples.
Access options
Subscribe to Journal
Get full journal access for 1 year
$199.00
only $3.90 per issue
All prices are NET prices.
VAT will be added later in the checkout.
Tax calculation will be finalised during checkout.
Rent or Buy article
Get time limited or full article access on ReadCube.
from$8.99
All prices are NET prices.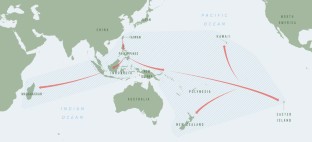 References
1

Blust, R. The Austronesian Languages (Pacific Linguistics, 2009).

2

Pawley, A. in Examining the Farming/Language Dispersal Hypothesis (eds Bellwood, P. & Renfrew, C.) 251–274 (McDonald Inst., 2002).

3

Gray, R. D., Drummond, A. J. & Greenhill, S. J. Science 323, 479–483 (2009).

4

Lipson, M. et al. Nature Commun. 5, 4689; http://dx.doi.org/10.1038/ncomms5689 (2014).

5

Bellwood, P. First Migrants: Ancient Migration in Global Perspective (Wiley-Blackwell, 2013).

6

Bellwood, P. First Farmers: The Origins of Agricultural Societies (Wiley-Blackwell, 2004).

7

Oppenheimer, S. J. & Richards, M. Nature 410, 166–167 (2001).

8

Jinam, T. A. et al. Mol. Biol. Evol. 29, 3513–3527 (2012).

9

Friedlaender, J. S. et al. PLoS Genet. 4, e19 (2008).

10

Xu, S. et al. Proc. Natl Acad. Sci. USA 109, 4574–4579 (2012).

11

Morwood, M. & van Oosterzee, P. The Discovery of the Hobbit: The Scientific Breakthrough that Changed the Face of Human History (Random House Australia, 2007).

12

Kumar, A. Globalizing the Prehistory of Japan: Language, Genes and Civilization (Routledge, 2009).
About this article
Cite this article
Diamond, J. Human melting pots in southeast Asia. Nature 512, 262–263 (2014). https://doi.org/10.1038/512262a