Soft, slow stroking of the skin contributes more to a sense of body ownership than other types of touch.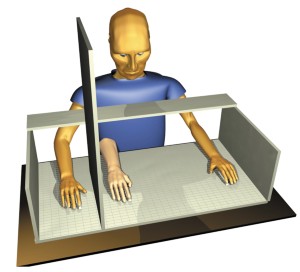 Haike van Stralen at Utrecht University in the Netherlands and her colleagues tested the ease with which study participants could be deceived into feeling that a rubber hand was part of their own body. Volunteers watched the fake hand being stroked quickly or slowly by either a cosmetic brush or a rough plastic cloth, while their real hand was touched out of sight (pictured). Soft, slower stroking gave a stronger illusion that the fake hand was their own.
The authors propose that the C tactile nerve fibres, which are activated by soft stroking of limbs at around 3 centimetres per second, may modulate how the brain integrates information about the body's limbs from different senses (such as sight and touch).
About this article
Cite this article
Implications of a gentle caress. Nature 506, 268 (2014). https://doi.org/10.1038/506268c
Published:

Issue Date:

DOI: https://doi.org/10.1038/506268c