Genomic data hint at the possibility of human migration from India to Australia 4,230 years ago. However, the inference that these humans took along their dogs and tools is difficult to reconcile with previous reports.
This is a preview of subscription content
Access options
Subscribe to Journal
Get full journal access for 1 year
$199.00
only $3.90 per issue
All prices are NET prices.
VAT will be added later in the checkout.
Tax calculation will be finalised during checkout.
Rent or Buy article
Get time limited or full article access on ReadCube.
from$8.99
All prices are NET prices.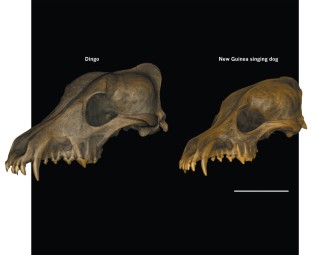 References
1

Pugach, I., Delfin, F., Gunnarsdottir, E., Kayser, M. & Stoneking, M. Proc. Natl Acad. Sci. USA 110, 1803–1808 (2013).

2

Redd, A. J. et al. Curr. Biol. 12, 673–677 (2002).

3

Hudjashov, G. et al. Proc. Natl Acad. Sci. USA 104, 8726–8730 (2007).

4

Clarkson, C. et al. Antiquity 83, 326–348 (2009).

5

O'Connell, J. F. & Allen, J. Evol. Anthropol. 6, 132–146 (1998).

6

Rasmussen, M. et al. Science 334, 94–98 (2011).

7

Barreiro, L. B., Laval, G., Quach, H., Patin, E. & Quintana-Murci, L. Nature Genet. 40, 340–345 (2008).

8

Hiscock, P. Archaeology of Ancient Australia (Routledge, 2007).

9

Savolainen, P., Leitner, T., Wilton, A. N., Matisoo-Smith, E. & Lundeberg, J. Proc. Natl Acad. Sci. USA 101, 12387–12390 (2004).
About this article
Cite this article
Brown, P. Of humans, dogs and tiny tools. Nature 494, 316–317 (2013). https://doi.org/10.1038/494316a
Further reading
Nano Nagle
Kaye N Ballantyne
R John Mitchell

Journal of Human Genetics (2017)

Nano Nagle
Mannis van Oven
R. John Mitchell

Scientific Reports (2017)

Irina Pugach
Mark Stoneking

Investigative Genetics (2015)