Astronomers have for the first time located the launch site of a giant, high-speed jet of charged particles believed to originate from a supermassive black hole.
Black holes suck up large amounts of gas and dust, which swirl around the black hole and are thought to feed these jets (simulated image pictured). Sheperd Doeleman of the Massachusetts Institute of Technology's Haystack Observatory in Westford and his colleagues linked four radio dishes in California, Arizona and Hawaii to make a single large telescope. Using this, they examined the jets' source region, which lies just outside the 6.2-billion-solar-mass black hole at the centre of the galaxy M87.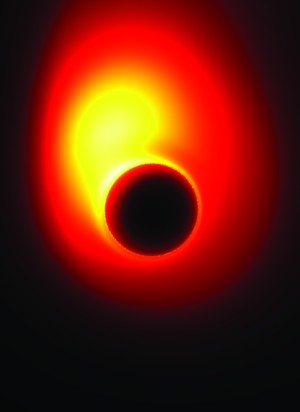 The launch site was small, suggesting two key properties about the gravitational giant: the black hole spins, and it feeds on a surrounding disk of material that orbits it in the same direction as its spin.
About this article
Cite this article
Homing in on a black hole's jets. Nature 490, 9 (2012) doi:10.1038/490009b
Comments
By submitting a comment you agree to abide by our Terms and Community Guidelines. If you find something abusive or that does not comply with our terms or guidelines please flag it as inappropriate.