Human papillomavirus (HPV) has become synonymous with cervical cancer, but its actual footprint is much bigger, by James Mitchell Crow.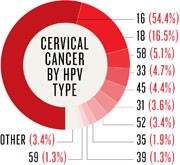 Tens of different papillomavirus types infect humans, but only a handful are harmful. Mapping HPV types by genus (see Figure 1) reveals that certain species often cause similar warts and lesions, with most of the HPV types that cause cancer coming from the same species. However, shared pathology doesn't always indicate close family ties; HPV types 1, 2 and 4, which all cause common skin warts, are distant relations.
How HPV can lead to cancer
Although HPV infections are common, 90% of cervical infections are cleared within 2 years (see Figure 2). If infection persists, abnormal cells can begin to appear. Only if these cervical cells cross the basal membrane and spread into the tissues beneath does the condition become cervical cancer.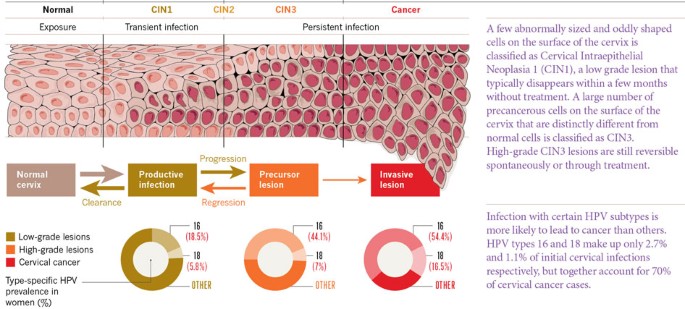 Infection rates and cancer cases
Cervical HPV infection rates vary around the world (see Figure 3), as does the number of infected women who go on to develop cervical cancer.
Although the overwhelming majority of cancers caused by HPV infection are of the cervix, infection with the virus can also lead to cancers in other parts of the body.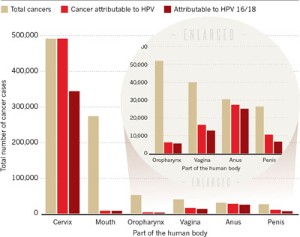 The future of HPV screening
HPV tests are proving more effective than traditional cytology screens at catching early-stage infections that progress to high-risk lesions.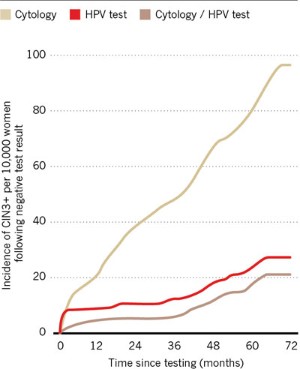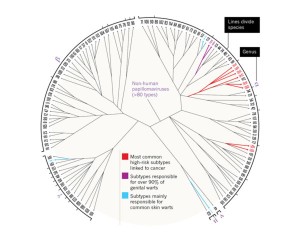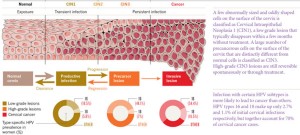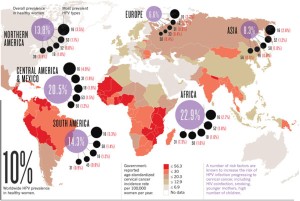 About this article
Cite this article
Crow, J. HPV: The global burden. Nature 488, S2–S3 (2012). https://doi.org/10.1038/488S2a
Comments
By submitting a comment you agree to abide by our Terms and Community Guidelines. If you find something abusive or that does not comply with our terms or guidelines please flag it as inappropriate.