An analysis of thousand-year-old trees has linked megadroughts to upheavals in ancient Mexican civilizations.
David Stahle at the University of Arkansas in Fayetteville and his colleagues measured tree rings from 30 Montezuma baldcypress trees (Taxodium mucronatum, pictured) growing in a central Mexican gorge. They used the measurements to reconstruct the region's climate between 771 and 2008.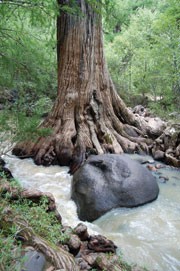 A severe drought in Central America also reached into Mexico between 897 and 922, and may have contributed to the fall of the Mayan empire. Another dry spell stretching between 1149 and 1167 overlapped with the decline of the region's Toltec culture and the abandonment of its capital in around 1150. And the Spanish conquest of the Aztecs in 1521 was preceded by an extended drought that may have exacerbated disease epidemics.
About this article
Cite this article
Mexico's history in tree rings. Nature 470, 309 (2011). https://doi.org/10.1038/470309d
Published:

Issue Date:

DOI: https://doi.org/10.1038/470309d