Organic farming supports higher biodiversity. Research involving the Colorado potato beetle shows that this increased diversity can deliver a better ecosystem service in the form of more effective pest control.
This is a preview of subscription content
Access options
Subscribe to Journal
Get full journal access for 1 year
$199.00
only $3.90 per issue
All prices are NET prices.
VAT will be added later in the checkout.
Tax calculation will be finalised during checkout.
Rent or Buy article
Get time limited or full article access on ReadCube.
from$8.99
All prices are NET prices.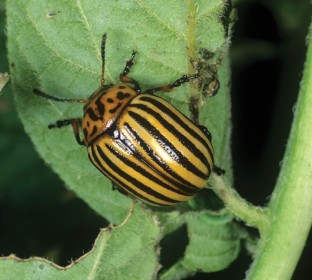 References
1

Naeem, S., Bunker, D. E., Hector, A., Loreau, M. & Perrings, C. (eds) Biodiversity, Ecosystem Functioning, and Human Wellbeing: An Ecological and Economic Perspective (Oxford Univ. Press, 2009).

2

Crowder, D. W., Northfield, T. D., Strand, M. R. & Snyder, W. E. Nature 466, 109–112 (2010).

3

Bengtsson, J., Ahnström, J. & Weibull, A.-C. J. Appl. Ecol. 42, 261–269 (2005).

4

Tylianakis, J. M., Tscharntke, T. & Lewis, O. T. Nature 445, 202–205 (2007).

5

Wilby, A. & Thomas, M. B. Ecol. Lett. 5, 353–360 (2002).

6

Letourneau, D. K. & Bothwell, S. G. Front. Ecol. Environ. 6, 430–438 (2008).

7

Alyokhin, A. Fruit Veg. Cereal Sci. Biotechnol. 3, 10–19 (2009).

8

Weddle, P. W., Welter, S. C. & Thomson, D. Pest Mgmt Sci. 65, 1287–1292 (2009).

9

Heinrichs, E. A. & Mochida, O. Protection Ecol. 7, 201–218 (1984).

10

Drinkwater, L. E., Letourneau, D. K., Workneh, F., Van Bruggen, A. H. C. & Shennan, C. Ecol. Appl. 5, 1098–1112 (1995).
About this article
Cite this article
Turnbull, L., Hector, A. How to get even with pests. Nature 466, 36–37 (2010). https://doi.org/10.1038/466036a
Further reading
Chaochun Zhang
Yan Dong
Wopke van der Werf

European Journal of Plant Pathology (2019)