Why metabolic rates do not vary in direct proportion to body mass has long been the subject of debate. Progress has been made with the realization that no universal scaling exponent can be applied to them.
Access options
Subscribe to Journal
Get full journal access for 1 year
$199.00
only $3.90 per issue
All prices are NET prices.
VAT will be added later in the checkout.
Tax calculation will be finalised during checkout.
Rent or Buy article
Get time limited or full article access on ReadCube.
from$8.99
All prices are NET prices.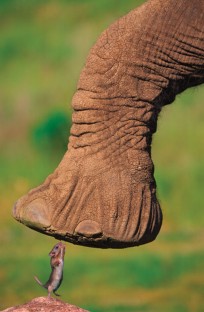 References
1

Kleiber, M. The Fire of Life (Wiley, 1961).

2

Kolokotrones, T., Savage, V., Deeds, E. J. & Fontana, W. Nature 464, 753–756 (2010).

3

Hulbert, A. J. & Else, P. L. Physiol. Biochem. Zool. 77, 869–876 (2004).

4

Krogh, A. Respiratory Exchange of Animals and Man (Longmans, Green, & Co., 1916).

5

Capellini, I., Venditti, C. & Barton, R. Ecology doi:10.1890/09-0817 (2010).

6

Clarke, A., Rothery, P. & Isaac, N. J. B. J. Anim. Ecol. 79, 610–619 (2010).

7

Glazier, D. S. Biol. Rev. 85, 111–138 (2010).

8

Speakman, J. R. & Król, E. J. Anim. Ecol. (in the press).

9

Farrell-Gray, C. C. & Gotelli, N. J. Ecology 86, 2083–2087 (2005).

10

White, C. R., Cassey, P. & Blackburn, T. M. Ecology 88, 315–323 (2007).

11

West, G. B., Brown, J. H. & Enquist, B. J. Science 276, 122–126 (1997).

12

Kozłowski, J., Konarzewski, M. & Gawelczyk, A. T. Proc. Natl Acad. Sci. USA 100, 14080–14085 (2003).

13

Kooijman, S. A. L. M. Dynamic Energy Budget Theory for Metabolic Organisation 3rd edn (Cambridge Univ. Press, 2009).
About this article
Cite this article
White, C. There is no single p. Nature 464, 691–693 (2010). https://doi.org/10.1038/464691a
Further reading
Qiang Deng

,

Zhiyou Yuan

,

Xinrong Shi

,

T. Ryan Lock

&

Robert L. Kallenbach

Forest Ecosystems (2020)

Ulrich Kutschera

&

Karl J. Niklas

Protoplasma (2012)