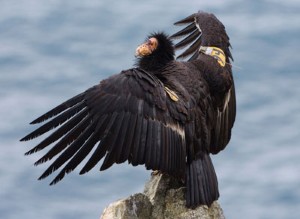 Endangered California condors (Gymnogyps californianus; pictured) are heavily affected by lead poisoning, but current biannual testing detects only a fraction of their exposure.
Myra Finkelstein at the University of California, Santa Cruz, and her colleagues report that analysis of sequential segments of condor feathers can provide a history of lead exposure over the 2–4 months of feather growth.
By measuring lead concentration and isotope composition in feather and blood samples, the researchers identified lead-exposure events that would have been missed by blood monitoring alone. Their technique, they say, may also be applicable to other bird species.
About this article
Cite this article
Conservation: Heavy metal history. Nature 464, 329 (2010). https://doi.org/10.1038/464329a
Published:

Issue Date:

DOI: https://doi.org/10.1038/464329a