Is it wishful thinking that the behaviour of an organism as complex as a mouse might be controlled by modulating its intracellular signalling with light? No: this is just what researchers have achieved with an elegant technique.
Access options
Subscribe to Journal
Get full journal access for 1 year
$199.00
only $3.90 per issue
All prices are NET prices.
VAT will be added later in the checkout.
Tax calculation will be finalised during checkout.
Rent or Buy article
Get time limited or full article access on ReadCube.
from$8.99
All prices are NET prices.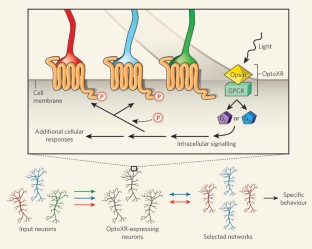 References
1

Airan, R. D., Thompson, K. R., Fenno, L. E., Bernstein, H. & Deisseroth, K. Nature 458, 1025–1029 (2009).

2

Gradinaru, V. et al. J. Neurosci. 27, 14231–14238 (2007).

3

Szobota, S. et al. Neuron 54, 535–545 (2007).

4

Berndt, A., Yizhar, O., Gunaydin, L. A., Hegemann, P. & Deisseroth, K. Nature Neurosci. 12, 229–234 (2009).

5

Cooper, J. R., Bloom, F. E. & Roth, R. H. in The Biochemical Basis of Neuropharmacology 8th edn (Oxford Univ. Press, 2003).

6

Bardo, M. T. & Bevins, R. A. Psychopharmacology 153, 31–43 (2000).

7

Berridge, C. W. & Waterhouse, B. D. Brain Res. Brain Res. Rev. 42, 33–84 (2003).

8

Surmeier, D. J., Ding, J., Day, M., Wang, Z. & Shen, W. Trends Neurosci. 30, 228–235 (2007).

9

McClung, C. A. & Nestler, E. J. Neuropsychopharmacology 33, 3–17 (2008).

10

Adamantidis, A. R., Zhang, F., Aravanis, A. M., Deisseroth, K. & de Lecea, L. Nature 450, 420–424 (2007).
About this article
Cite this article
Moorman, D., Aston-Jones, G. Optical control of reward. Nature 458, 980–981 (2009). https://doi.org/10.1038/458980a