Manufacturers in the solar-energy industry are downsizing and scaling back their once-ambitious plans. Katharine Sanderson reports.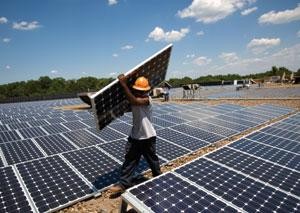 Lay-offs, stalled projects and grim financial forecasts are affecting the solar-energy industry, which until recently had been growing with little end in sight.
In November 2008, BP Solar announced that it would be closing a photovoltaics factory in Sydney, Australia, so that it could focus its operations in countries with lower manufacturing costs. Since then, GT Solar, of Merrimack, New Hampshire, let go 25 of its 300 workers; Day4Energy in Burnaby, Canada, slashed one-third of its staff, some 95 employees; and even Suntech, one of China's largest solar companies, in Wuxi, Jiangsu province, shed 800 jobs, or 10% of its work force.
One of the most dramatic cutbacks has come at OptiSolar of Hayward, California. The company has been planning to open the largest photovoltaics power plant in the world, a 550-megawatt facility in San Luis Obispo county in California, by 2013. OptiSolar says it still intends to build the plant even though it has been unable to raise money in its latest funding rounds. "We suspended construction in November as it became obvious that access to capital was not available," says spokesman Alan Bernheimer. Nearly half the company's workforce, or 300 employees, will be let go.
"This was always likely to be the year when supply overtook demand. "
Some legislative incentives that could help the industry are on the horizon. Last October, the US Congress extended for another eight years the 30% tax credit for those who invest in renewable-energy projects. But many investment firms aren't making enough money to take advantage of the credit. "This is probably the biggest problem for US industry," says Jenny Chase, a London-based analyst for New Energy Finance. The Solar Energy Industries Association in Washington DC has called for the incentives to be made refundable so that investors can claim them even if they are not making money.
The economic stimulus package proposed by the US House of Representatives last week (see page 364) doesn't include such a plan, but it does contain a US$8-billion loan guarantee programme for renewable energy technologies. If passed, this proposal could help OptiSolar, which is applying now for loan guarantees from the government. "We seem to be just what they're talking about," says Bernheimer. Still, even Monique Hanis, director of communications for the industry organization, says that "these are just proposals. There's a lot of work to be done."
Current tax incentives also don't cover solar-cell manufacturers, notes B. J. Stanbery, chief executive of HelioVolt, a company in Austin, Texas, that manufactures copper-indium-gallium-selenide solar cells. HelioVolt, which is just about to bring its first manufacturing plant online, has also made some employees redundant, but won't say how many. Stanbery says that the redundancies were part of the process of shifting from research and development to manufacturing, rather than because of the economic crisis. "Frankly, it had more to do with adjusting the skills mix in the company," he says.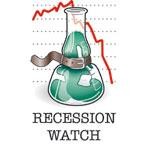 Stanbery predicts that his company will survive as it is young and small — it expects to generate 20 megawatts this year from its production facility in Austin. "I don't think it's going to be a really tough year for us," he says. For others in the solar industry at large, he predicts, "it is going to be brutal".
Solar's rapid growth in recent years has coloured expectations for the field, says Ken Zweibel, director of the Institute for the Analysis of Solar Energy at George Washington University in Washington DC. "Solar has been on a 40–50% growth rate for ten years now," he says. "What we're losing is that growth rate."
This year was always going to be tough for solar, says Chase. In Europe in particular, four years of generous subsidies have encouraged new players to join the fray, leading to a surge of solar modules on the market. "This was always likely to be the year when supply overtook demand," she says. In Spain, the government's incentive scheme was so popular that roughly 3 gigawatts of solar-power capacity were connected to the grid in 2008, and authorities are investigating reports of fraudulent hook-ups. The Spanish government has since capped this year's production subsidies at 500 megawatts.
In Bitterfeld-Wolfen, Germany, solar-cell manufacturer Q-Cells closed its facilities temporarily over the Christmas–New Year period to save money. Q-Cells has also put on hold plans to build a silicon wafer and ingot plant in Malaysia. "We will have to focus on our core business — increasing cell production," says says spokesman Stefan Dietrich. "There's not much money around."
In December, Q-Cells reduced its forecast net income for the 2008 financial year from €215 million (US$286 million) to €185 million. Similarly, the Chinese company LDK Solar, in Xinyu, Jiangxi province, cut its 2008 forecast from a maximum in revenue of $565 million to a maximum of $435 million.
One thing is sure, says Chase: the prices of solar modules will plummet in 2009 because of the oversupply. But low prices could mean that the developing world gets better access to solar power, or attracts investors to companies that had been flagging. "I think the return on solar will go up," she says. It's just that some companies won't make it that long.
About this article
Cite this article
Sanderson, K. Not so sunny after all. Nature 457, 362–363 (2009). https://doi.org/10.1038/457362a
Further reading
Patrick Moriarty

&

Damon Honnery

Energy Policy (2010)

Patrick Moriarty

&

Damon Honnery

Energy Policy (2009)
Comments
By submitting a comment you agree to abide by our Terms and Community Guidelines. If you find something abusive or that does not comply with our terms or guidelines please flag it as inappropriate.