Protein-digesting enzymes are kept on a tight leash to stop them from wantonly attacking targets. Two crystal structures show how an inhibitory protein domain gags one such enzyme without being chewed up itself.
Access options
Subscribe to Journal
Get full journal access for 1 year
$199.00
only $3.90 per issue
All prices are NET prices.
VAT will be added later in the checkout.
Tax calculation will be finalised during checkout.
Buy article
Get time limited or full article access on ReadCube.
$32.00
All prices are NET prices.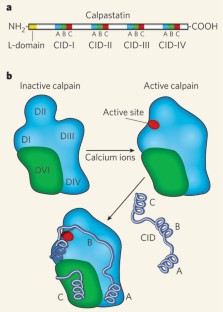 References
Borth, W. FASEB J. 6, 3345–3353 (1992).

Estrada, S., Olson, S. T., Raub-Segall, E. & Bjork, I. Protein Sci. 9, 2218–2224 (2000).

Hanna, R. A., Campbell, R. L. & Davies, P. L. Nature 456, 409–412 (2008).

Moldoveanu, T., Gehring, K. & Green, D. R. Nature 456, 404–408 (2008).

Goll, D. E., Thompson, V. F., Li, H., Wei, W. & Cong, J. Physiol. Rev. 83, 731–801 (2003).

Dutt, P. et al. BMC Dev. Biol. 6, doi:10.1186/1471-213x/6/3 (2006).

Franco, S. J. & Huttenlocher, A. J. Cell Sci. 118, 3829–3838 (2005).

Kiss, R. et al. FEBS Lett. 582, 2149–2154 (2008).

Hosfield, C. M., Elce, J. S., Davies, P. L. & Jia, Z. EMBO J. 18, 6880–6889 (1999).

Moldoveanu, T. et al. Cell 108, 649–660 (2002).

Jia, Z. et al. Biophys. J. 80, 2590–2596 (2001).

Mellgren, R. L., Mericle, M. T. & Lane, R. D. Arch. Biochem. Biophys. 246, 233–239 (1986).
About this article
Cite this article
Mellgren, R. Enzyme knocked for a loop. Nature 456, 337–338 (2008). https://doi.org/10.1038/456337a
Published:

Issue Date:

DOI: https://doi.org/10.1038/456337a