Tongue-in-cheek prizes recognize improbable research.
Slime moulds exhibit the kind of "contemplative behaviour" that Hamlet is famous for, muses Toshiyuki Nakagaki of Hokkaido University in Japan. "Hamlet couldn't decide what to do so he did nothing. Then he chose a strong course of action." Similarly, slime moulds stop moving when they encounter a toxic substance. "But once action occurs, it too is strong," Nakagaki says.
The slime mould's puzzle-solving ability — Shakespearean or otherwise — is a discovery that is unlikely to change the world, but it won Nakagaki and his colleagues an Ig Nobel Prize for cognitive science last week at the annual event held at Harvard University in Cambridge, Massachusetts. Their research, published in Nature (T. Nakagaki, H. Yamada & Á. Tóth Nature 407, 470; 2000), showed that slime moulds looking for food have "the ability to find the minimum-length solution between two points in a labyrinth".
Subsequently, the team has found that moulds can find the shortest path between 30–50 points, which is something even supercomputers cannot yet work out. "We can't even check the mould's solution," notes Nakagaki, "but it looks good."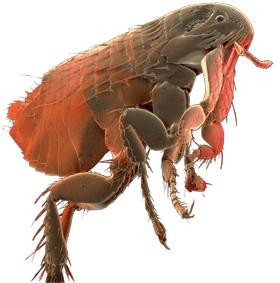 From the cognitive feats of slime mould to the physical prowess of fleas: Marie-Christine Cadiergues of the National Veterinary School in Toulouse, France, and her colleagues won the biology Ig Nobel Prize for showing that dog fleas can jump 2 centimetres higher and 10 centimetres farther than cat fleas. "In the daily life of a vet, it's a good thing to know," Cadiergues says.
Other recipients of this year's prizes for amusing research included psychologists Charles Spence of the University of Oxford, UK, and Massimiliano Zampini of the University of Trento in Italy, who won the Nutrition Ig Nobel for research involving eating Pringles potato chips (crisps). The pair showed that when the sound of chomping on a Pringle is amplified, people believe it is fresher than it really is.
The peace prize went to Klaus Peter Rippe, who chairs the Swiss Federal Ethics Committee on Non-Human Biotechnology, which is championing the idea that all living beings, including plants, have dignity (see _Nature_ 452, 919; 2008). "Most people in Switzerland have no problem with this concept, though we're aware that many people elsewhere find our ideas ridiculous," he says.
Ironically, Rippe says, the 1952 Nobel Peace Prize was won by German–French physician Albert Schweitzer for, in part, promoting "reverence for life. Fifty years later, we get the Ig Nobel instead."
About this article
Cite this article
Nadis, S. Slime and fleas feature in Ig Nobel awards. Nature 455, 714–715 (2008). https://doi.org/10.1038/455714b
Published:

Issue Date:

DOI: https://doi.org/10.1038/455714b