Abstract
In a numerical study, Bowen and Sharif1 purported to capture attractive interactions between like-charged colloidal particles by solving the nonlinear Poisson–Boltzmann equation around two particles in a pore. We are unable to replicate their results, in accord with recent proofs2,3 showing that this equation cannot produce attractions between like-charged particles. Our calculations reveal only repulsive interactions between confined particles, indicating that the cause for anomalous colloidal multibody interactions is still unknown.
Access options
Subscribe to Journal
Get full journal access for 1 year
$199.00
only $3.90 per issue
All prices are NET prices.
VAT will be added later in the checkout.
Rent or Buy article
Get time limited or full article access on ReadCube.
from$8.99
All prices are NET prices.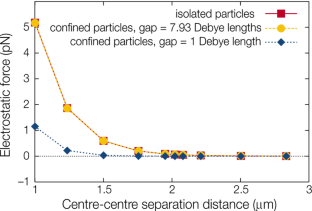 References
1

Bowen, W. R. & Sharif, A. O. Nature 393, 663–665 (1998); correction Nature 402, 841 (1999).

2

Neu, J. C. Phys. Rev. Lett. 82, 1072–1074 (1999).

3

Sader, J. E. & Chan, D. Y. C. J. Colloid Interface Sci. 213, 268–269 (1999).

4

Razatos, A. P., Ong, Y. L., Sharma, M. M. & Georgiou, G. Proc. Natl Acad. Sci. USA 95, 11059–11064 (1998).

5

Chen, L.-B., Ackerson, B. J. & Zukoski, C. F. J. Rheol. 38, 193–216 (1994).

6

Joannopoulos, J. D., Villeneuve, P. R. & Fan, S. Nature 386, 143–149 (1997).

7

Derjaguin, B. V. & Landau, L. Acta Physiochim. 14, 633–662 (1941).

8

Verwey, E. J. W. & Overbeek, J. T. G. Theory of the Stability of Lyophobic Colloids: The Interaction of Sol Particles Having an Electric Double Layer (Elsevier, New York, 1948).

9

Crocker, J. C. & Grier, D. G. Phys. Rev. Lett. 77, 1897–1900 (1996).

10

Larsen, A. E. & Grier, D. G. Nature 385, 230–233 (1997).

11

Ospeck, M. & Fraden, S. J. Chem. Phys. 109, 9166–9171 (1998).

12

Kwon, G. W., Won, Y. S. & Yoon, B. J. J. Colloid Interface Sci. 205, 423–432 (1998).

13

Stevens, M. J., Falk, M. L. & Robbins, M. O. J. Chem. Phys. 104, 5209–5219 (1996).

14

Tehver, R., Ancilotto, F., Toigo, F., Koplik, J. & Banavar, J. R. Phys. Rev. E 59, R1335–R1338 (1999).

15

Goulding, D. & Hansen, J.-P. Europhys. Lett. 46, 407–413 (1999).
About this article
Cite this article
Gray, J., Chiang, B. & Bonnecaze, R. Origin of anomalous multibody interactions. Nature 402, 750 (1999) doi:10.1038/45445
Comments
By submitting a comment you agree to abide by our Terms and Community Guidelines. If you find something abusive or that does not comply with our terms or guidelines please flag it as inappropriate.