From the timing, it looks as if an episode of marked oceanic oxygen deficiency during the Cretaceous was the result of undersea volcanism. Studies of such events are relevant to the warming world of today.
Access options
Subscribe to Journal
Get full journal access for 1 year
$199.00
only $3.90 per issue
All prices are NET prices.
VAT will be added later in the checkout.
Tax calculation will be finalised during checkout.
Buy article
Get time limited or full article access on ReadCube.
$32.00
All prices are NET prices.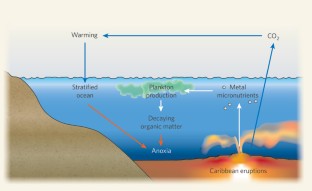 References
Turgeon, S. C. & Creaser, R. A. Nature 454, 323–326 (2008).

Coffin, M. F. & Eldholm, O. Rev. Geophys. 32, 1–36 (1994).

Kerr, A. C. in Treatise on Geochemistry Vol. 3 (ed. Rudnick, R. L.) 537–565 (Elsevier, 2003).

Larson, R. L. Geology 19, 547–550 (1991).

Bowring, S. A. et al. Science 280, 1039–1045 (1998).

Tarduno, J. A. et al. Science 254, 399–403 (1991).

Jenkyns, H. C. J. Geol. Soc. Lond. 137, 171–188 (1980).

Arthur, M. A., Dean, W. E. & Pratt, L. M. Nature 335, 714–717 (1988).

Forster, A., Schouten, S., Moriya, K., Wilson, P. A. & Sinninghe Damsté, J. S. Paleoceanography 22, PA1219, doi:10.1029/2006PA001349 (2007).

Orth, C. J. et al. Earth Planet. Sci. Lett. 117, 189–204 (1993).

Snow, L. J., Duncan, R. A. & Bralower, T. J. Paleoceanography 20, PA3005, doi:10.1029/2004PA001093 (2005).

Sinton, C. W. & Duncan, R. A. Econ. Geol. 92, 836–842 (1997).

Peucker-Erhenbrink, B. & Ravizza, G. Terra Nova 12, 205–219 (2000).
About this article
Cite this article
Bralower, T. Volcanic cause of catastrophe. Nature 454, 285–287 (2008). https://doi.org/10.1038/454285a
Published:

Issue Date:

DOI: https://doi.org/10.1038/454285a
This article is cited by
Vlatko Brčić
Bosiljka Glumac
Ivan Mišur

Facies (2017)

Theory in Biosciences (2009)