Different material options for high-temperature superconductivity— conduction of electricity with little or no resistance at 'practical' temperatures — have arrived. Iron compounds are the latest thing.
Your institute does not have access to this article
Access options
Subscribe to Journal
Get full journal access for 1 year
$199.00
only $3.90 per issue
All prices are NET prices.
VAT will be added later in the checkout.
Tax calculation will be finalised during checkout.
Buy article
Get time limited or full article access on ReadCube.
$32.00
All prices are NET prices.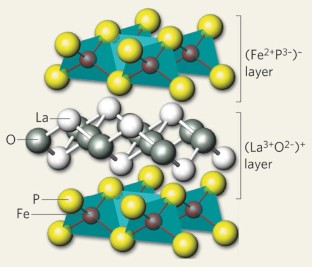 References
Bednorz, J. G. & Müller, K. A. Z. Phys. B 64, 189–193 (1986).

Wu, M. K. et al. Phys. Rev. Lett. 58, 908–910 (1987).

Kamihara, Y. et al. J. Am. Chem. Soc. 128, 10012–10013 (2006).

Kamihara, Y., Watanabe, T., Hirano, M. & Hosono, H. J. Am. Chem. Soc. 130, 3296–3297 (2008).

Takahashi, H. et al. Nature 453, 376–378 (2008).

Yang, J. et al. Supercond. Sci. Technol. 21, doi:10.1088/0953-2048/21/8/082001 (2008).

McMillan, W. L. Phys Rev. 167, 331–344 (1968).

Allen, P. B. & Dynes, R. C. Phys. Rev. B 12, 905–922 (1975).

Nagamatsu, J., Nakagawa, N., Muranaka, T., Zenitani, Y. & Akimitsu, J. Nature 410, 63–64 (2001).

Chen, T. Y., Tesanovic, Z., Liu, R. H., Chen, X. H. & Chien, C. L. Nature doi:10.1038/nature07081 (2008).

Bardeen, J., Cooper, L. N. & Schrieffer, J. R. Phys. Rev. 108, 1175–1204 (1957).
About this article
Cite this article
Grant, P. Prospecting for an iron age. Nature 453, 1000–1001 (2008). https://doi.org/10.1038/4531000a
Published:

Issue Date:

DOI: https://doi.org/10.1038/4531000a