These installations are home to thriving colonies of an endangered cold-water coral.
Abstract
This summer the coral Lophelia pertusa was found growing on oil platforms in the North Sea and on the Brent Spar oil-storage buoy during its decommissioning. The findings indicate that Lophelia has a wider distribution and a more rapid rate of growth than previously believed. The discovery also has implications for the debate over oil exploration in the Atlantic Ocean and the perceived benefits of onshore dismantling of deep-water platforms.
Access options
Subscribe to Journal
Get full journal access for 1 year
$199.00
only $3.90 per issue
All prices are NET prices.
VAT will be added later in the checkout.
Rent or Buy article
Get time limited or full article access on ReadCube.
from$8.99
All prices are NET prices.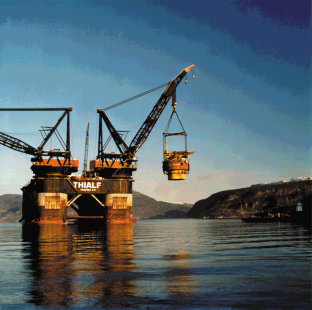 References
1

Mikkelsen, N., Erlenkauser, H., Killingley, J. S. & Berger, W. H. Boreas 5, 163–171 (1982).

2

Mortensen, P. B. & Rapp, H. T. Sarsia 83, 433–446 (1998).

3

Wilson, J. B. J. Mar. Biol. Assoc. UK 59, 149–164 (1979).

4

Zibrowius, H. Mem. Inst. Oceanogr. Monaco 11, 126–130 (1980).

5

Strømgren, T. Det Kon. Nor. Vid. Sel. Skr. 6, 1–9 (1971).

6

Hovland, M., Mortensen, P. B., Brattegard, T., Strass, P. & Rokoengen, K. Palaios 13, 189–200 (1998).

7

Pearce, F. New Sci. 164(2211), 16 (1999).

8

Turrell, W. R. & Slesser, G. Marine Laboratory Aberdeen Report No. 1/99 (1999)

9

Rogers, A. New Sci. 154(2087), 53 (1997).

10

Edwards, R. New Sci. 154 (2085), 10 (1997).
About this article
Cite this article
Bell, N., Smith, J. Coral growing on North Sea oil rigs. Nature 402, 601 (1999) doi:10.1038/45127
Comments
By submitting a comment you agree to abide by our Terms and Community Guidelines. If you find something abusive or that does not comply with our terms or guidelines please flag it as inappropriate.