Japan rushes to capitalize on 'reprogrammed' adult cells.
Japan is scrambling to harness the promise of Shinya Yamanaka's pioneering work that reprogrammed adult human cells into an embryo-like state. With unprecedented speed, the government is pouring money into developing this home-grown field, some of which will go towards funding a new Yamanaka-headed research centre at Kyoto University.
On 20 November, Yamanaka reported using a relatively cheap and easy technique to reprogramme adult human cells into cells almost indistinguishable from embryonic stem cells. He called these 'induced pluripotent stem cells' (iPS cells) for their ability to differentiate into any of the body's cell types.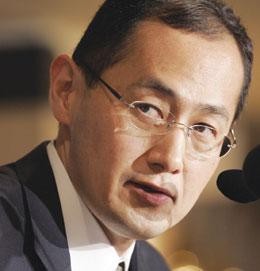 Just a week later, Japanese Prime Minister Yasuo Fukuda closed the monthly meeting of the national Council for Science and Technology Policy (CSTP) with a plea to accelerate development of the ?revolutionary? method: ?I want the CSTP to quickly create an environment in which this science, including clinical research, can move forward smoothly.?
By 22 December, the science ministry had laid plans to raise the funding on iPS research from ¥270 million (US$2.5 million) for 2007, to ¥2.2 billion for the 2008 fiscal year, pledging ¥10 billion over the next 5 years. The health ministry will add close to ¥100 million in the 2008 fiscal year directly to Yamanaka, in addition to ¥410 million for regenerative medicine infrastructure, such as a cell-processing centre.
In December, it was announced that Kyoto University would create a research centre dedicated to iPS, funded by the science ministry. The centre, to be headed by Yamanaka, is expected to open in 2009 and to house 10 principal investigators and 100 researchers.
Japanese researchers keen to get hold of iPS cells can apply to the BioResource Center at the Institute of Physical and Chemical Research (RIKEN) in Tsukuba, north of Tokyo, which will start distributing mouse iPS cells from previous work by Yamanaka in March. But most scientists will want to get hold of the viral vectors that Yamanaka used to introduce the four genes. A virtual consortium whose members will be able to share iPS cell information and materials without going through time-consuming material-transfer agreements is planned for the Kyoto University centre.
It's rare for Japan to have such an opportunity.
?If they all agree to recognize each other's technology, they might even be able to share information before publication,? says Shin-ichi Nishikawa of RIKEN's Kobe-based Center for Developmental Biology, who is tipped to head the consortium. Nishikawa has already been in touch with organizers of a stem-cell consortium in China, and hopes that researchers everywhere, especially in the Asia-Pacific region, will be able to work together. ?It's rare for Japan to have such an opportunity,? says Nishikawa. ?It should be used to encourage diplomacy.?
The science ministry is scurrying to pull the new projects together. ¥1 billion, to be distributed by the Japan Science and Technology Agency, will be available for major iPS research projects from 1 April, but the ministry has yet to decide on research themes. It will start taking applications by the end of March and will pick winning projects soon after.

Such sudden investment is rare for the Japanese government, which usually follows the United States' lead in defining promising scientific fields. In the past, this has led to missed opportunities ? most famously leaving Japan a bit-player in the Human Genome Project, even though high-throughput sequencing was first proposed there.
Related links
Related links
Related links in Nature Research
Related external links
About this article
Cite this article
Cyranoski, D. Stem cells: a national project. Nature 451, 229 (2008). https://doi.org/10.1038/451229a
Published:

Issue Date:

DOI: https://doi.org/10.1038/451229a
This article is cited by
Nature (2012)

John A Tessensohn
Shusaku Yamamoto

Nature Biotechnology (2009)