The formerly Serbian province of Kosovo unilaterally declared its independence on 17 February. Some 10,000 Serbian students and academics live in enclaves in the ethnically divided city of Kosovska Mitrovica in the north of the new country dominated by Kosovar Albanians. Endocrinologist Aleksandar Jovanovic, vice-rector for science and international relations at the University of Mitrovica, discusses recent events.
What is the University of Mitrovica's set-up?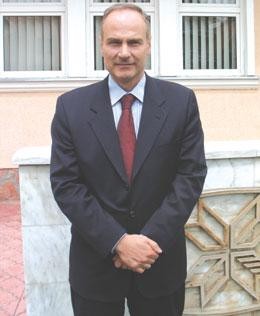 We were the University of Priština, but during the war in 1999 the university was split, and the main Serbian part was re-established in Mitrovica in 2001 [where it goes by the protracted name of the University of Priština in Kosovska Mitrovica]. The university is licensed by the United Nations Mission in Kosovo and funded by the Serbian government, at a cost of around €10 million (US$14.8 million) per year, which is spent mostly on salaries. We have around 10,000 students and 700–800 professors, who are paid a 100% 'Kosovo bonus' to work and teach here. The university has ten departments including faculties for science, medicine, engineering, economics and agriculture.
How did you react to the declaration of independence?
It is our clear wish to stay with Serbia. There is no way that professors or students here would teach, or get taught, in a Kosovar-Albanian-led educational system. It just wouldn't work. We have very different traditions, and we haven't had any contact with the Kosovar Albanian academic community for years. Unfortunately, there are broader political interests that are currently a higher priority than university affairs.
What are your main concerns?
In an independent Kosovo we're expecting all kinds of difficulties. Luckily, Serbia says it will continue to support our work. We need to remain a Serbian institution, otherwise this university will just cease to exist. We cannot survive without Serbian support. At the moment our main concern is security. There haven't been major clashes since March 2004, when there were attacks on the Serbian communities in Kosovo. The unilateral declaration of Kosovo's independence means that there is potential for violent conflict once more. Political rhetoric is up, anything can happen.
Students are leading the protests in Mitrovica against Kosovar independence. Is the university term being interrupted?
We're midway through the spring term and we're doing our best to carry on teaching. Student protests began on 18 February, the day after the declaration of independence, and have been going on every day since. But lectures are taking place as usual. There are courses until noon, then the students — between 3,000 and 5,000 each day — take to the streets until 3 p.m., and then everybody comes back for the afternoon classes. We must keep up the work, or we will pay the price later. When we allowed protesting students to proceed to the next term without any exams in 1996, it took several years to return to academic order.
The student protests have mostly been peaceful. There was one incident on Saturday [23 February] when some radicals tried to provoke police, throwing bottles and fake bombs. We don't know whether there were any students involved, though.
Why is the university so important for the Serbs in Kosovo?
It is vital for the Serbian enclaves in northern Kosovo. It is the only strong economic factor in a region where just 8% of the economy is private sector. Without the university, the 100,000-strong Serbian minority would further evaporate. We need the students, and we hope that many will stay here after graduation and help keep the economy alive.
Is any scientific research now going on at the university?
We're mostly just teaching. There are 46 small scientific projects, many of which were started before we moved from Priština in 1999. We have a collaboration in material sciences with Queen's University in Ontario, Canada, and we have partnerships with universities in Serbia, Macedonia, Greece and Bosnia. We're also hoping to launch a collaboration with the University of Grenoble in France. Health and environmental issues related to the mining activities in the region could be a priority for future research activities.
What difficulties do you face?
We're working under chaotic conditions. The biggest problem is that our infrastructure is devastated and that our labs are very poorly equipped. There is a lack of everything, from lighting, to computers, to chemicals. Part of our equipment, such as computers and lab tools, are locked in Priština. We have been trying to get it back or be reimbursed, but so far without success.
Is there any contact between Serbian and ethnic Albanian scientists in Kosovo?
There hasn't been any cooperation between the universities of Priština and Mitrovica since the Serbian community had to leave Priština in 1999. I hope that in the future we will collaborate with Albanian-language scientists and academics again.
Additional information
Interview by Quirin Schiermeier
About this article
Cite this article
Schiermeier, Q. The aftermath of independence. Nature 451, 1036 (2008). https://doi.org/10.1038/4511036a
Published:

Issue Date:

DOI: https://doi.org/10.1038/4511036a