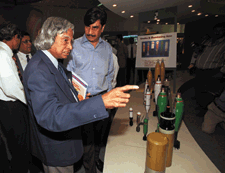 A. P. J. Abdul Kalam, a pioneer in India's rocket and missile programme who was largely responsible for the country's nuclear tests last year (see Nature 393, 197–198; 1998), has been appointed principal science adviser to the government. He will be the first working scientist to achieve cabinet rank.
Kalam is currently scientific adviser to the defence minister and chief of the Defence Research Development Organization, which is responsible for about 40 labs. He will now oversee much of India's scientific activity — including atomic energy and space — and advise the government on all aspects of science policy.
Officials in the office of prime minister Atal Behari Vajpayee say that the move, announced last week, is the first step towards restructuring and coordinating India's scientific agencies (known as departments), which have been growing increasingly independent, to ensure they address national priorities.
Kalam is expected to break down barriers among departments and ministries and build synergy into the scientific system. His cabinet rank is intended to help him achieve this.
Scientists have mostly welcomed the appointment. "If the idea of having a principal science adviser is to bring cohesiveness, it is a good move because Kalam can do it," says Ragunath Mashelkar, secretary of the Department of Scientific and Industrial Research.
But Kalam's cabinet rank is expected to create some confusion. Vajpayee's council of ministers already has two science ministers — one being Murli Manohar Joshi, a former physicist. Kalam's new status has also made the job of the junior science minister, Bachi Singh Rawat, redundant.
About this article
Cite this article
Jayaraman, K. Champion of India's bomb rewarded with cabinet position. Nature 402, 453 (1999) doi:10.1038/44924
Comments
By submitting a comment you agree to abide by our Terms and Community Guidelines. If you find something abusive or that does not comply with our terms or guidelines please flag it as inappropriate.