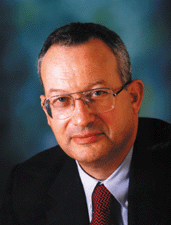 Britain's Wellcome Trust has declared its preference that a new Anglo–French synchrotron source should be built at the Rutherford Appleton Laboratory (RAL) in Oxfordshire. The trust is providing a substantial proportion of the construction costs.
But the statement coincides with an announcement by the UK government that the long-awaited decision over a home for the facility, known as Diamond, will be delayed again to allow two new reports on the candidate sites to be commissioned.
Trade and industry secretary Stephen Byers also said last week that he has asked John Taylor, the director-general of research councils, to seek the views of synchrotron users "on what they see as the key issues of relevance to a decision on the site".
An engineering survey and report are also being commissioned from consultants for the two potential sites — at RAL and at Daresbury Laboratory near Manchester. A decision is now expected in mid-January.
Science minister Lord Sainsbury acknowledged in a letter to the Financial Times newspaper this week that there were "difficult scientific considerations to resolve" about the synergy between the synchrotron and the existing neutron spallation source at RAL, "as well as issues concerning the suitability of the two sites".
In its statement last week, the Wellcome Trust says it prefers RAL because it believes that greater scientific benefits would result from a location close to the existing neutron source and to Medical Research Council units and the University of Oxford.
But union officials and some senior synchrotron scientists say this factor is a "small but not overriding consideration", given the small numbers of scientists that would benefit. The trust has also generated anger among supporters of Daresbury by suggesting there are greater planning risks associated with the northern site.
Chris Brough, assistant director of planning for the area, criticizes "unsubstantiated assertions" by the trust's planning consultants about potential drawbacks of the Daresbury site. He says they have failed to do the "most basic thing that any planning consultant worth its salt would do — contact the local planning authority".
"It's foolish to say we are high risk [when] we have a sympathetic development agency," says Sue Smith, a union representative at Daresbury. "RAL does not even have potential [outline] planning permission."
The dispute over where Diamond should be sited has raised fears that choosing the Rutherford site would eventually lead to the closure of Daresbury and further deepen Britain's north–south divide.
Daresbury appears to have strong support from local government, local Members of Parliament, and Byers. The unions say they have a letter from an Oxfordshire councillor expressing concern at the prospect of economic "overheating" in the area around Rutherford and at problems of providing housing for the existing influx of workers into the region.
About this article
Cite this article
Loder, N. Wellcome Trust backs Rutherford to host synchrotron. Nature 402, 451 (1999) doi:10.1038/44914
Further reading
Christian Helmers

&

Henry G. Overman

The Economic Journal (2017)
Comments
By submitting a comment you agree to abide by our Terms and Community Guidelines. If you find something abusive or that does not comply with our terms or guidelines please flag it as inappropriate.