What elements, besides iron, make up Earth's core? Discrepancies in the isotopic ratios found in rocks from Earth's mantle and in undisturbed meteoritic material indicate strongly that one answer is silicon.
Access options
Subscribe to Journal
Get full journal access for 1 year
$199.00
only $3.90 per issue
All prices are NET prices.
VAT will be added later in the checkout.
Tax calculation will be finalised during checkout.
Buy article
Get time limited or full article access on ReadCube.
$32.00
All prices are NET prices.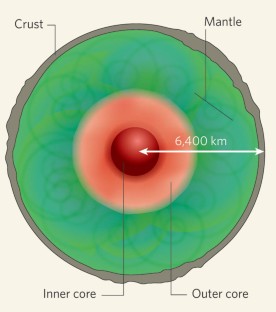 References
Georg, R. B., Halliday, A. N., Schauble, E. A. & Reynolds, B. C. Nature 447, 1102–1106 (2007).

Bigeleisen, J. & Mayer, M. G. J. Chem. Phys. 15, 261–267 (1947).

Wade, J. & Wood, B. J. Earth Planet. Sci. Lett. 236, 78–95 (2005).

Takafuji, N., Hirose, K., Mitome, M. & Bando, Y. Geophys. Res. Lett. 32, doi:10.1029/2005GL022773 (2005).

Hart, S. R. & Zindler, A. Chem. Geol. 57, 247–267 (1986).

Poitrasson, F., Levasseur, S. & Teutsch, N. Earth Planet. Sci. Lett. 234, 151–164 (2005).

Polyakov, V. B. & Mineev, S. D. Geochim. Cosmochim. Acta 64, 849–865 (2000).
About this article
Cite this article
Elliott, T. Silicon-enhanced core. Nature 447, 1060–1061 (2007). https://doi.org/10.1038/4471060a
Published:

Issue Date:

DOI: https://doi.org/10.1038/4471060a